Finding the best place to stay in Malta is only difficult because of how fantastic this small island is all over. Let us help you find where to stay in Malta that completely suits your individual needs!
Choose Your Category
Ahh, Malta. The picturesque gem of an island, isolated on all sides by the glorious Mediterranean sea. Its mix of beauty and affordability acts as a deserved beacon to all holidaymakers, backpackers, tan fiends, and thrill-seekers the world over.
Rightfully so, you've decided Malta is the place for you to explore/relax. Surely finding out where to stay in Malta will be an easy task considering the island is so small.
Alas! This is not the case.
Fortunately, I can guide you through each and every best place to stay in Malta and break down each one for your exact needs. So, have a look at the list below, choose which category most represents you, and have a read. The links will ping you down to more information about each of the locations!
Read More: Your Guide To Visiting Malta in October!
Read More: How To Spend 7 Days In Malta + Gozo
Read More: How To Spend A Single Weekend In Malta!
---
Where To Stay In Malta 2022
Below you will find all of the best places to stay in Malta with a little bit of information in regard to each location. You will find also find the best accommodation, and the pros and cons of each location.
Remember, if you think of any destination I have missed out on, let me know in the comments section below and I will be sure to check it out and see if it can be added to the top places to stay in Malta.
Read More: Is Malta Expensive To Visit?
Sliema
Sliema is on the east coast of Malta, south of St Julian's and north of the capital Valletta. This means that it is very well situated on the island for accessing various attractions.
It is one of the busiest areas in Malta, second only to Valletta. This is largely due to the explosion of commercial business here. This, however, means that you will find the best shopping and some of the most diverse range of restaurants anywhere on the island.
Sliema is one of those places that does everything quite well but nothing the best (except shopping). The nightlife is good, the accommodation is reasonably priced, and the views are spectacular. One thing Sliema does have is good transport links across the island, including ferries and bus routes.
I personally would recommend Sliema if you are not much of a beachgoer and you want a well-rounded Maltese experience with very good transport links to the rest of the island.
Read More: A Packed 3 Day Malta Itinerary Including Accommodation
Hostel Accommodation – Two Pillows Boutique Hostel
I very rarely feature something this good in the budget section of the accommodation but Two Pillows Boutique is an exception. Here you get a choice between dorm rooms (which are insanely nice) or private rooms.
As with all good hostels, there is a fantastic communal area and cooking facilities. If you're looking for an affordable hostel in Sliema then click through and have a look at the pictures and facilities in more detail. It really is a stunner.
Hotel Accommodation – Cozy Rooms
Cozy Rooms Hotel is an absolute gem of a hotel in Sliema. It has everything you would expect and more. The ferry port is right next door and the rooms are to die for.
As the price is higher than a hostel, I highly recommend this hotel for couples or groups. Check it out and you will not be disappointed.
Apartment Accommodation – Traditional Maltese Townhouse
I'm not going to list everything this apartment has included as you can click through and have a look but needless to say it has everything.
If you want a home away from home then this is it, with the added benefit of an authentic Maltese experience. Have a look!
St. Julians
St Julian's is right next to Sliema but has a few interesting and key differences. Right bang in the middle of St Julian's is Paceville, the heart of all nightlife in Malta. This has turned St. Julian's into the defacto younger travellers' hotspot. This is the best place to stay in Malta for nightlife, period.
It has access to the beach at St George's Bay (artificial but very good). When you need to soak up a few rays to cure your hangover, this is the place to go to recharge.
As St. Julian's is geared towards the younger crowd, there are plenty of good hostels and cheaper hotels on offer. However, the 10km promenade still boasts some of the country's most luxurious hotels and apartments so there is something for everyone.
If you are looking for a fun, loud, and fast-paced stay in Malta then I highly recommend St. Julian's. If you are looking for something more relaxing then there are better areas to plan your stay.
Hostel Accommodation – Marco Polo Party Hostel
The Marco Polo Party Hostel says it all in the name. Choose between a private room or a dorm room and forget about the rest. You don't even have to leave the hostel as they have an onsite bar and BBQ facilities.
When you do manage to leave then this is at the heart of the action and you're going to have a good time. Check it out now!
Hotel Accommodation – Hotel Valentina
Hotel Valentina is the epitome of style. You only have to click through and look at the images to see that.
If you stay here you are far enough away from the bars to have a perfectly relaxing and peaceful night's sleep but not too far away to not be able to walk home. It's the perfect balance in St. Julian's.
Apartment Accommodation – Spinola Park – The Loft
As with all of our apartment recommendations, The Loft comes with everything you will need to have your very own home away from home.
However, The Loft is also part of a complex that has its very own restaurant for those evenings when cooking doesn't seem like you're kind of night. Take a look now!
Valletta
Valletta is the best place to stay in Malta for the avid sightseer or history buff. No joke, the history here is just phenomenal and the views have world-beating quality.
Although it is the capital, Valletta is so much smaller than you may have previously thought. So small in fact, it is the smallest capital in all of Europe!
This does not mean that there is nothing to do, however. You can expect phenomenal accommodation and some of the best restaurants in all of Malta right at your doorstep. That is – if you can afford the accommodation!
As you can imagine, this is not really the place for people who are looking for a bargain. You can stay in neighbouring towns for significantly less and get to Valletta exceptionally easily. To put it in perspective, we stayed up in Mellieha which is one of the furthest places away from Valletta and the bus was still only an hour-long journey costing €2.
If you do choose Valletta, you will have fantastic access across the harbour to the 3 cities (Vittoriosa, Senglea, and Cospicua) via ferry, which I cannot recommend enough.
---
Check Availability For Either A Day Or Night Tour Now!
Read More: How To Plan The Most Incredible Honeymoon In Malta
Hotel Accommodation #1 – Pjazza Merkanti
I've removed the hostel recommendations as I really do not recommend trying for a hostel in Valletta – there are just better places to find those.
However, this does mean I get to include 2 of the best hotels in Valletta, the first being Pjazza Merkanti. Stylish, clean, and in the heart of the city, if you are looking for accommodation that ticks every box then look no further. Take a look and you will not be disappointed.
Hotel Accommodation #2 – The Barrister Hotel
The Barrister Hotel has an option for a private rooftop terrace with a hot tub with views across Valletta and the sea. I'm going to leave it at that!
Take a look and see if you can justify it. You won't regret it.
Guest House Accommodation – Valletta Lucente
If you are looking for a little bit more of a homely feel then take a look at Valletta Lucente. It takes away that industry-standard hotel feeling and replaces it with a gorgeous, almost royal, decor.
My description will not do it justice so take a look at the images and reviews to see for yourself.
Mellieha
This is exactly where we are staying for our time in Malta. This may mean I am a little biased but I genuinely believe Mellieha is the best place to stay in Malta. As you have probably seen at the top of the post, I have already given it this coveted position but here is where I can explain why.
On a map, it may seem a little far from the historical and sightseeing hotspots on the island, but as a matter of fact, it is right bang in the middle.
Whilst in Malta, you will definitely want to gaze at the exceptional beauty of Valetta and the 3 Cities. But you will also want to visit the islands of Gozo and Comino to experience a little bit of peace and tranquillity.
Not only that, you may want to spend the day by one of Malta's fantastic beaches, which Mellieha is home to and very close to the other best options.
Furthermore, it has a very good variety of hotels and apartments for anyone's needs, be you a backpacker or a luxury craver. Some recommend hiring a car to really put the cherry on top of the Mellieha cake so take a look at hiring one here. Don't worry if you can't or don't want to drive – the bus routes are easily accessible and affordable.
Budget Accommodation – Cosy Home
I love a homestay as it gives you a little bit of home comfort when you're away and Cosy Home does not disappoint.
This is a very well-kept and stylish home for you to enjoy Mellieha to its fullest, and in a fantastic location to access everything that you may need. Check it out here.
Hotel Accommodation – Lure Hotel
I may have gone a little on the luxury side for my standard hotel accommodation but Lure really is a great place to stay so it wormed its way into my recommendations!
With great views, facilities, and breakfast included, Lure Hotel will definitely tick all the boxes.
Apartment Accommodation – Shamrock Flats
If you want the complete independence of an apartment (unlike the homestay above) then check out Shamrock Flats. It can house the whole family and does it with considerable style.
Take a look at the pictures here or the reviews below.
The 3 Cities – Birgu (Vittoriosa), Senglea, and Cospicua
These have to be some of the 3 smallest cities in the world. We walked around them in about 2 hours! That's all 3, not 2 hours in each city.
However, what they lack in size they more than make up for in stunning beauty. One second you can be walking along a stunning marina, and the next you can be winding through narrow alleys with imposing townhouses looming over you.
This may sound very much like Valletta but there is one key difference – there are much fewer people/tourists. If you get up reasonably early or walk the streets in the evening, you can be all alone to soak up the beauty in perfect peace.
Let's also not forget that the ferry across is €2.80 for a return to Valletta and is exceptionally quick, so you aren't stuck on one side of the Grand Harbour looking longingly across the water!
That being said, this is not the place for nightlife or the huge selection of restaurants you get elsewhere. Staying in the Three Cities will be an intimate affair and if that's what you want it's hard to beat anywhere in Malta. This is the best place to stay in Malta for couples seeking a little peace and quiet.
Disclaimer – It can be very difficult to find accommodation available in The Three Cities. The three following recommendations are fantastic but you need to get in there fast because they get booked up very quickly!
Birgu Accommodation – 16 Lettings
16 Lettings is a 400-year-old Maltese holiday home and a work of art. It's got 3 bedrooms so if you're in a group then this is exactly what you're looking for.
Everything is within walking distance from the home (although what isn't in these small cities?) and you can easily get to the ferry for Valletta. Have a look here or read the high reviews by clicking on the button below!
Senglea Accommodation – Senglea Seafront Apartment
This seafront apartment offers incredible views and all of the amenities of a home. The best restaurants in Senglea are on your doorstep so you won't have to travel far to enjoy the sunset with a glass of wine in your hand.
If you're looking for a piece of home abroad then this is the place to book.
Cospicua Accommodation – Nelli's B&B
This cosy little B&B comes with a brilliant continental breakfast and boasts incredibly high scores in the many reviews.
This is everything you would expect from a B&B in such a beautiful location.
St. Paul's Bay
In a sentence, St. Paul's Bay is THE family location in all of Malta. As quite a modern area of Malta, I think a lot of the planning was specific to what families with children may need.
If this is you then I highly recommend that you seriously consider St. Paul's bay as your choice for accommodation.
However, this doesn't mean that it isn't suited to anyone else. It has a fantastic mix of accommodation for all tourists and is in a very good location to be able to get to the north (great beaches and Gozo) and the south (Valletta and The Three Cities). This may actually be the place for you to get the most out of your stay in Malta.
St. Paul's bay itself is quite a large area so make sure that you get a place down by the coast in Buggiba or Qawra which are small towns inside of St. Paul's Bay.
Hotel Accommodation – Salini Resort
Salini Resort has everything, 3 pools, a bar, a restaurant, a spa, and a fitness centre to name a few. So whether you are with the kids (and need a break in the spa) or on your own, this is the hotel for you.
It is also nice not to have to worry about getting there from the airport with an airport shuttle arranged by the hotel. Check it out here.
Apartment Accommodation – Bugibba Sealine Apartment
This apartment offers a really stylish little home for the duration of your stay.
I particularly find it easier staying in an apartment when travelling with kids as it gives you much more room and familiar things to be able to help with looking after them. If that is also you, then take a look here.
Comino Island
Comino Island is a must-visit whilst staying in Malta but what about staying on the island overnight? Well, it does not have many options for accommodation. You will not be spending much time trying to figure out where to stay and trying to save some money by shopping around.
There is a camping spot just above the Blue Lagoon (this is where the ferry service operates from) and there is a hotel very nearby as well. However, I couldn't, for the life of me, find any availability at the Comino Hotel or a way to contact them for information. I highly recommend checking out the website but at the time of writing it was 'coming soon'.
Your best bet is to spend the night camping at Tal Ful camping site. It is free and is close to shower facilities available at the Blue Lagoon.
Camping on Comino is a pretty wild experience and you will need to take plenty of water and nonperishables as you won't be getting power. If you are thinking about camping at Tal Ful then make sure to check out our camping in Malta guide here.
But, if you take a little bit of cash then you will be able to buy water and food from the shops that are set up for the Blue Lagoon tourists each day. I don't recommend staying on Comino for more than a couple of days unless you're a hard-core camper.
Read More: The Perfect 5 Day Malta Itinerary
Definitely check out Saint Marija bay on one of the days as it is much more tranquil and peaceful than the Blue Lagoon (party central)! However, if you want to sunbathe and drink all day, then Blue Lagoon is the ultimate bet.
---
Gozo
We personally fell in love with Gozo in just the 3 days we were there. It has changed my mind about where the most romantic place to visit in Malta really is.
The Three Cities certainly have a good case but I don't think they can compete with the small winding streets and incredible local restaurants dotted throughout the island.
However, it's not just for couples seeking some quintessential Mediterranean romance. Gozo is definitely the heart of diving in Malta and is rated one of the best diving locations on the planet. There are absolutely no questions whatsoever that if you are planning to dive in Malta then stay in Gozo.
I don't recommend staying in Victoria as the prices are a little higher than the rest of the island and Gozo is so small that where you stay is of little importance, so you may as well get somewhere a little cheaper.
HIRE A CAR. I cannot stress this enough. It's one of the cheapest places I have ever seen to hire a car and it will literally make your stay so much better. Yes, there are buses on the island but they don't go everywhere and there are some incredible little secrets that Gozo is hiding that you'll definitely want to check out.
I would usually now say that if you don't want to hire then you could get taxis everywhere but there is a significant issue with this. Many of the smaller more secluded spots in Gozo have no signal so you would have no way of contacting a taxi for the return journey.
We got a car for 3 days and it cost us €60. We used this local company and I cannot recommend them enough. They were a little unorthodox in their approach but extremely friendly and efficient.
If you'd prefer to book online before your trip starts, then you can do that here.
Read More: Incredible Farmhouses In Gozo With Indoor Pools!
Hotel Accommodation – Kempinski Hotel
Gozo is already quiet, but imagine then shutting yourself inside a glorious hotel complex with a beautiful outdoor pool, 2 indoor pools, a spa, a gym, and an award-winning restaurant.
This is luxury personified. There is no such thing as a bad location in Gozo so you are close to everything, especially with a car. If you book the Kempinski then you're definitely taking the stress out of your life.
Villa Accommodation – Casa Bella
If there's a group of you coming over to Gozo (8 in this case) then I always recommend getting a villa or something similar. It works out around the same price and is even cheaper in some cases but you get a fantastic home all to yourself and usually some serious luxury.
This is the case with Casa Bella. You'll be surprised at the cost when you start to split the money 8 ways and Case Bella is literally perfect. Just check it out and see for yourself.
Boutique Accommodation – Bliss Boutique Living
Boutique spaces are booming and for good reason. People are tired of going to huge chain hotels with hundreds of other people. Bliss Boutique is a small hotel with only 12 rooms.
This means that the rooftop pool is always going to be quiet and peaceful. The rooms are simple but do everything perfectly. If you want a peaceful stay in Gozo at an affordable price then check out Bliss Boutique.
Il-Gżira and Msida
I've put these two together as they are very similar and literally a 5-minute walk between the two. They are sandwiched between Valetta and Sliema, both of which you can easily access by walking or a short bus journey. This means that you are at the heart of the action but will probably pay less for your accommodation.
This slightly cheaper accommodation option is very good for backpackers but the range of other places to stay is very good.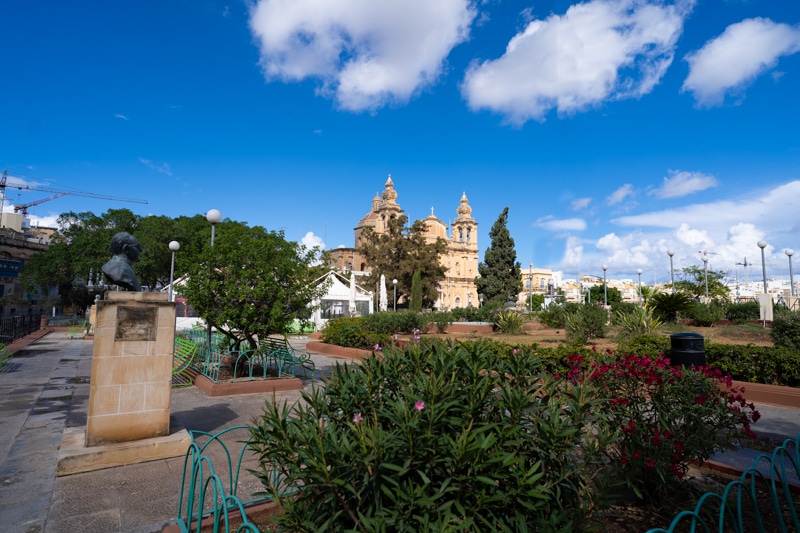 The architecture is beautiful, as always, and the choice of restaurants and walks is excellent. I highly recommend Il-Gżira and Msida for people who want to be close to the capital and the action who are trying to save a few pennies on the way.
There are no beaches here but there are a few exceptional pools where you can pay to have access on the marina front which are a very good alternative.
Hostel Accommodation – NSTS Campus
NSTS campus is pretty much exactly what you would expect a hostel to be, affordable and functional. Breakfast is included, you have a variety of rooms to choose from and you have a really nice pool to chill and meet new people.
Don't expect luxury but it does exactly what it says on the tin. Check it out here.
Apartment Accommodation – Stanislaus Apartment
I personally always try and get an apartment as it just makes everything easier and most of the time it isn't much more expensive than a hotel.
Stanislaus Apartment is a very good example of what a holiday apartment should be. Great location, a secluded (shared) rooftop pool, and a modern and clean interior. Have a look at the location and images here and see for yourself.
Marsaskala
The south of Malta is the least touristy and most untouched. Why, you ask? Well, tourist areas tend to be near the coastline, the culture, and the beaches and Malta is no exception. The further south (and west) you go, the more inhospitable the coastline becomes so this tends to put people off.
This has created a much quieter and more peaceful Maltese experience coupled with some of the most beautiful and dramatic landscapes that Malta has to offer. Plus, as Malta is so small, you can get to anywhere on the island just fine from anywhere you are staying.
Marsaskala itself is a very picturesque fishing village with a beautiful promenade walk and some very nice restaurants. I highly recommend Marsaskala for travellers who are seeking some peace and quiet that the tranquillity of the south provides.
If you decide to come down to the south, then I recommend hiring a vehicle for your trip. Public transport is good but the buses are a little less frequent down here and a car would really give you the freedom that Malta deserves.
Hotel Accommodation – Cerviola Hotel
Cerviola Hotel is a 3-star hotel that has a rooftop pool and a buffet breakfast. It's definitely what you expect from a 3-star hotel, comfort, good facilities, and a decent price.
Have a look at the location and prices here.
Apartment Accommodation – Interlace Apartment
This gorgeous apartment sleeps 6 people, so if you're coming in a group then I highly recommend it. It usually comes out cheaper than a hotel and you have much more facilities at your disposal.
It also has a shockingly high review rating on Booking.com so definitely check it out.
Boutique Accommodation – TJ Boutique
A boutique hotel is basically a large chain hotel shrunk down into a much more personal and quieter experience. I love this idea and TJ Boutique does this very well.
You'll be served a continental breakfast in the cosy dining area and you will get to know the staff in a friendly and closer manner. If this is your thing then check it out here.
Marsaxlokk
Just like Marsakala above, Marsaxlokk is on the quieter and more peaceful south coast of Malta. Comparing the two, Marsakala is a nicer-looking and more picturesque town. However, Marsaxlokk is famous for its Sunday fish market, which is quite a lot of fun.
If you have your own kitchen then buying some freshly caught fish and cooking up a dish is a great option here in Marsaxlokk. If you don't decide to go for some apartment accommodation then one of the many restaurants in town will purchase fresh fish daily and have them ready to cook them up.
I recommend Marsaskala over Marsaxlokk for most things but Marsaxlokk is definitely a beautiful little fishing village where you can come to relax and unwind, watching the boats come in and out of the bay.
Marsaxlokk is the home of the guest house in Malta so check out some of my top recommendations below!
Guesthouse #1 – South Wind Guesthouse
Beautifully decorated rooms with a desk, so great if you're coming to work remotely. A continental breakfast is served daily in a cosy dining area.
South Wind Guesthouse has everything you will need to switch off and experience the beauty of the south coast. Check them out here.
Guesthouse #2 – Quayside
I absolutely love an old converted building as they always have so much more character on offer.
If that's your kind of thing too and you're looking for a guesthouse in Marsaxlokk then look no further and check out Quayside now.
Mdina & Rabat
Mdina is a literal must-visit when you come to Malta. It is a large fortified city that is only describable as a living museum of beauty, history, and architecture.
Only 300 people actually live inside the city walls so as you can imagine, staying in Mdina is a little difficult, but not impossible. Check out my recommendation for Mdina below. However, Mdina is not going to be acceptable for anyone wanting to come to Malta on a budget.
Rabat (translating as suburbs) is the area surrounding Mdina. Rabat has been able to become a little more modern but retains its historic beauty and fantastic Maltese architecture. It's more affordable to stay here than in Mdina but it's still not going to be the option for budget travellers.
If you do decide to stay in Rabat then make sure to try lots of different restaurants during your visit as the city has a plethora of great options to get stuck into.
Mdina Accommodation – St Agatha's Bastion
If you're going to stay in Mdina you may as well go big. St Agatha's Bastion is a stunningly modernised home that can sleep up to 5 people.
I won't be able to do it justice here so take a look and spoil yourself.
Rabat Accommodation – Adelphi Boutique Hotel
Adelphi Boutique Hotel is a very stylish and comfortable option that is considerably more affordable than staying in Mdina itself.
It has a restaurant on-site so you don't even have to go anywhere (I recommend you do though, Rabat is exceptional for its restaurants). Take a look here.
---
Well, that's it, guys! Those are all the recommendations I have for Malta. Have you been anywhere in Malta and think I should add it to my list? Or do you need any suggestions or advice on any of these locations? Let me know in the comments section below.
---