When you travel, part of the fun is picking out fun and authentic souvenirs to remember your trip by. These Icelandic souvenirs are our top picks when trying to find something unique and small enough to fit in your luggage!
---
14 Icelandic Souvenirs That You Should Bring Home
Let's face it, a trip to Iceland will always stay in your memories! Bubbling geysers, the northern lights and colossal glaciers are just a few of the natural beauties of the country. Unfortunately, you can't take any of those things home but there are plenty of fun Icelandic souvenirs that you can bring back!
Read More: Try One Of These Incredible Snowmobile Tours In Iceland
There are some incredible Icelandic souvenirs available to buy, and so many of them aren't your typical garish key rings or trashy T-shirts. From carefully homemade sweaters to actual lava, this list is sure to inspire you to purchase some cool Icelandic gifts to take back home!
Remember that the best souvenirs from Iceland aren't just for you though! I highly recommend bringing back something for your friends and family so they can see how awesome the country is too!
If you're wondering what souvenirs to buy in Iceland, this list has you covered.
---
Wool Sweater (Lopapeysa)
Apart from stunning landscapes and natural beauty, what is Iceland famous for?
The cold!
One of the most recognisable and gorgeous Iceland souvenirs you can buy is a traditional hand-knitted Icelandic wool sweater. The sheep wool is great at keeping you warm and dry, plus the patterns are cute! When you buy one, make sure that yours is authentic and actually made in Iceland (some places outsource their production!).
Icelandic sweaters are one of the most iconic souvenirs you can buy in the Land of Fire and Ice! If you have enough time in the capital, go and find The Handknitting Association of Iceland. They've been handmaking woolly clothes and accessories since 1977 and it's definitely the best place to buy Icelandic sweaters in Reykjavik. With soft colourful wool and the funky Icelandic design, these Lopapeysa are a must-buy!
Click here to buy a gorgeous Lopapeysa if you've already left Iceland.
Read More: Complete Guide To Renting A 4×4 In Iceland
---
Jewellery
There is some incredible Icelandic jewellery available here. Because the country is so beautiful, the jewellery is commonly inspired by the natural landscapes and formations which make for some astounding necklaces, rings and earrings!
I love the delicate and pretty items at Aurum, as well as these cool zodiac runes! I personally think these would make incredible birthday gifts or just Icelandic souvenirs for someone close to you at home.
Unfortunately, the smooth, polished lava jewellery that is popular amongst tourists in Iceland is most likely imported from another country! If the stone is polished, then it's probably not Icelandic lava. If it's still rough, then you've probably found a genuine piece. Ask the staff in the shop about the differences if you aren't sure!
---
Icelandic Mittens
When we visited Iceland in November, the temperatures dropped to around 0°C, but I was pretty well wrapped up. The only parts of my body that became too cold were my hands!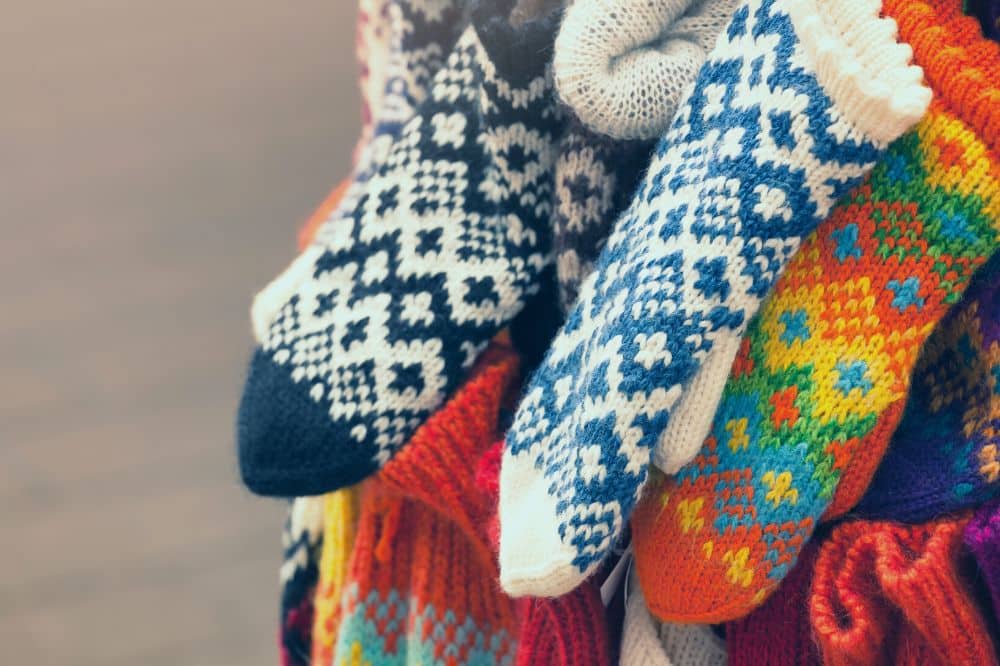 Some cosy wool mittens will really help you on those windy days – there's only so much that breathing hot air onto your hands will do! Be really cool and buy your jumper, hat and mittens from the same shop so you can match up!
Rather than wait until you get to Iceland, you might want to buy these items in advance so that you can wear them straight away. Get your mittens here. Icelandic souvenirs can be practical too!
---
Icelandic Hat
If you don't have the space for a new jumper, then a beanie is the perfect smaller item to take home with you! You'll be able to use it during your trip and feel like a true Icelander! Even if you're visiting in the summer, it can still get cold enough to wear a hat.
---
Wool + Pattern
If you're more of a creative person and have the patience that I sincerely lack, then think about buying your own wool + pattern to make your own woolly Icelandic souvenirs! You can buy them from plenty of shops around Iceland, and you'll definitely have a more unique piece than most other people!
Of course, other people might buy the same pattern as you but you can customise it! Or, you can even bring your own pattern and visit somewhere like the Handknitting Association of Iceland and they'll help you choose the right yarn for your creation.
Try making your own Iceland wool blanket to remind you of those cosy evenings on your trip!
A hand-knitted blanket is definitely one of those perfect Iceland gifts!
---
Local Sea Salt
Try the local sea salts that are produced with 100% geothermal energy! There are so many different flavours to choose from – I didn't even know you could get different flavoured salt! Iceland is really great at reducing its carbon footprint, and the many salt production companies around the island promote that fantastically
You can even get the salt in beautiful gift boxes like this if you want to bring back a set for someone back home.
Take a look at the boxes before you go so that you can decide what you want to buy once you're there, or just order it online so that your Icelandic souvenirs don't fill up precious luggage space.
---
Brennivín
Iceland isn't really famous for its alcohol production, but if there's one type you should try when you're there, it's Brennivin. It's the country's signature drink so it's definitely one of the best things to buy in Iceland!
The word 'brennivín' literally translates to 'burning wine' so that's one reason to try it, but it also has a unique taste that you might not be used to.
The spirit is similar to vodka, but unlike its Eastern European brother, it's flavoured. Caraway is the main culprit so expect a kind of liquorice taste.
You can also buy other spirits like local Icelandic gin, Reyka vodka and even whisky! Alcohol is a great choice for your Icelandic souvenirs, especially if it's something a little bit different than you'd find at home.
Christmas Decorations
Christmas is a huge celebration in Iceland and there are some cool traditions that you might not be familiar with. This means that there are plenty of random Icelandic souvenirs that you can buy. You can get them at any time of year too!
In December there are lots of cute little Christmas markets and celebrations, but in Reykjavik there is actually a year-round Christmas shop! I personally think that all cities should have one of these – just another reason why Iceland is awesome!
Buy yourself a gorgeous bauble to remember your Iceland visit by every year or a reusable advent calendar. You can even buy a mini lopapeysa to hang on your tree! You'll definitely be able to get into the Christmas spirit whether you visit Iceland in summer or winter!
Coins/Notes
If you're like us, you always exchange too much money and begrudge paying extra commission to change it back! Instead, keep the loose change and you won't have wasted your money – you will have spent it on a cool souvenir from Iceland!
It's always fun to look back at the different currencies that you have acquired over the years. If you're going to buy Icelandic krona for your trip and keep it afterwards, just remember not to get too carried away and do your calculations properly! Check out the Icelandic conversion rate here.
Icelandic Chocolate
Fancy something sweet? How about some liquorice hidden in chocolate? Iceland isn't necessarily known for its delicious cuisine, but there is definitely the chance to try some interesting foods here.
The most popular Iceland candy treat will probably divide a group of people! Iceland is a nation of liquorice/licorice lovers. If you see the word 'lakkrís' then you've been warned – it's the Icelandic for liquorice.
You can find it on its own, in chocolate, covering sweets or even in ice cream sauces!! Either be on high alert to avoid it, or stock up on boxes to take home! Omnom Chocolate is a popular brand, and you can also find normal flavours of chocolate without the liquorice!
These sweet treats are one of the best things to buy in Iceland as they'll fit in your luggage easily too.
Dried Fish
Harðfiskur, or dried fish (usually cod or haddock) is the of the most popular dishes in Iceland. People eat it with butter because it softens up the fish – that speaks volumes in my book – but some people go mad for it!
Pack some in your backpack for a long hike or just grab some to bring home and share with your friends. You can also buy it online once you're home if you really loved it that much.
It might sound like a strange Iceland souvenir but it's definitely a unique gift to receive!
Iceland Condoms
These are probably the most touristy and silly items on this list, but I just love the creative packaging. You can choose from six different designs, all Iceland-themed but also centred around the 'Land of Explosions'.
Where else could you buy a condom named 'Geysir' (which, by the way, derives from the words 'to gush' …)?
Condoms aren't your usual gift, but they're definitely the funniest of these Icelandic souvenirs on my list!
Lava
Fancy watching boiling hot lava being poured over ice and learning all about Iceland's volcanic activity?
Well, OBVIOUSLY you can't do that at any random volcano, because … death, but you can watch a controlled lava show in Vik and you get to take a piece of lava home with you!
Key Information
Click here to check availability and prices
Postcard
It might not be the most glamorous or adventurous of souvenirs from Iceland, but bringing back a postcard is a must! They're cheap, small and great little trinkets to remember a specific location by.
Or, it might be better to send a thoughtful note by postcard to friends and family back home rather than buying and packing something extra in your luggage. Icelandic souvenirs don't have to be big or expensive.
You can browse a great selection at the Gullfoss Visitor Centre during a Golden Circle tour like this one.
Blue Lagoon Face + Body Treatments
The Blue Lagoon is a must-visit for anyone coming to Iceland. They also have some of the best Icelandic souvenirs to take with you when you have finished in the baths. They have a shop at the exit where you can browse skincare, clothing and other small authentic gifts from Iceland.
In the Lagoon, you'll have the chance to try an algae or silica face mask. You can buy these and more in the shop afterwards. Although your wallet will be significantly lighter, your skin will never forgive you if you don't purchase something.
Where To Buy Souvenirs In Iceland
Iceland Souvenir Shops
There's nothing quite like buying a souvenir from a local shop in the country you're travelling in! You can get something more authentic, give back to the locals personally and you can usually hear a story or two from the product's very beginnings!
You can buy plenty of Iceland souvenirs online if you forget out run out of money/luggage space when you're there, but buying products made in Iceland directly from a local shop is better if you can!
Reykjavik
As the capital city, there are always going to be plenty of places to find fun things to buy in Iceland. Surprisingly, not all of the shops sell overpriced crap, so spend an afternoon wandering the streets and discovering some gorgeous boutiques selling authentic Icelandic souvenirs.
Markets
Kolaportið, the flea market in Reykjavik, is a great place to stop by for presents and Icelandic crafts and treasures! Located near the harbour in the capital, the market should be your go-to for antiques, books + vintage clothing. It's only open on the weekends and is inside so bad weather doesn't have to dampen your plans!
There are plenty of food stalls, charity bazaars and street markets to be found across Iceland, but most are in Reykjavik.
NOT Natural Places
There's a little bit of controversy surrounding this subject – should you take natural Icelandic souvenirs from places you visit? However, it's probably not a good idea for a few reasons.
Firstly, airport customs can be a nightmare on any trip, and you don't want to be stuck trying to explain why you have a bag of weird-looking rocks in your luggage.
The main reason though, is that it's not really our place to be removing things from nature. To you, it might only be a little pebble or a few grains of sand. But some places, especially Iceland, have fragile landscapes. They don't need humans affecting the environment more than we already do!
Give back to the local economy instead and buy something, or if you've already left the country but want to reminisce on your trip then order something online.
You could probably take an ice crystal from Diamond Beach though … it just might not last very long!
---
Buying Souvenirs – Cash Or Card?
Iceland is actually really card-friendly, and the chances are that you won't even need to use cash at all! Take some just in case (plus I think it's fun to use another currency when you're travelling!) but you'll more than likely be okay using your cards to buy your Icelandic souvenirs.
Always tell your bank you're travelling (even if they tell you that you don't need to) because you really don't want to be stuck in an expensive country like Iceland with no access to your money!
We love using Starling as there are no fees when you're buying things abroad plus it's really easy to pause your cards if they get lost/stolen.
A credit card is also always handy to have on international trips. If you do have any problems with your bank card, a Visa or Mastercard will almost always be able to help you out. Don't rely on American Express though!
---
What You Can Buy At The Airport
Keflavik Airport has plenty of shops to browse before you fly. There are some items that are much cheaper to buy here than in Iceland so take a quick browse on their website to see if it is worth waiting.
Handmade Icelandic souvenirs like jewellery or woollen clothes are probably best bought in a shop or local market, but it's definitely a good idea to purchase your Blue Lagoon treatments at the airport!
Many people often wait until the end of their trip to buy their mementoes, but if you plan in advance you might be able to buy something authentic that you can actually use in Iceland.
You wouldn't want to spend your 4 days in Iceland freezing your butt off when you could have bought a gorgeous, hand-made woollen sweater on Day 1!
---
Some people are against buying souvenirs – I understand that it can be difficult to buy something for everyone! But, if you keep your purchases limited to ONLY small pieces, ONLY for yourself, or ONLY things that can be used again and again, then I think they're a great way to bring back a piece of every trip home with you.
If you're wondering what to buy in Iceland, hopefully, this list has given you some inspiration and ideas!
---
Why You Should Buy Icelandic Souvenirs?
Not only will some cute souvenirs from Iceland remind you of the amazing country, but they can also be great for the local people and there are some great positive economic tourism impacts too.
Many people sell handmade crafts, clothes and jewellery for a living.
They often rely on tourists to buy their goods rather than the factory-made tat that is often sold in airports or people who have forgotten to pick up anything!
Be prepared to buy something to bring back and do your research beforehand so that you find your perfect Icelandic souvenir!
If you DID forget to buy something or didn't have enough luggage space to bring it back, you can still get your Icelandic souvenirs online. I have linked to as many products as I could so that you can order from the comfort of your own home!
---
Things To Do In Iceland
Once you've bought your Icelandic souvenirs, it's time to plan what to do in the country! I could talk for hours about the fun activities you should do when you're in Iceland, but here are my very top recommendations not to miss!
Golden Circle
The famous Golden Circle consists of Thingvellir National Park, Geysir and Gullfoss waterfall. You can take a tour that picks you up from Reykjavik and drives you to each attraction.
---
Snowmobile Tour
Imagine driving your own snowmobile across a glacier as the sun sets in gorgeous Iceland! It's a once-in-a-lifetime adventure and one that we highly recommend!
---
Glacier Hike
Iceland has some stunning glaciers and what better way to explore them than hiking across one?
---
Helicopter Tour
Iceland is always breathtaking, but even more so when you can take in the scenery from the air. Helicopter tours are a popular way of seeing the expansive glaciers, smouldering volcanoes and gushing waterfalls across the country!
---
The Blue Lagoon
It's definitely famous for a reason, and that reason is that visiting the Blue Lagoon is a magical experience!
---
Where To Stay In Iceland
Whether you're looking for a budget room, a rustic homestay or a once-in-a-lifetime hotel, Iceland has it all! You can zoom out on the map to see everything that Iceland has to offer.
If you're looking for specific Icelandic souvenirs such as a Lopapeysa or the lava, then you might want to consider this when planning your accommodation.
---
Recommended Packing List For Iceland
There are certain things you shouldn't wait until you're in Iceland to buy. This packing list contains everything to make sure that the cold doesn't ruin your trip!
This windproof/waterproof jacket is absolutely perfect for keeping the cold out and staying warm when you are visiting such cold places. If you only have a warm waterproof jacket I would seriously consider upgrading to windproof as it makes even more difference than the fleece lining in my opinion. See our recommendation here.
If you're looking for some decent waterproof trousers then take a look at these. They are windproof and waterproof but also insulated which means that you may get away with only wearing these and not having to have an additional layer underneath. They also do a very good job of not looking too much like waterproof trousers. Have a look to see what I mean here.
If you're planning on doing some serious hiking then we recommend you take a look at these Columbia walking boots. They come in loads of different colours and we think that they are really stylish. The most important thing however is that there are comfortable, waterproof and resilient which these are! There is nothing worse than sore feet preventing you from making the most out of your trip so don't put it down to chance. Check them out in more detail here.
If you're looking for some decent waterproof trousers then take a look at these. They are windproof and waterproof but also insulated which means that you may get away with only wearing these and not having to have an additional layer underneath. They also do a very good job of not looking too much like waterproof trousers. Have a look to see what I mean here.
This windproof/waterproof jacket is absolutely perfect for keeping the cold out and staying warm when you are visiting such cold places. If you only have a warm waterproof jacket I would seriously consider upgrading to windproof as it makes even more difference than the fleece lining in my opinion. See our recommendation here.
If you get particularly cold then you are going to want to take a look at these fleece-lined full-body thermals. If you couple these with decent clothing over the top then the coldest of people should be warm in the coldest of places. Have a look at colours and sizes here.
If you're looking for a pair of warm gloves then check out these waterproof/windproof/thermal gloves. When you're looking for decent gloves then fashion should not be your main priority. I don't know about you but cold hands are the pinnacle of annoyance! These absolutely get the job done and you don't have to take them off to use your phone which is a godsend. Take a more detailed look here.
If you are worried about getting cold feet (and you should be) then take a look at these brilliant thermal socks by Hot Feet. They should keep your feet warm in the cold conditions you will be facing, as long as you have decent footwear as well! You get 8 pairs which are also really good for the price. Take a look in more detail here.
You absolutely need to have a warm hat when you are visiting cold places so take a look at this gorgeous fleece-lined cable knit beanie. It's a timeless style and will absolutely keep your ears and head warm for your trip! Take a look at different colours here.
If you're not a massive fan of fleece-lined hats (Jade isn't) then earmuffs are the way forward. These vegan earmuffs look amazing and come in varying sizes whilst also looking really cute. I personally like the brown faux leather look but there are lots of different colours available. Take a look here.
It goes without question that you're going to need a jumper. This gorgeous knitted jumper will keep you warm whilst also looking the part (people love the knitted look in the cold!). There are a few colours to choose from the reviews talk for themselves! Take a look here.
---
---
Are there any other Icelandic souvenirs that you recommend should be on this list? Did you find anything that you definitely want to bring back from your next trip? Let us know in the comments below!