Choosing a Halong Bay day tour can be a little overwhelming when you have so many boat options. We've picked out the top 10 trips so you can find your favourite to book in just a few minutes!
---
Halong Bay
Halong Bay is one of the most popular places to visit when travelling to Vietnam. There are stunning islets to view, caves to explore and hiking trails too – and don't forget the incredible sunset views here!
Read More: Stay On An Overnight Luxury Cruise in Halong Bay
Taking a day tour to Halong Bay is one of the cheapest and easiest ways to visit this picture-perfect UNESCO World Heritage site, so take your time reading our top tips, recommendations and opinions!
Disclosure: We were guests of Go Asia Travel for this Halong bay day tour, but all opinions are our own!
---
Our Halong Bay Day Tour With Go Asia Travel Review
Our Halong Bay day tour began with a bus pickup at 8.45 am. We were originally told to be ready at 9:15 am but the bus arrived earlier than this, so do give yourself a bit of extra time to be ready just in case. Luckily we decided against going out for breakfast before our tour and were sat in the hotel lobby anyway when the bus arrived.
It took around another 45 minutes to drive around the Old Quarter collecting all of the other guests, and then we were on our way!
The bus was very comfortable and we had plenty of legroom – yep, even us Daddy Long Legs! Our guide Ivan was fantastic – he gave us lots of information about Vietnam and managed to make us laugh the whole time he was talking.
I think it makes a difference when you feel comfortable asking your tour guide anything, and Ivan really did make everyone feel welcome and was open to all of our questions.
Read More: All Of The Best TWO Night Halong Bay Cruises
After only 20 minutes, we stopped for a toilet/coffee break. We didn't really think it was necessary as we already knew we'd be stopping again in about an hour. However, it made more sense when we stopped the second time as we realised that the point of this next stop wasn't to use the bathroom, but to buy pearls from the pearl farm.
We were told that everybody HAD to get off the bus so that the bus driver could drive round to the pickup point. There is no need to stop twice in a 3-hour journey, so I think this was just a way of getting everyone closer to the shop – and I wish that the staff were transparent about this!
Saying that though, we weren't pressured to buy anything and there were bathroom and toilet facilities to use if you needed them.
Once we arrived at the port, we were taken to our boat and shortly after arriving, we were on our way!
Read More: The Full Guide To Taking The Phu Quoc Cable Car
Lunch was served as we sailed to Halong Bay, and we enjoyed a decent selection of Vietnamese cuisine. I asked for a vegetarian meal, and I was given a whole plate of tofu bits and pieces, noodles, eggs, bread and nuts! I was impressed with the amount of food I had been given, plus there was seafood, rice and vegetables on the table for everyone to share.
Read More: The Best Street Food In Hanoi!
One thing I would say is that although plenty of food is included in the price, drinks are not – even water – and I don't think that's fair. We did receive free water on the bus but we'd finished that by the time we arrived to Tuan Chau harbour.
You should have to pay for beer and soft drinks on the cruise, of course, but I think that water should be handed out freely, especially as it can get so hot! A small bottle of water cost 20,000VND which won't break the bank, but you'll definitely need more than one so that costs can add up.
Bring a few large bottles but make sure that you keep them on the boat – you won't be allowed to take plastic bottles onto the island (and rightly so!)
Cruising around Halong Bay was brilliant – it's such a beautiful place so don't forget your camera! Ivan talked to us about some of the different rock formations and showed us the rocks that you can see on a 200,000 VND bank note!
The first stop on our Halong Bay day tour was Ti Top Island (or Titov Island). We had 45 minutes to spend there, with the choice of hiking up to the top of the hill to see the incredible views, cooling off in the sea or relaxing on the beach.
Read More: The BEST Tours on Phu Quoc Island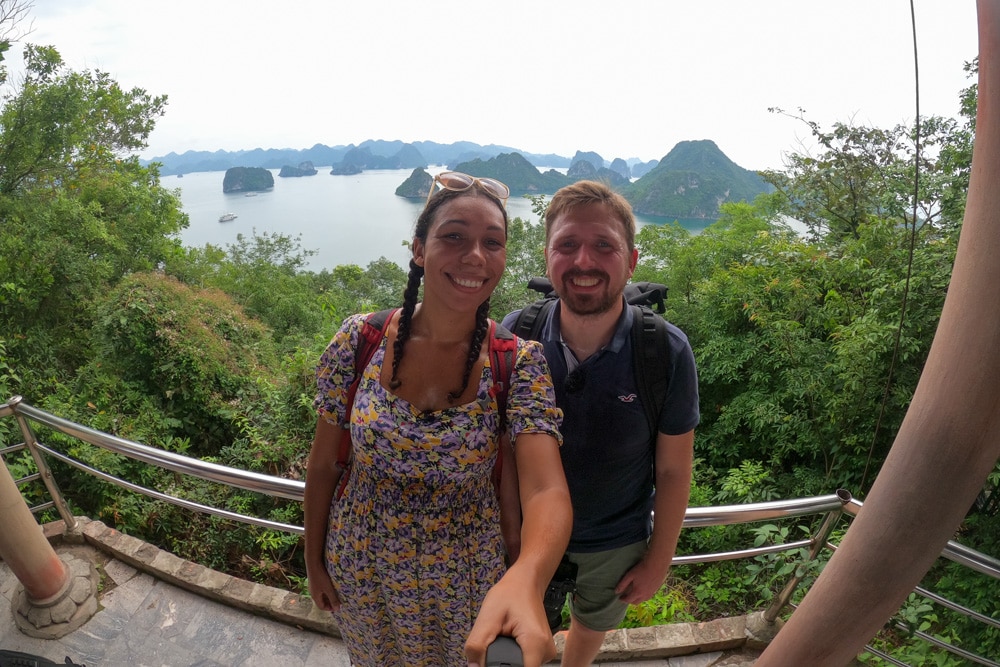 We chose to climb the hill and the views were stunning from the top, but in hindsight, we wished we had jumped into the sea because it was so insanely hot.
Plus, whilst on the boat, you can look at the rock formations all day, so I think swimming is a better choice because it's something a little different. We did feel a little rushed as we had to get to the top, enjoy the view and then climb back down again all in 45 minutes, but we managed it!
Read More: How To Get Incredible Tailored Clothes Made In Hoi An
Next was the kayaking or bamboo boat trip. We decided to kayak as that sounded much more fun! We actually did have a great time and I would highly recommend at least getting off the boat (some people chose to stay on rather than taking part in the activity) because the views here are literally mindblowing!
Read More: Your Ultimate Guide To Backpacking Vietnam
You paddle through a cave and out into a bay and I have never seen anything like it! Honestly, we were just taken aback by the beauty of the place, despite the bright little kayaks all floating around nearby.
Again, we only had 45 minutes and this time we felt like we missed out a bit because of the time it took to get everyone onto a kayak or bamboo boat.
---
Check Availability Of This Exact Tour Here – With Possible Deals!
---
This actually isn't something that was in Go Asia Travel's hands – the problem here is that all of the boats arrived at a similar time (this is to do with the tide) and there just weren't enough people to manage everyone who wanted to get in the water.
This would be an issue regardless of the boat trip company you chose – it's just something to be aware of when booking a Halong Bay day tour. Make sure you're ready to get off the boat quickly, grab a life jacket + paddle, and get to the jetty as quickly as you can!
Even if you don't want to kayak (or if you have young children) then I'd still highly recommend getting on a bamboo boat to explore the area!
The final stop was to the caves – and we were actually so impressed! We thought that we'd pop into a little cave, look around and leave, but they are HUGE and so fascinating! It's also much cooler inside the caves so we had a little respite from the heat which was very welcome.
This activity didn't feel rushed at all – we had a pleasant walk through the caves, stopping to look closer every now and then, and to take photos, and we timed it perfectly to be back on the boat with everyone else.
The cruise back to the port was lovely as we were able to watch the sunset through the rocks – it was such a peaceful and beautiful time to reflect on the day.
Overall, we had a great time on this Halong Bay day tour and would recommend it if you only have one day free for a cruise. There is plenty to squeeze in, but to be honest I think that is to be expected when you have to drive so far to even begin the tour.
My favourite part of our Halong Bay day tour was the kayaking – definitely choose this option if you can! We really enjoyed our day and won't forget the outstanding beauty of Halong Bay in a hurry!
Read More: Check Out The Best Beaches In Hoi An!
---
How To Choose The Best Halong Bay Day Tour
Most of the Halong Bay day tours have a similar itinerary, but there are some small differences in what you get for your money, as well as the quality of the boat.
Things like hotel pickup, kayaking and the bamboo boat are sometimes optional extras, which is good if you would prefer not to do them so you don't pay for something you're not experiencing.
Most people stay in Hanoi before their Halong Bay day, but if you're actually staying in the Halong Bay area (Tuan Chau Island for example) then book a tour that doesn't include pickup to save yourself some money. When you are booking on GetYourGuide or Viator, choose your dates and then you will see the different options to include pickup or not.
Here is a list of the best highly rated Halong Bay day tour types for you to choose from:
---
---
---
Read More: Try These Awesome Vietnamese Cooking Classes!
Where is Ha Long Bay?
Halong Bay isn't particularly close to any other tourist destination in Vietnam. It's in the northeast of the country, about 170km east of Hanoi. It takes around 2.5 hours to drive straight from the Old Quarter to the port – however, the tour buses will stop at least twice for toilet breaks (and Pearl Farm visits!).
Read More: How To Spend 24 Hours In Hanoi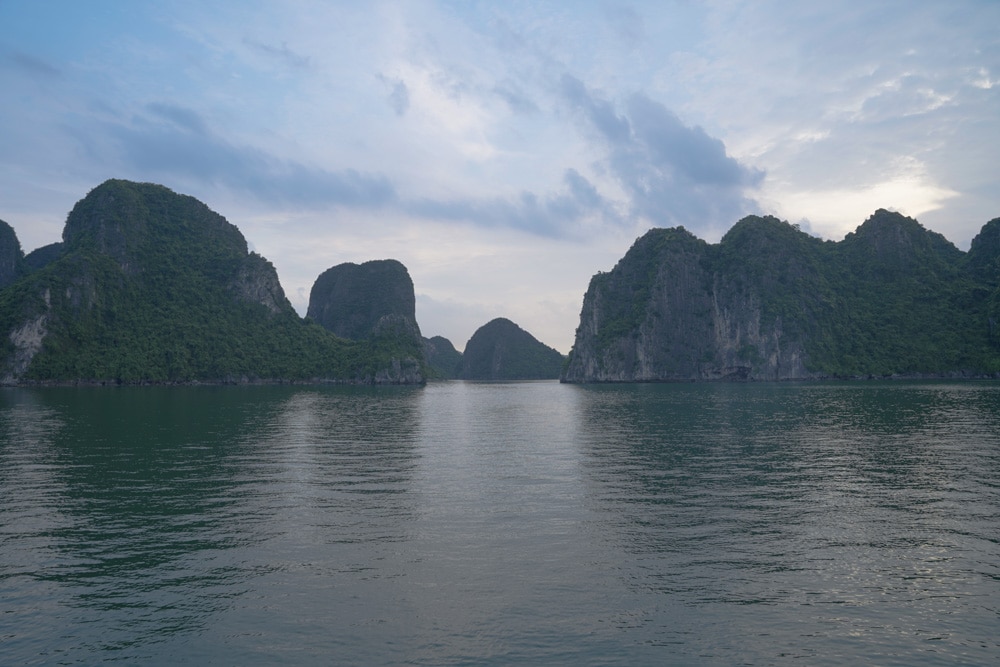 The average journey time for a Halong Bay day cruise from Hanoi is 3 hours. It's a decent drive – the recent opening of the expressway has cut the time on the road almost in half!
---
Read More: 9 Fun Things To Do In Vietnam On A Budget
How To Get To Halong Bay
Most Halong Bay day tours offer free pick-up from the Old Quarter of Hanoi as it's a popular area with travellers. However, if you'd rather make your own way to the harbour instead, or your tour doesn't offer pickup, there are a few ways to get there.
I've listed these in order of ease, but obviously, price is a factor for most people too so I've given an approximate cost for each method.
There are public buses but to be honest, it's not too much cheaper to get a shuttle bus and it's much simpler!
Read More: How To Check Out The Hanoi Night Market
Shuttle Bus
Speak to your tour company to see if they can pick you up for a fee (if they aren't including it in your Halong Bay day tour). This applies especially if you're not staying in the Old Quarter of Hanoi!
If they don't offer a shuttle bus from where you're staying, check the form below for a good deal on your journey, or click this link.
Taxi/Private Car
Download Grab as soon as you arrive in Vietnam – it will make your life much easier! You can book a taxi to pick you up in Hanoi and take you all the way to Halong Bay, and you can book one for our return too.
If you'd prefer you can always ask your hotel and they'll find you a driver. Keep the price above in mind so that you aren't ripped off!
Train
This is a slow way to visit Halong Bay, and I wouldn't necessarily recommend it unless you have all the time in the world!
Just turn up to the train station to buy your tickets, and enjoy the pretty views on the way.
---
Read More: How To Get To Hoi An From Hanoi
---
What Does A Halong Bay Day Tour Include?
As I mentioned before, most of the Halong Bay day tour trips are similar but be careful that you're booking a tour that includes everything you need it to.
On a standard day tour to Halong Bay, you can expect:
Pick up from Hanoi's Old Quarter
Water on the shuttle bus
Lunch (vegetarian options too)
Island visit
Kayaking or Bamboo option (pre-paid or not)
Cave Visit
Return to Hanoi's Old Quarter
If your Halong Bay day tour doesn't include one or more of these items then I'd recommend finding a different one. Don't forget that the pickup and kayaking might be optional, but having the choice is a good thing!
Read More: The Gorgeous Hoi An Night Market
---
---
How Long is a Halong Bay Day Tour?
A typical Halong Bay day tour will last for around 12 hours. It sounds like a long time but you won't really notice it as there is a good balance of travel time, activities and time to enjoy the views.
Most tours pick you up between 8:30 and 9:30 am depending on where you're staying. Be ready a little earlier than planned just in case – you don't want to hold up the bus and the earlier you arrive at the harbour, the better!
You'll return to the harbour between 5 – 6 pm, and the bus will begin its journey back to Hanoi. There is usually only one stop on the way home, but the time it takes to get back mostly depends on the traffic. Weekdays will take longer, but you'll usually be back in Hanoi by 9 pm. Don't book a flight or onward travel for after your Halong Bay day tour though, just in case the travel time changes.
---
---
The Best Time To Visit
Vietnam is a great holiday destination all year round, but the best time to visit Halong Bay depends on what you're looking for!
Our Halong Bay day tour was in June which is the school holiday time! It was fairly busy on Ti Top Island and at the kayaking place, but we were able to enjoy ourselves still. If you want to avoid crowds, go later on in the summer BUT it will be the rainy season!
December – March: Busy time for foreign tourists, cooler weather
April/May – Low rainfall, quiet season
June – August: Rainy season, low season for foreigners, domestic tourists are on their holidays
September – November: Mild weather, still quite busy
Try to avoid national holidays like Tet (Lunar New Year) and the weekends as it gets much busier then.
---
---
Tips For Your Halong Bay Day Tour
Before you book your Halong Bay day tour, read my top tips to help you enjoy the day!
Book in advance. The Halong Bay day tours do really fill up – we travelled during a relatively quiet time compared to other years as foreign tourists aren't fully back in Vietnam yet, and our boat was at full capacity.
If you bring any plastic bottles for water, keep them in your bag whilst you visit the islands/caves. You're not allowed plastic here to protect the environment, but you can buy canned water and snacks on land. The boats serve water in plastic bottles so you should be ok to drink your own whist cruising – just dispose of them in the bin, not the water!
There are around 60 people on each boat. Even though your tour might only have 25 people on it, you'll share the boat with another group so it's just something to keep in mind if you're only expecting a small group Halong Bay day tour.
Bring swimwear and a towel for the swimming and kayaking. I would also bring water shoes because the kayaking jetty can get boiling hot and you might be waiting for a while.
---
---
Where to stay in Halong Bay
If you've decided to stay in a hotel close to the harbour to avoid lots of travel before your Halong Bay day tour, then here are some great options. You can also read our post for more information about where to stay!
---
Where to stay in Hanoi Old Quarter
Hanoi is full to the brim of cute places to stay, and I'd recommend staying in the Old Quarter before your Halong Bay day tour. It's a fantastic place to explore, plus it's easiest to be picked up from there:
---
---
Frequently Asked Questions About A Halong Bay Day Tour
---
Enjoy your Halong Bay day tour and let us know in the comments if you found this post helpful!
---