There are a few beaches in Hoi An to choose from but there are NOT created equally. Have a read of our guide to make sure you don't waste any time!
Read More: Danang Or Hoi An?! Let Us Help You Choose!
---
Beaches In Hoi An
Hoi An has an absolutely huge stretch of beach that spans all the way to Da Nang. It is one of the most beautiful beaches we have ever seen. However, quite a large area of this is privately owned by the incredible Villas spanning the coastline (more on those in the post).
This still leaves quite a large area for public use which is where we went during our visit. The stretch is split into 5 beaches with quite significant gaps between them (these will probably develop into beaches of their own over time). We will start with the best rated, all the way down to the worse. Remember to watch the video and see all of our other things to do in Hoi An and our accommodation recommendation below the list!
Read More: Get INCREDIBLE Tailored Clothes In Hoi An
---
#1 – An Bang Beach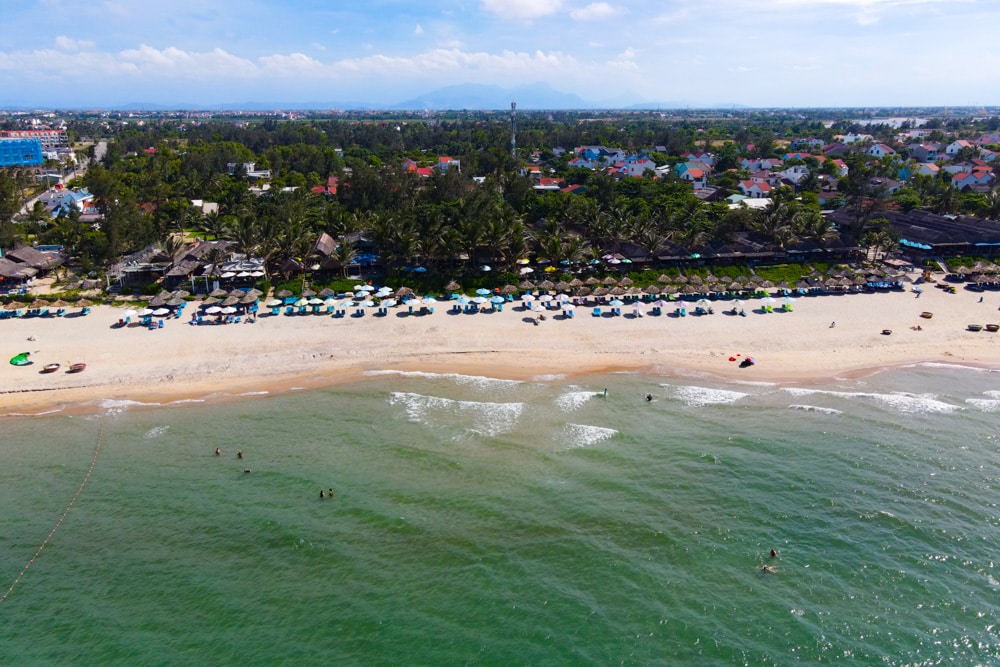 This is by far the most developed of the beaches in Hoi An in terms of tourist demands. If you are looking for the quintessential beach experience then this is the only beach that really delivers.
There are hundreds of decent-quality sunbeds with padded cushions, umbrellas and tables included in the price. There is not one provider on the beach, just find a bed you want and they will come over. In reality, they will probably be approaching you on the beach to get you to have one of their beds anyway.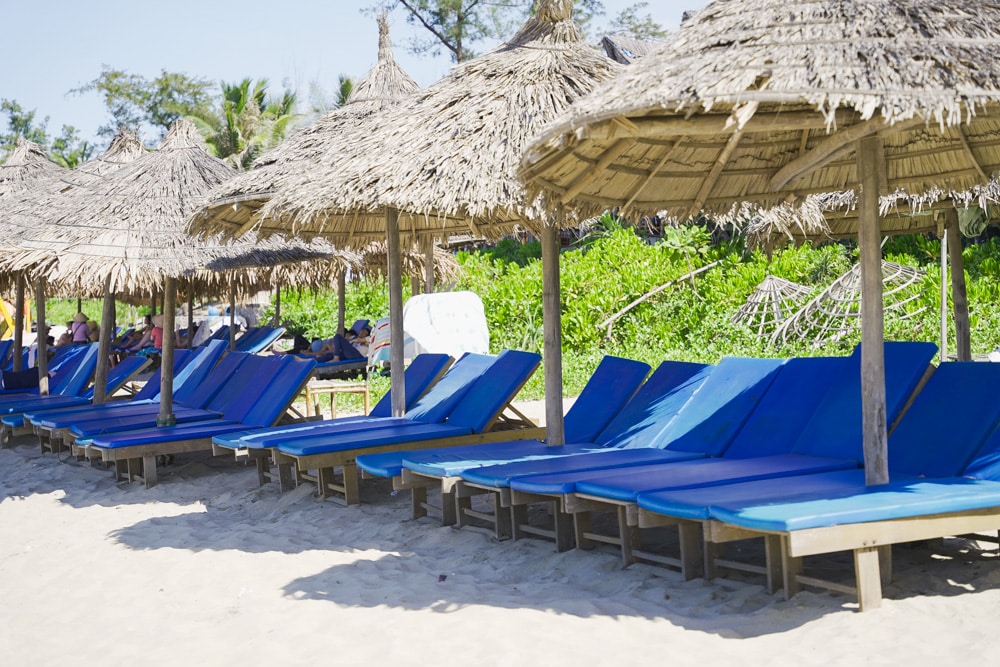 The entire stretch of beach is full of restaurants with literally thousands of tables so you won't find it difficult to find somewhere to eat. Remember, you don't HAVE to go into the first place someone tries to get you in. Have a look around!
Read More: The BEST Luxury Halong Bay Cruises
If you need some sunglasses then take a look at our recommended pair right here. Kev has just done 7 months without a pair because he couldn't find any he liked on the trip and it was just a lot of complaining about the sun. Don't be a Kev… Find out the price of not being a Kev right here.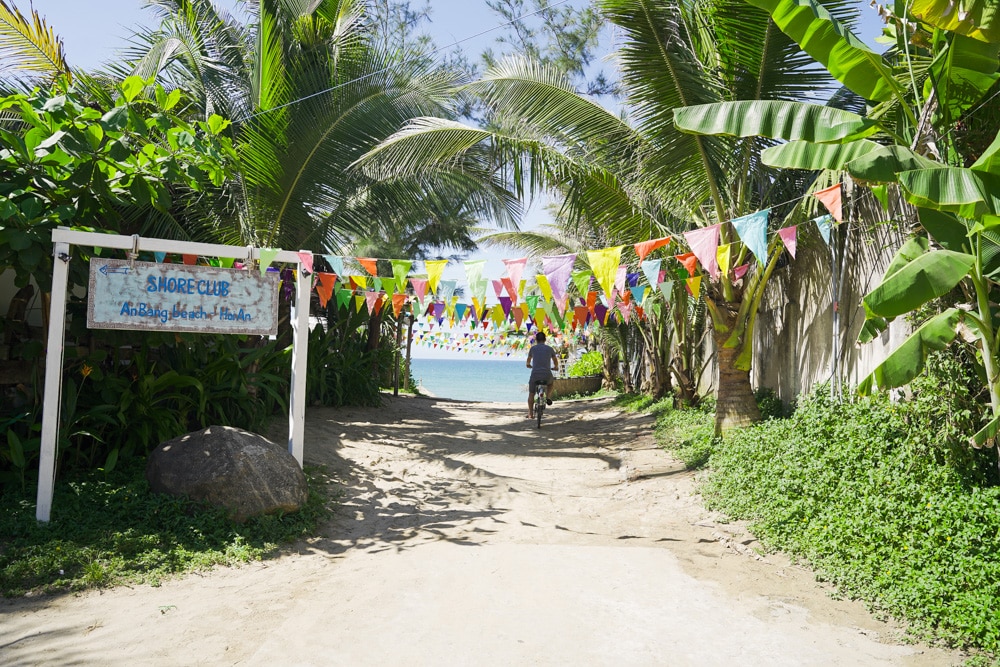 There are multiple public shower blocks and toilets so you don't have to worry about facilities. These are not situated on the beach itself though but on the road just behind the stretch of accommodation and restaurants. They are really close so don't worry and if you don't think you'll make it then just go into one of the restaurants, they don't mind.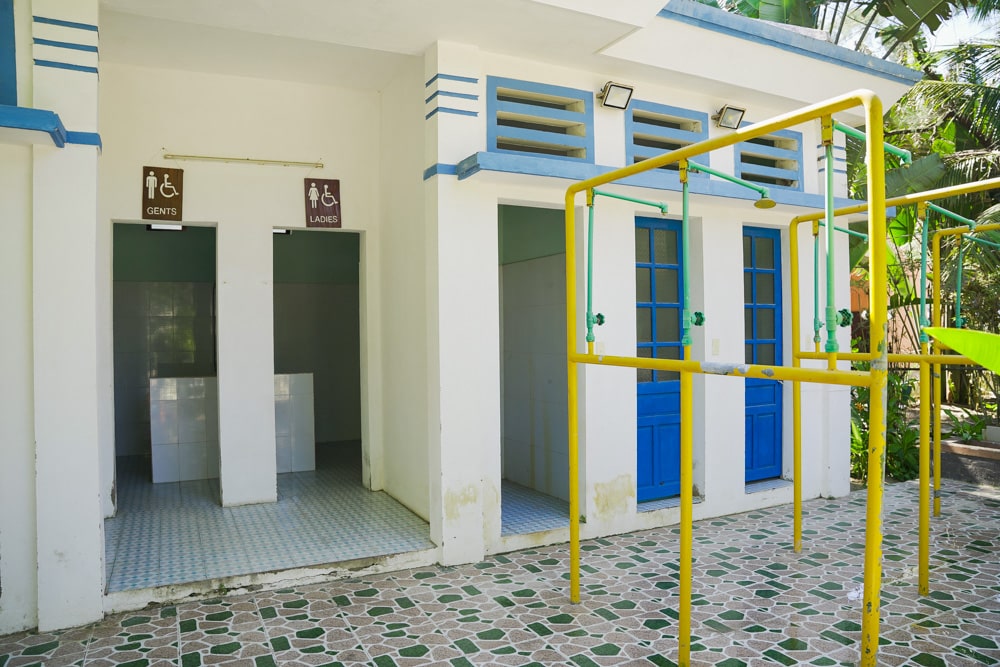 Swimming at An Bang is the best out of all of the beaches in Hoi An. There is a very large area which is completely sectioned off for swimming and this is watched over by full-time lifeguards on the beach. There are also vendors on the beach renting out inflatables and life jackets so everyone can join in!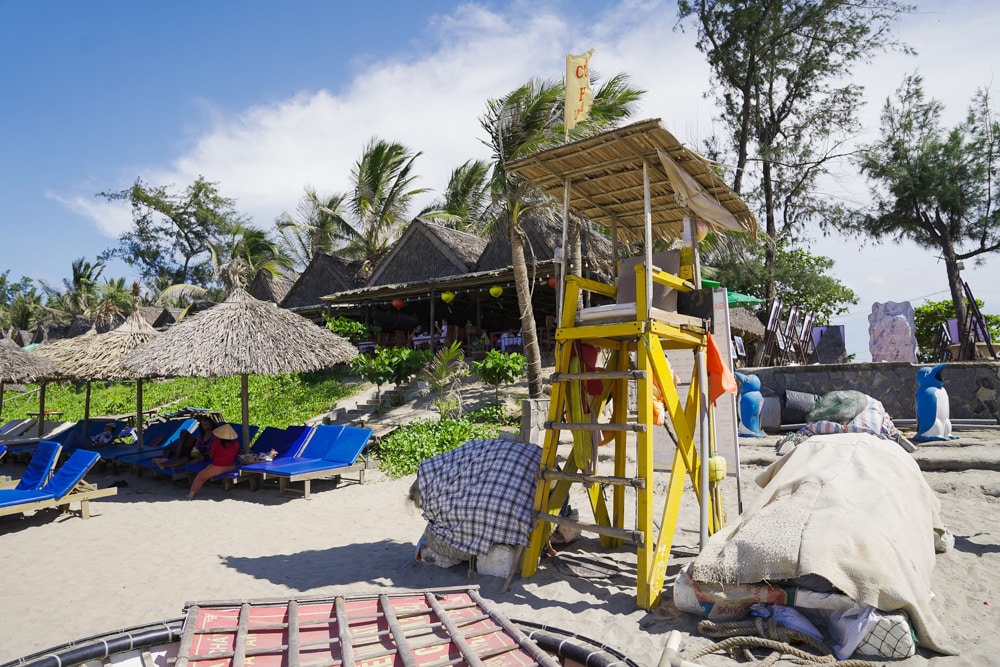 There is even the ability to go parasailing, banana boating and jet skiing at An Bang beach! Services will change throughout the year and I am also sure the prices will change in the future too but take a look at the picture below for current prices that you can expect on the beach.
The accommodation options next to An Bang beach are insane. Full stop. A short search shows insanely high review scores and incredible villas and hotels. Take a look at our top 3 below!
Finally, there is parking available at the beach. Just drive down to the pin on google maps for An Bang beach and someone will usher you into an available bay. This included cars, mopeds and bikes. It is very affordable so don't expect to spend too much.
Read More: Check Out The World Beating Phu Quoc Cable Car
---
#2 – Coconut Beach
Out of all the beaches in Hoi An, Coconut Beach might be the most luxurious. It might also be the most underrated. When we were in Hoi An, An Bang was relatively busy but Coconut beach was completely dead. No one was there.
I reckon that people think that beach is private because it's directly in front of the incredible Boutique Hoi An Resort but in reality, they do not own the beach. The beach itself is a nice stretch of well-maintained white sand which will probably have some vendors and sun beds in the future.
However, the beach is not why I recommend coming to Coconut Beach. The Boutique Hoi An Resort is a lush place to visit and you have a couple of options to make the most out of this stunning resort. Firstly you can buy a day pass to use the resort facilities which are incredibly well priced (470,000VND / $20 / £17.70). With this day pass, you have access to all the facilities and the stunning beachside pool on the grounds.
Or you could just stay at the resort to make the most out of this tranquil and perfect stretch of sand with one of the most incredible accommodation options in all of Hoi An. Check out the link below to have a look at the resort in more detail!
Read More: Halong Bay Day Trips – Budget Trips!
---
#3 – Ha My Beach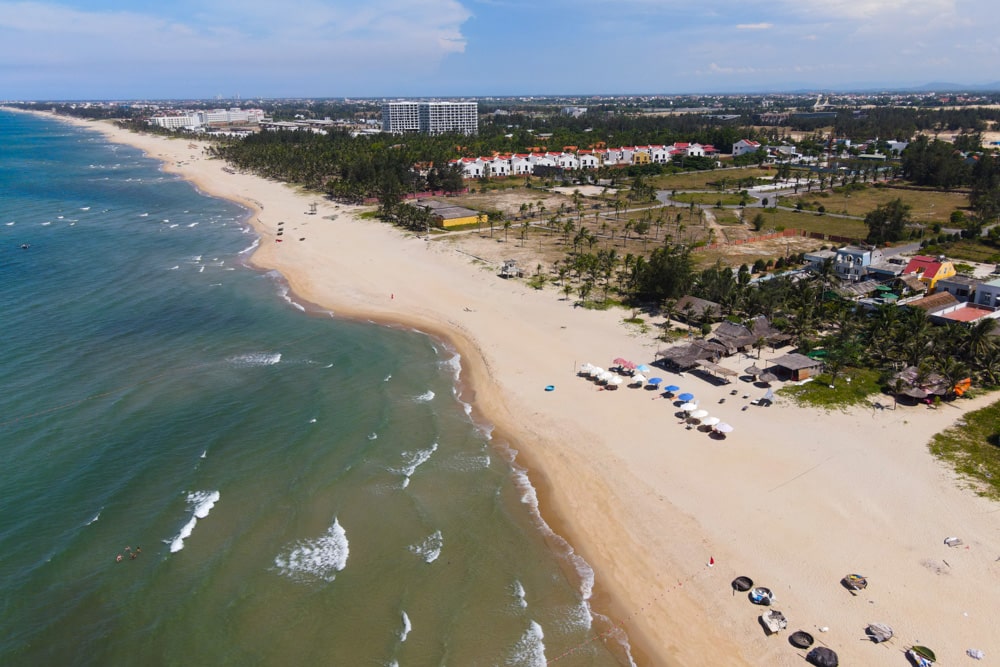 Ha My Beach is basically a miniaturised version of An Bang Beach. It has a few restaurants, a shower block, a toilet, a few sunbeds and a small section for swimming. I think it will be MUCH bigger in the coming years as tourists start to flood back to Hoi An.
Right now I actually highly recommend Ha My beach if you want a typical South East Asian beach experience but with nowhere near as many people as An Bang. The beds aren't quite as good, there is no lifeguard (there will be in the future) and you will not be waited on hand and foot.
But, you will be able to chill with just the sound of the waves lapping up onto the shore whilst you sip your bear and admire the remote beauty of Ha My Beach.
It is literally just up the beach from An Bang so if you are in Hoi An for a few days then I definitely recommend spending at least one day at Ha My beach.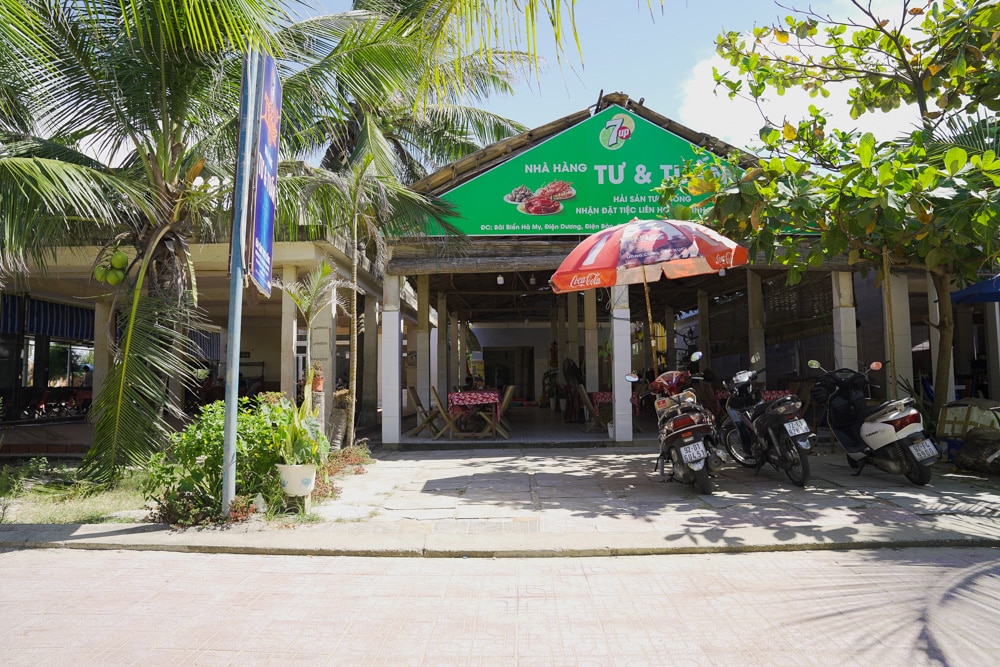 You will notice that the whole area around Ha My beach looks very ready for considerable development, when the crowds start returning in the coming years, Ha My might be transformed into something very different. Make the most of the tranquillity whilst you can.
Read More: The Best Cooking Classes In Hanoi
---
#4 – Cua Dai Beach
Wow, this is going to be insane… in a few years.
Cua Dai Beach is basically a complete construction zone. A huge new Marriott is being built and they are creating huge sea walls out to sea to create a massive new swimming section (we saw huge ships dumping rocks into the water which I am assuming is creating a protected zone for swimming).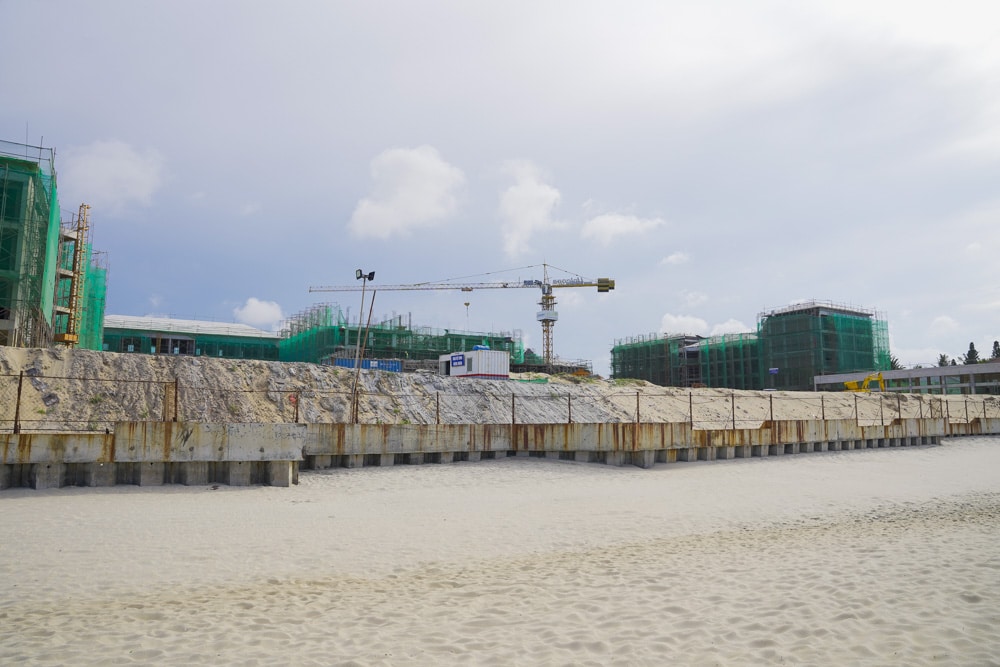 Right now, there are some plastic chairs at one end of the beach and the other end is a temporarily closed 3-star hotel that has started to crumble into the sea (no joke, look at the picture below).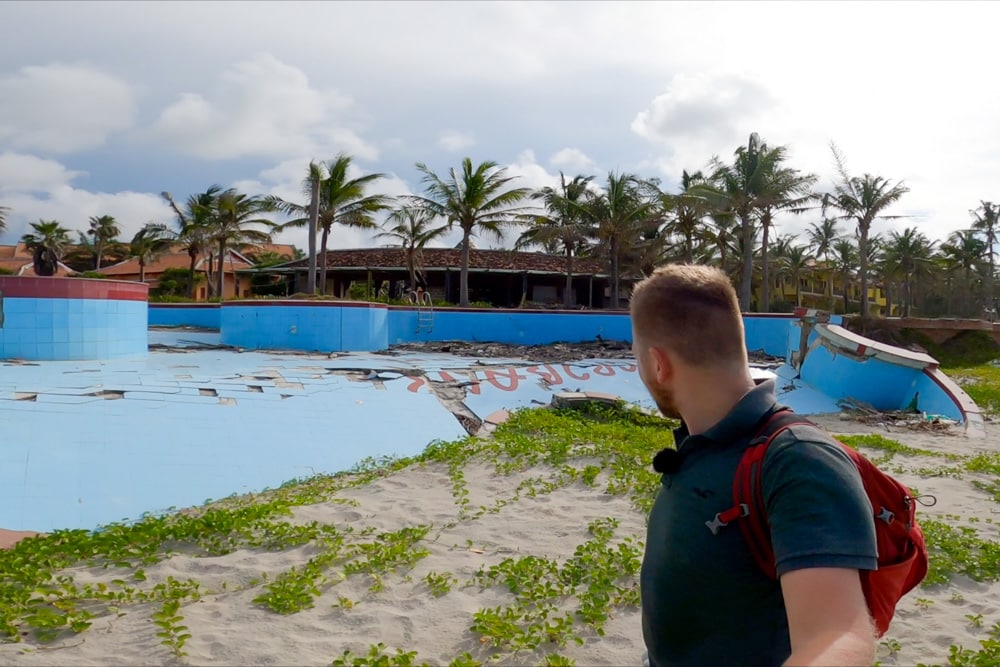 When the tourists start coming back and the area has finished construction, I imagine that this is going to be one of the most luxurious locations in all of Hoi An. Right now I cannot recommend coming to Cua Dai.
If you have been recently and it has changed, please let me know in the comments so I can update the article!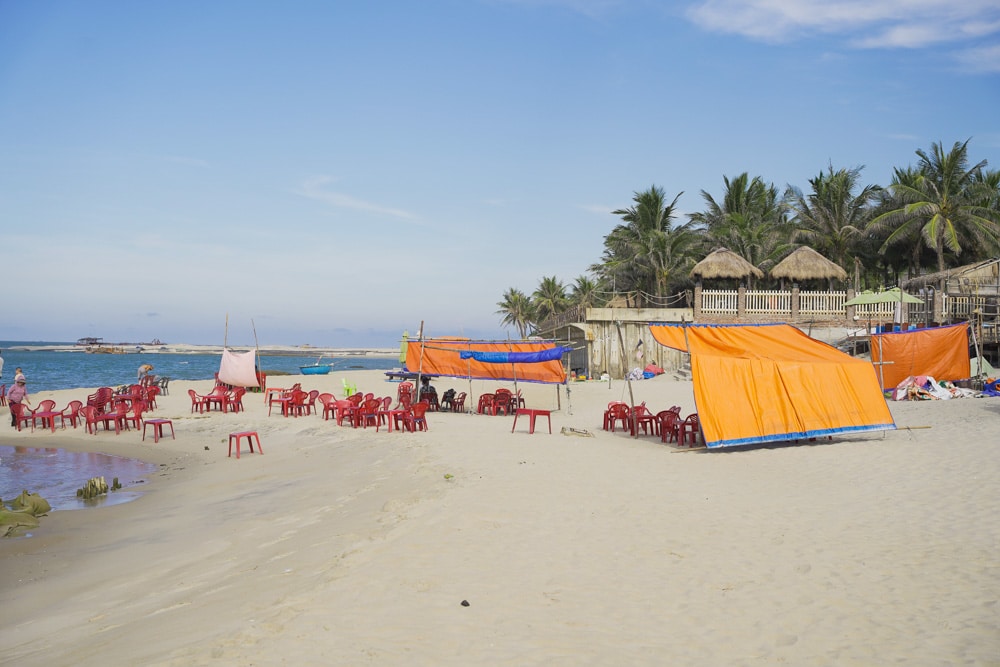 Read More: The Incredible Street Food Tours In Hanoi
---
#5 – Hidden Beach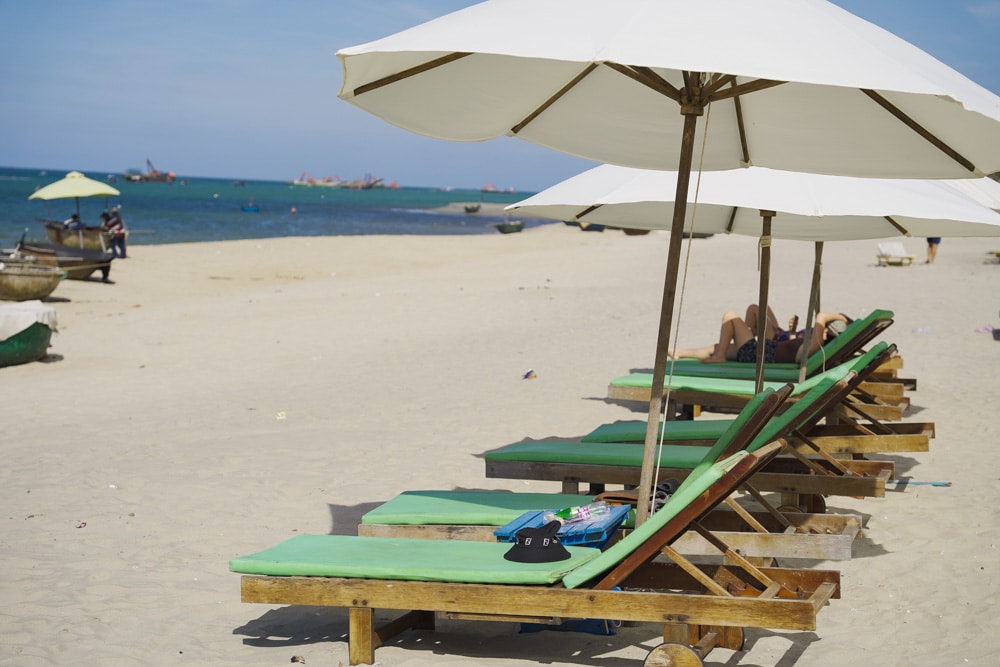 Hidden Beach is aptly named as it is situated down a small unassuming road that could easily be missed on the main street.
As you venture down the narrow road, you start to get your hopes up for a small, peaceful, almost private slice of paradise. Unfortunately, this is not the case.
It appears that the lack of tourists has hit Hidden Beach particularly hard with buildings starting to crumble and the shower block literally sinking into the ground.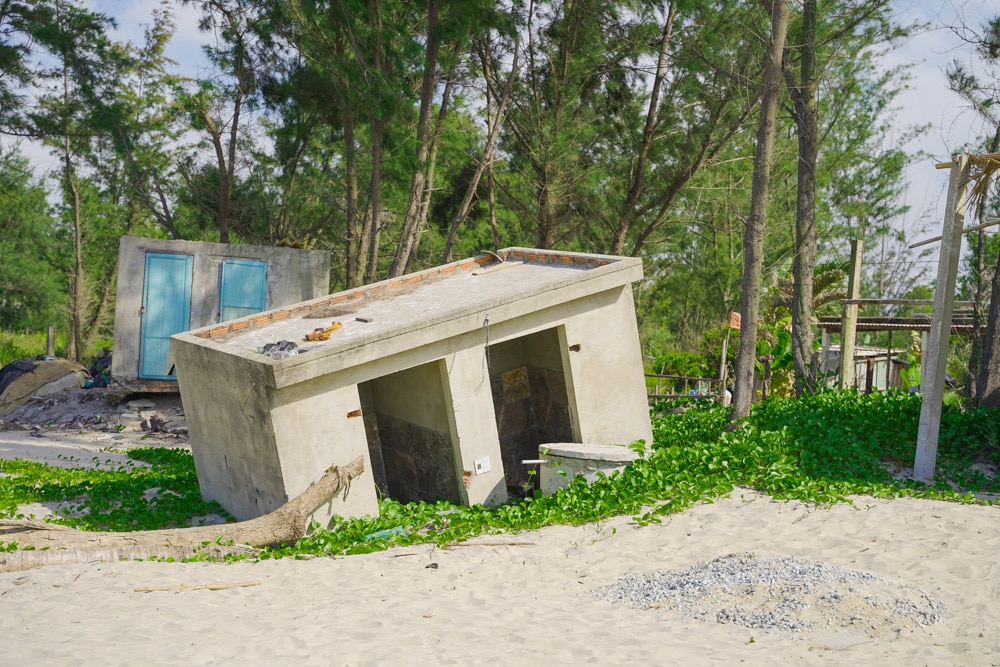 It appears that there is a place to get a drink but no one was there when we were and it looks abandoned. There are spider webs and greenery growing all around the chairs.
The deck chairs look ok but I just cannot recommend coming and paying for a lounger in a place where there are literally no facilities at all.
Read More: A Super Packed 1 Day Hanoi Itinerary
---
Other Beaches Near Hoi An
If you have been to the best beaches in Hoi An then maybe you want to go down the coast a little way to see if you find something even better. Well here are a few of my top picks if you want to go a little further afield.
Read More: The Whole Way Fron Hanoi To Danang!
Binh Minh Beach
Binh Minh beach is an absolutely huge, 100 meters wide, beach south of Hoi An across the river. It takes around 30 minutes to drive to translates literally to the sunrise beach.
This is exactly why you should come here, to witness one of the most incredible sunrises in all of Vietnam. The beach itself tends to be much quieter than the other beaches in Hoi An but it does still have loungers in places and some facilities.
These are spread out a bit because of the sheer size of the beach but I wouldn't recommend coming down here for the day anyway. Come for the sunrise and head back into Hoi An. The beach is so wide here that it is actually a little annoying to swim and be so far away from the facilities.
Read More: The COMPLETE Guide To Backpacking Vietnam
My Keh Beach
My Keh beach is well up the coast from Hoi An in Da Nang city. It averages 60 meters wide which makes it an absolute gem for big families to have an incredible day out.
It's a 40-minute drive from Hoi An but if you are planning to go into Da Nang for the day then this could be the perfect beach to complement your day trip to Da Nang.
My Keh beach has all of the facilities you would expect on a beach and, being in the city, has tonnes of restaurants, bars, etc for the rest of the day.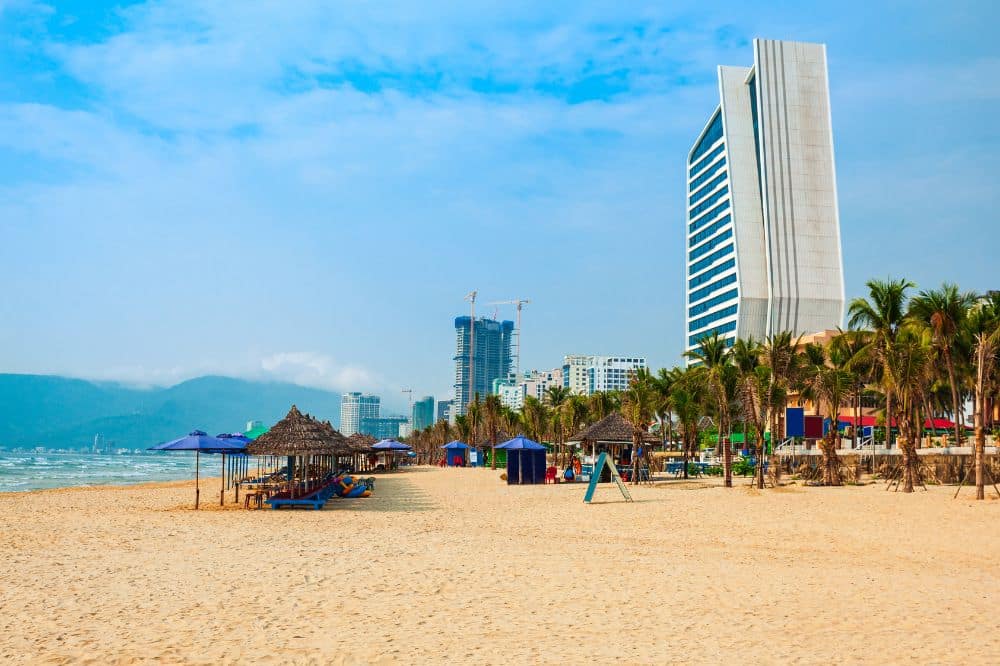 ---
Tips About Beaches In Hoi An
Get There Early – It goes without saying that if you want to get a sun lounger then you want to get there relatively early (especially in high season). This is also the best time to get here as the middle of the day is so hot.
You Don't Need A Sun Lounger – The beaches in Hoi An are MASSIVE. They have huge areas of soft white sand so if you don't get/want a sun lounger you will always be able to find a spot on the beach.
Surfing – The swell at the beaches in Hoi An is not that big so don't expect world-class surfing. You can find out more information about the swell from day to day here.
Swimming – At the best beaches there will be a cordoned area for swimming. Make sure you only swim in these areas as there can be currents in other areas. If you are going to swim outside of these areas then make sure you do not swim anywhere near the red flags as this will be dangerous.
Read More: Danang To Hoi An – 7 Ways To Travel
---
Map Of Beaches In Hoi An
---
Best Accommodation For Hoi An
I have recommended a few accommodation options for the actual beaches in Hoi An Above but the following are my recommendations for Hoi An in general. The ancient town of Hoi An is such an incredible place to visit and stay you might prefer to stay closer to town than the beaches in Hoi An.
Read More: The Complete Guide To Starfish Beach Phu Quoc
---
Other Things To Do In Hoi An
Hoi An is a fantastic little town and has so many more things to do than just exploring the beaches in Hoi An. Here is a list of some of the best things to get up to on your visit. Make sure to go through the links to see the full articles if you're interested in any of the activities below!
---
Explore The Hoi An Ancient Town
The Ancient Town of Hoi An is full of things to do. The shopping, restaurants, bars and history here are fantastic. The only way to experience this beautiful town is to go for a day and get lost in its winding streets and shops!
---
Tailored Clothes
Hoi An is a fantastic place to get some tailored clothes! There are loads of shops to choose from but we ended up going with Bong Tailor on the main street in the ancient town. You can read the full article and watch the video here.
I ended up getting 2 suits made and Jade got 4 dresses. We would have got so much more made but our bags were already overweight! The prices are much less than back in the UK, especially considering they are tailored. My only tip is to not rush into anything as they always go too high on the prices at the beginning. Don't get ripped off!
---
Night Market
The Hoi An night market runs every day between 5 pm – 11 pm. It is an absolutely fantastic little night market covered in mesmerising lights and lanterns. You can spend many hours just walking along the river and perusing the goods and souvenirs on offer.
We ended up buying a nice bowl and a little candle holder which are currently up on the side in our house. Check out the whole article about the Hoi An night market here.
Read More: Check Out The Hanoi Night Market OR The Phu Quoc Night Market
---
Explore The Nearby Islands
The Cham Islands are just across the water from Hoi An and you can get a little boat over to spend the afternoon snorkelling, swimming and enjoying the beaches on these gorgeous islands.
Usually, lunch is included with these trips, and so is the snorkelling equipment so you don't have to worry about planning for these things yourself.
You'll also get picked up from your hotel and dropped off after the trip. A tour like this is suitable for anyone over 8 – even if you're not a strong swimmer.
As well as snorkelling, you get to experience underwater walking with a special helmet – it's a super unique way of seeing marine life!
If you're stuck on what kind of towel to take with you then take a look at this microfibre poncho. We absolutely love ours and it is insanely helpful when you need to change on the beach. They dry fast and pack down super small so you'll be able to fit one in your day pack easily enough. Check out the price here.
Some people are saying that there is nowhere to change on the boat but we have never had that problem because we have the towel above!
Book your Cham Islands Tour Here
---
Take A Boat Ride
The river in Hoi comes to life at night with hundreds of small boats with little lanterns on. There are MANY vendors trying to get you to go on these little lantern boats and it really does make a pretty picture across the water.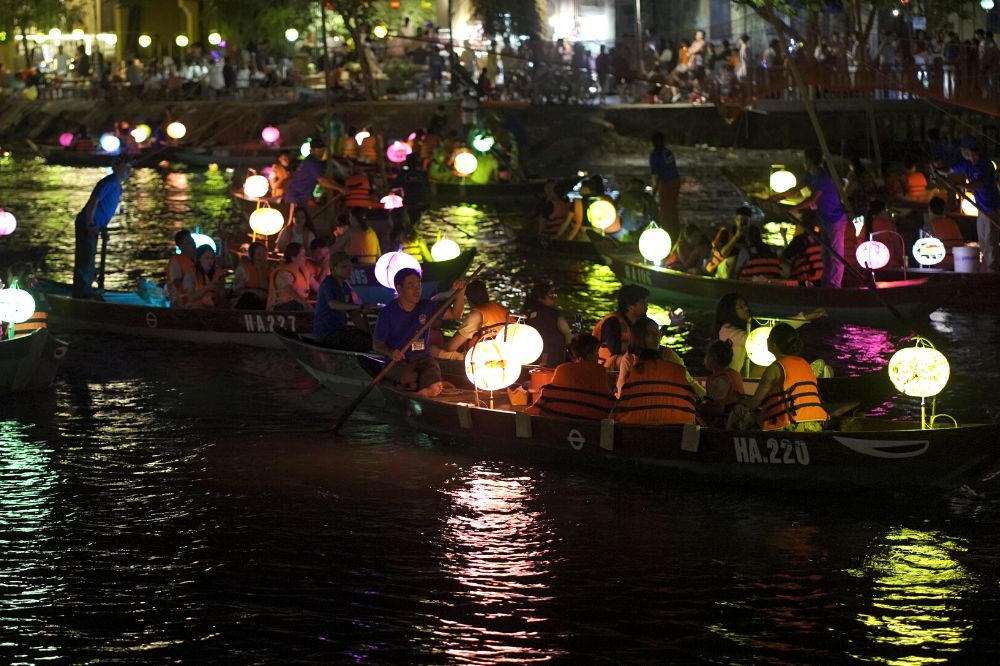 The price is pretty reasonable and you can get that absolutely perfect Instagram shot from Hoi An. I actually don't think it's worth it as there are just too many boats on the water but Jade thinks its a great idea. I think you'll have to make up your own mind once you get there!
---
Lantern Making Class
If you didn't know, Hoi An is extremely famous for its lanterns. They cover the ancient town in an array of incredible colours and varieties.
What better way to get involved in this ancient tradition than to jump on a lantern-making course in Hoi An!? Check out the availability and prices here.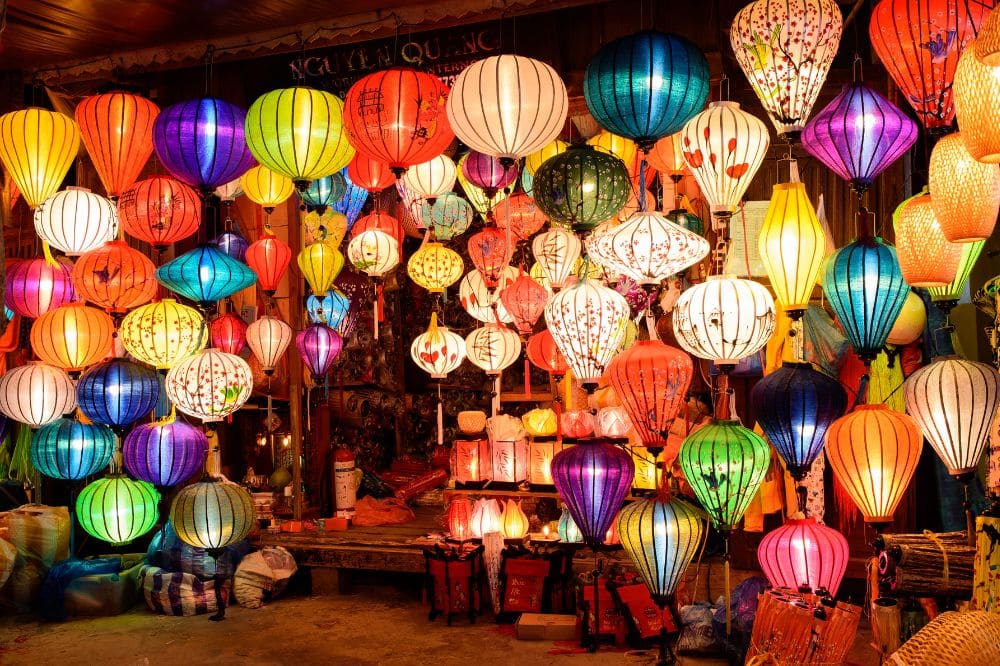 Read More: Check Out The Best Tours In Phu Quoc
---
What To Pack For Beaches In Hoi An
Here is a list of all the items we think are necessary to enjoy the beaches in Hoi An. These are all kept up to date fully so you don't have to worry about them being out of date! We have also included an essentials travel list which includes things you need all over the world!
If you haven't already got a swimming costume then what the hell are you doing?! Have a look at this gorgeous high waist bikini and get a swimsuit before you leave. I absolutely love the dual colour option but there are loads of colour options available. Take a look here.
If you need some sunglasses then take a look at our recommended pair right here. Kev has just done 7 months without a pair because he couldn't find any he liked on the trip and it was just a lot of complaining about the sun. Don't be a Kev… Find out the price of not being a Kev right here.
If you're looking for a portable speaker then check out the JBL Flip 5. In my opinion, it is the best portable speaker in the world right now in terms of price and quality. Going to a secluded beach and listening to decent-sounding music makes all the difference so take a look here!
Travelling with hundreds of books isn't feasible, so packing a Kindle is a no-brainer! The latest Paperwhite has a 6.8″ display so it's much better than reading on your phone. There's also a warm backlight and an incredible 10 weeks of battery life! This version is even waterproof so you can relax by the pool with peace of mind. I've had my Kindle for 10 years and it's still perfect – this is a purchase that will last you a lifetime! Check out the full specs here.
Don't even think about stepping out in the sun without protection! This factor 50 sun cream from Sunbum is vegan, reef-safe and smells like summer, as well as being dermatologist approved! It's non-greasy, easy to apply and doesn't leave a white cast so you can quickly rub it in and get on with your adventures! Take a look on Amazon here.
If you're stuck on what kind of towel to take with you then take a look at this microfibre poncho. We absolutely love ours and it is insanely helpful when you need to change on the beach. They dry fast and pack down super small so you'll be able to fit one in your day pack easily enough. Check out the price here.
---
How To Get To Hoi An
There are a few ways to get to Hoi An. Here are the most popular methods in a nutshell.
Hanoi To Hoi An
Fly
This is by the far the most convenient and it isn't that much more expensive either. The plane will fly you from Hanoi into Da Nang and then it is an easy shuttle bus into Hoi An.
I recommend speaking to your accommodation as they will be able to organise a shuttle bus from Da Nang for you.
---
Train
You could jump on a 16-hour train to be able to make the most out of the incredible coastline all the way down the Vietnam coast. I do not recommend this as it is still quite a lot of money and after the first hour, you start to think that the plane was the better option.
Either way, there are plenty of options, including seating, sleeping and luxury trains so put your dates in the search box below and take a look at your options.
---
Drive
If you have hired a vehicle then you could make the long drive. It's going to take you around 16 hours and I highly recommend you stop off at all sorts of places on your way to Hoi An. Make the most of this incredible road trip!
---
---
Frequently Asked Questions
---
That's the entire guide to the beaches in Hoi An guys! Let me know if you think I have left anything out and if this guide was helpful in the comments section below!
---