Sri Lanka is home to some incredible beaches. They're all fantastic in their own right, but if you looking for a peaceful stretch of sand that you can enjoy pretty much by yourself, then Beruwala Beach is the place to go! Here's everything you need to know about Beruwala beach, also known as The Golden Mile, and tips to make your visit absolutely perfect.
You'll probably have heard of the famous beaches in Mirissa, Weligama and even Trincomalee – and by all means, you should visit them! We especially the Secret Beach In Mirissa which we wrote a guide to here.
Read More: Don't Miss These Top Things To Do In Mirissa!
But nestled away on the west coast lies Beruwala beach, with so much to offer and so few visitors to take advantage of it.
It follows the coastline for at least a mile, which means you might not actually meet another person for a very long time as you wander along!
I'll be honest, if you're here looking for happy hours, football played on screens and sunbeds, then you're in the wrong place! Keep reading to see what you can expect at Beruwala Beach!
Who Is Beruwala Beach For?
If you enjoy peace and quiet, long walks and a sense of isolation, then this is a great option.
Not only can you enjoy Beruwala beach, but there are other beaches that you can easily access (more on that below) that feel even more remote!
Beruwala beach is actually accommodating for every type of travellers – read on to see why.
---
Book your favourite hotel here

Where will you go?
---
Families
You don't have to worry about your kids being too loud, splashing other families, or misbehaving in public!
There is hardly anyone around, so you can retreat to your own section of beach and truly relax without any annoying and judgey eyes nearby!
Couples
Come for a romantic sunset – you won't be disappointed! Again, as there's no one around, you can just be yourselves and mess around (not like that, obviously – it's not THAT private!).
Bring a bottle of wine, a little picnic and spend the late afternoon drinking in the beauty of the island, all by yourselves.
Read More: How To Backpack Sri Lanka On A Budget
Groups
The best thing about Beruwala beach is that you'll never be bored. Bring a decent speaker and relax, dance and play to your heart's content.
Not only can you enjoy yourselves knowing that no one will complain about the noise (you'll be too far away from anyone else for them to realise), you can also take part in a couple of water sports activities too if you fancy it!
Solo Travellers
This beach is the perfect place to come to wind down, sunbathe and enjoy that book you've been meaning to finish!
If you're not too comfortable about spending time on a beach with no one else around completely, then don't worry because, at the top of the beach, there are a few shops and restaurants that you can visit.
There are also lifeguards dotted along the beach so you can feel safer whilst you're on the beach and in the water.
Read More: Your Complete Guide To Galle
---
Where is Beruwala Beach?
Beruwala is about halfway between Colombo and Galle, on the west coast of Sri Lanka.
You might have seen that the beach is also called Moragalla Beach on Google maps – this is the main huge area that we recommend visiting.
There is also a panhandle opposite the beach (look at the map and you'll see what I mean!) with some gorgeous spots on it that you should definitely check out!
Read More: Going To Mirissa After Beruwala? Check Out These Incredible Villas
---
How To Get To Beruwala Beach
You can easily take the train from Colombo to Beruwala. It takes less than 2 hours, and will cost around 40p/54¢ (for a second class ticket).
Don't be afraid of taking the train in Sri Lanka – it's truly a great experience and the views of the journey along the coast from Colombo are just stunning!
Read More: How To Take The Train From Kandy To Colombo
The train from Galle to Beruwala is not as good – as of January 2022, the latest train to take that journey is at 8:50 am.
If you don't want to get up that early (you're on holiday, after all!) then I would take the train from Galle to Bentota instead. There are a couple of afternoon trains that stop at this station, and it would be a short and cheap tuk-tuk ride to get to Beruwala Beach.
This may change, so check the official Sri Lankan train website to plan your travels.
Read More: Follow This Excellent 10 Day Sri Lanka Itienerary!
If you're already in Beruwala, then you can walk along the coastline to reach Moragalla, or you could get a tuk-tuk to the edge of the beach and walk through the trees to get there.
If you do decide to walk along the coast from the north, be aware that there is a slippery boardwalk that gets hit by the waves in high tide, so either be ready to take your shoes off or come prepared with water shoes!
---
Things To Take
There aren't a huge range of amenities on Beruwala Beach and the surrounding areas, so make sure you come prepared!
Here is a quick list of the important things that we either took with us or wished we had for our visit.
Beruwala Beach Packing List
Most of these are obvious, but there's nothing worse than getting out of the salty water and realising you have no towel to dry yourself with!
These ponchos that we bought are extra good because they're microfibre, which means they're lighter than normal towels plus they dry super fast.
You can easily get changed underneath them (we're both over 6 feet tall and didn't flash anyone!) and they come in fun colours too!
The sun is strong in Sri Lanka, but we found it difficult to find decent suncream once we'd arrived. I recommend buying some reef-safe sun lotion like this in your home country and slathering it on like there's no tomorrow!
Water shoes might not give you the street cred you're looking for, but they DO protect your feet from nosey creatures, sharp rocks and slippery walkways.
Get a pair like these that are thick enough to protect you, comfortable enough to walk in and breathable enough to dry quickly.
A snorkel set isn't 100% necessary, but I recommend buying one because you never know what you might see! Also, you'll want one if you visit Hikkaduwa on your trip because you can swim with TURTLES!! We had to rent snorkels, but if you have your own, you can swim with them for FREE!
Read More: How To See Whales in Sri Lanka!
That actually brings me to the next item that we wish we had brought!
A waterproof money wallet is so handy because it means you don't have to worry about leaving important belongings on the beach whilst you swim!
We're going to buy this one as the reviews are incredibly high and it looks like it would hold both our phones are money together!
One more thing to bring is cash for any food and drinks you might want to buy from one of the few restaurants near the top of the beach.
Read More: Read My Honest Dewmini Roti Shop Cooking Class Review
You also might want to take part in some water sports – there are a few guides hanging around the beach (near the lifeguard post) who can take you out for some thrill-seeking.
The people running the boats and water sports aren't going to have a card machine, so make sure you bring enough cash to enjoy yourself.
---
Things To Do
For such a quiet beach, there are a surprisingly good amount of things to do at Beruwala Beach, and you could easily spend all day here enjoying it.
Here are our top recommendations of things to do at Beruwala Beach!
Sunbathe, relax and swim
Well, this couldn't NOT be on the list!
Remember, there is so much space for you to choose from here, so you can literally imagine that you have the whole place to yourself.
There are a few places where you can find a sunbed – but these are connected to the restaurants/hotels along the beach so make sure you ask if you can use one before you drop all your stuff and sit down!
Take a boat to Secret Island
Don't miss this magical spot!
We paid 600lkr (around £2/$3) to jump on a boat across to the Secret Island. That may or may not be a good price, but we felt like it was reasonable enough for a return trip for both of us.
Walk around to the other side and be greeted with an absolute stunner of a beach – this time there really are no other people around and you get an unrestricted view of the ocean.
Climb the steps to the Buddhist Temple (take off your shoes when you reach the top) and enjoy the short hike through the trees.
There are some dogs that will probably follow you around – they seem friendly enough but I wouldn't get too close as rabies is quite common in these street dogs.
Water sports
There are a couple of different water activities you can take part in on Beruwala Beach. Go surfing, ride a jet ski or go kayaking.
Enjoy a sunset dinner
The restaurants along the beach are highly rated, with good food, excellent views and a relaxed vibe.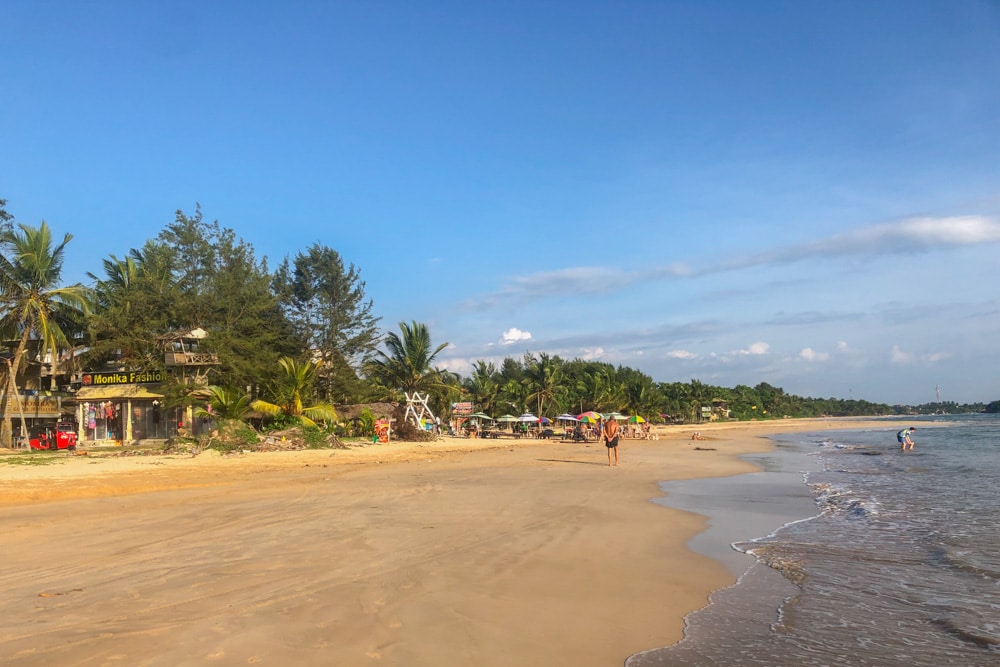 If you're still up for local meals, then you can get some great Sri Lankan meals here but you can also splash out and grab some seafood dishes too.
Go shopping
Buy a few gems, some new beach clothes or just pick up some local souvenirs in the small market area. It's just between Sunflower Beach Resort and Sha Sha Restaurant, so you'll find it easily.
---
Book your favourite hotel here

Where will you go?
---
Get a massage
When you're done shopping, you can even treat yourself to a message!
Take a river trip
Take one of these fun river safaris along the Bentota River!
Watch out for all of the cool flora and fauna – you might even be lucky (or unlucky!) enough to see a crocodile chilling in the mangroves!
Read More: How To Choose The Most Epic Safari in Sri Lanka
---
Where To Stay Near Beruwala Beach
Accommodation near the beach is easy to find, and there is a great variety of hotels and guesthouses to suit all budgets.
Stay at Guesthouse Panorama if you're on a strict budget but still want the luxury of being on the beachfront! You can eat at the restaurant for breakfast, lunch and dinner, and there's a cocktail bar you can relax in to watch the sunset!
Click here to book a room at Guesthouse Panorama.
---
Check Out The Reviews Of Guesthouse Panorama Hotel Here
---
---
For something a little more upmarket, consider Sky & Sand Guesthouse.
There is a large outdoor swimming pool, and you can grab a cheap but tasty breakfast at the hotel. It's very close to the beach, and you get a gorgeous garden view from your room.
Click here to reserve your room.
---
Check Out The Reviews Of Sky & Sand Guesthouse Here
---
---
If you are looking for more luxury, book a night at the Arena Hotel.
Breakfast is included, the rooms are clean + spacious, and the staff will always make you feel at home. There's a great restaurant on-site so you don't need to go very far to eat, and the beach is also just a 5-minute walk away.
---
Check Out The Reviews Of Arena Hotel Here
---
Read More: A Guide To The Best Accommodation in Mirissa
---
---
Have I convinced you to visit Beruwala Beach yet? Enjoy your trip to Sri Lanka and don't forget to browse all of our other Sri Lanka content to help plan your trip!