Beijing is a fantastic city – full of traditional culture and history, loaded with modern lifestyles and technology. Whether you're making the most of your visa-free transit period or you're looking to spend a considerable amount of time here, this jam-packed Beijing itinerary will introduce you to China's crazy capital!
Necessary Spacing
Here's our top 5-day itinerary that covers the best things in the city. Pick and choose the activities if you haven't got that much time!
---
Travelling to Beijing
Travelling to China is not something many people even consider unless they have a layover there. Even then, a lot of people decide to stay in their airport hotel and escape as quickly as they can.
There are plenty of great layover tours specifically designed for a quick visit but if you do have more time, then this is the post you need to fully explore the city!
It's not surprising that not everyone wants to visit – exploring a huge country like China can be daunting as it's not as tourist-friendly as many other cities in Asia! The language barrier, the local food and the complex culture can seem like great reasons to avoid China, but honestly, it's such a fun place to travel.
Beijing is especially interesting because of its history dating back literally thousands of years. Plus, there's the Great Wall! No, you can't see it from space but why would you need to when you can climb it yourself?
We spent four years living in Beijing (we were teaching English!) but we still didn't see everything that the city has to offer. We did, however, create and follow this exact Beijing travel itinerary as if we were newbies so that it would be easy for readers like you to use.
---
Book your favourite hotel here

Where will you go?
---
Of course, Beijing isn't the only place to see in China, but it's a great place to start if you only have a limited time in the country!
One day in the city definitely isn't enough, so we have put together a 3 day Beijing itinerary to see all of the best sights and activities. We've also added in more things to do in Beijing if you're staying for more than three days!
Hopefully, you'll get to see all the beautiful places with this Beijing itinerary – check out this complete guide before you go to make sure you're prepared and download these apps to make your Chinese trip easier!
I've added options for people who like to explore without a guide, and for those who would prefer to book a tour too! There are benefits to both so keep an eye out for the activities that you might not normally think of doing, with or without a guide!
---
1 – 3 Day Beijing Itinerary
Day 1
Historical Landmarks Tours + Walking Streets
Fresh off the aeroplane, you'll want to stretch your legs and take a leisurely walking tour through Qian'men. Start at the subway station, walk south through the central Beijing hutongs and through the famous Dashilan Commercial Street.
You can book tickets for a walking tour here, so you can learn about the history of this part of the city.
Here you can purchase anything China-related, so this is the time to pick up gifts for those back home. The prices here are mostly non-negotiable, however, they are also some of the most reasonable in the whole city. The cost of living in Beijing is low, so if you're here as a tourist then you can find some great bargains!
At the end of the road, you will find yourself at Qian'men Street, the central road leading back towards Tian'anmen Square. Walk north towards the Qian'mem gatehouse and pass directly underneath.
Across the road will be Mao's Mausoleum. Here you can go inside and see the preserved body of the revered leader. Regardless of what he did in life, this is definitely a unique experience.
On the other side of the mausoleum is the infamous Tian'anmen Square. It truly is a massive open area. On the right is the museum of China and in the middle is the memorial to all the fallen soldiers in World War 2. At the far end of the square is the imposing entrance to the Forbidden City. This is the first time you will understand the sheer scale of the palace.
Upon entry just follow the crowds to the ticket offices inside the Meridian gate. You really can get lost inside this palace so have a good look around. If you are happy to explore by yourself, buy your tickets here. You can also use a self-guided audio tour like this.
You could easily spend 3 to 4 hours wandering around, peeking in random doors or gardens you might stumble across. There's a lot of fascinating history and culture to learn about so don't rush yourself. Keep going north through the whole palace and you'll eventually get to the North Exit, which is also called the Gate of Divine Prowess.
You can also join a small group tour – you won't be hassled to buy tickets or pushed into tea scams if you're with a guide so it's not a bad idea! Click here to book your space.
In front of you is a very out a place hill inside of Jingshan park.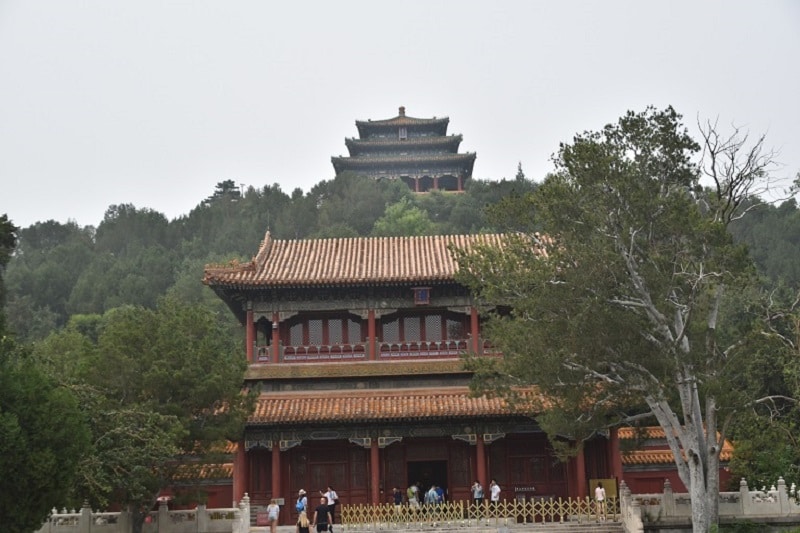 It's very cheap to get inside, and after walking to the top of the hill you get a spectacular view over the top of the Forbidden City you have just walked through. Hopefully, you get a low pollution day and get some nice photos, unlike we did!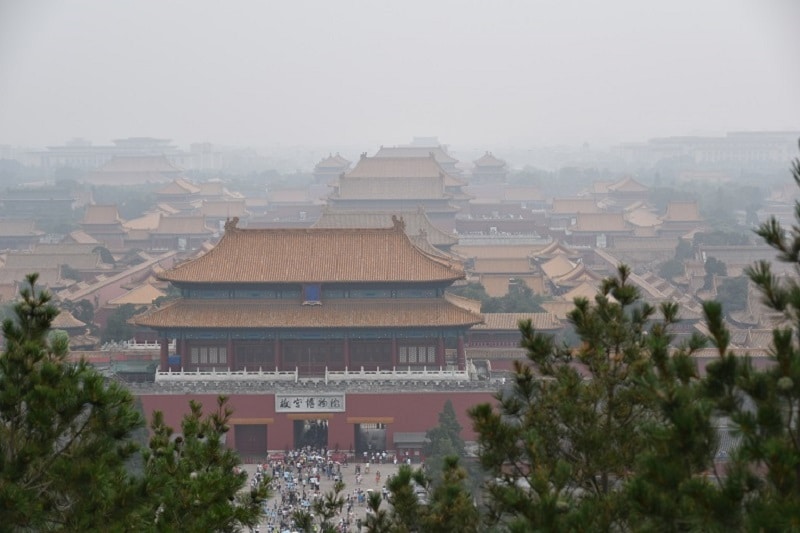 It is very difficult to put a time on this first day. Some people might walk straight through all of the areas and it takes 3 or so hours.
If you decide to go into every attraction, do some shopping, see the museum and really get a feel for the places it could easily take 7-8 hours! Take this day at your own pace and enjoy soaking it all in!
A fantastic way to end your first day in Beijing is to eat at a Peking duck restaurant. The most famous is Quanjude and you'll find branches all over the city. Eating Peking duck is quite a theatrical affair – the chef will wheel the food out on a trolley and carve it before you.
There will be lots of different dishes brought to your table for you to try too, as well as the traditional accompaniments for your main meal.
Day 2
Summer Palace
To get to the famous Summer Palace, you can jump onto a boat and take an Imperial Waterway Cruise from the Beijing Exhibition Centre and take in the views from the water. The ride takes you past the zoo but I wouldn't recommend visiting as the animals are treated terribly.
The Summer Palace is absolutely beautiful all year round and is very big. I would advise taking some food for a picnic if the weather permits.
Explore with a guide if you are interested in finding out all about this World UNESCO site or just buy your tickets to the park in advance here and visit by yourself.
Hutong Tour
The hutongs in Beijing are full of hidden gems and interesting people. Hutongs are residential areas that consist of narrow lanes, with the houses being built in a courtyard fashion.
However, there are also shops and restaurants scattered throughout Beijing's hutongs, and they are really fun to explore. Some have become more famous than others, such as Nanluoguxiang, Skewed Tobacco Pouch Street (Yandai Xiejie) and Wudaoying.
Pre-book a hutong tour and you'll be taken to the most popular places. If you're on a strict time schedule, then that might be the best idea as you'll be driven around and there won't be any time wasted wandering down some weird alley and into someone's kitchen.
However, if you have more time, then you could definitely spend a day wandering up and down yourself, getting lost and finding cool spots that aren't overcrowded yet.
We recommend starting in Nanlouguxiang, walking up to Houhai Lakes and passing through Yandai Xiejie. Then, get on a subway up to Andingmen station and see Wudaoyaing. You can then take a look at the Lama Temple if you fancy.
You'll find countless rooftop bars, posh restaurants, local street vendors and much more to entertain yourself for the whole day. You certainly won't go hungry and with plenty of cocktail happy hours to be found, you're also likely to get fairly drunk!
Day 3
Hike the Great Wall of China
You absolutely cannot appreciate a Beijing itinerary without visiting the Great Wall! It's an astounding piece of defensive architecture, and the photos don't do its vastness justice.
You've got a couple of options of where to go on the Wall as it is actually over 13,000 miles long! Clearly, you won't be hiking the whole thing but you'll need to choose the best section for your preferred type of day trip.
The four most popular hiking routes are listed below. Each section of the Great Wall is different, whether that's because of the facilities, difficulty or scenery. Take a look at the comparison table below to work out which is the best part for you to visit.
Section Of The Wall
How Long Does It Take To Get There?
Can You Go Independently Without A Guide?
Is It Restored?
Are There Restaurants Nearby?
How Hard Is It To Hike?
How Crowded Does It Get?
How Much Does It Cost To Enter?
Badaling
1 hour
Yes
Yes
Yes (at the entrance but not the best)
Fairly Easy
Super Crowded
45 RMB (£5.10/$6.70)
Mutianyu
1 hour 30 minutes
Yes
Yes
Yes
Easy
A Little (better to go in the afternoon)
40 RMB (£4.50/$6)
Simatai
2 hours
Yes but you must reserve a ticket before you go
Partially
No (unless you are continuing onto the water town of Gubei)
Fairly Difficult
Not Very
40 RMB (£4.50/$6)
Jiankou
2 hours
Yes but not recommended for safety reasons
No
No
Extremely Difficult
Not At All
Free Entrance
We recommend you paying a guide to take you
Pro Tip
When you visit the Great Wall, make sure that you take plenty of water with you. The vendors will charge you around 5 times more than the price should be because they know that you'll need to stay hydrated!
Visiting Badaling Great Wall
If you're looking for a relatively easy hike to a popular section of the wall, then go to the very well known and one of the most well-restored sections, Badaling. You're almost guaranteed to be surrounded by tourists (mostly local as this section is popular with Chinese people).
You might feel safer around other people so Badaling is a great place to go if you want to mingle with others on your hike.
Book a tour here for a full-day tour including lunch.
If you're planning to visit the Wall alone, make your way to subway line 2 and travel to Jishuitan Station and take the short walk to Deshengmen bus station. I would advise using a map app on your phone so you can find the Deshengmen bus station from the subway as it is a 10-minute walk.
Then find bus 877, which will be obvious because of the queues of people. I have read that there are many fake 877 busses en route to the bus station. If there is someone trying to convince you to get on the bus then it is almost certainly a fake – just follow the signs and people, or ask someone wearing an official uniform!
Bus Timetable:
| | | |
| --- | --- | --- |
| Location | April 1 – Oct 31 | Nov 1 – Mar 31 |
| From Deshengmen | 6am – 12.30pm | 6.30am – 12.30pm |
| From Badaling | 10.30am – 5pm | 11am – 4.30pm |
The bus costs around 12RMB (£1.35/$1.80).
Alternatively, you can take the train from Huangtudian Railway Station straight to Badaling Railway Station. It takes roughly the same amount of time as the bus and will cost you 7 RMB. To get to the station take subway line 8 or 13 and get off at Huoying. The train station is roughly 100m away if you leave from Exit G4.
At Badaling, there is a cable car that you can ride up to the top to take in the scenic views, as well as a pulley ride that you can experience for an added fee.
There are plenty of restaurants and shops but these are unsurprisingly overpriced.
For those of you who prefer to learn about the history of this section from a local guide, then join a tour like this.
Visiting Mutianyu Great Wall
Mutianyu is essentially the best all-round section of the Great Wall. It is beautifully restored, there are fewer people and there are a few restaurants around the entrance if you forget to bring your own food. There's even a toboggan which I think is the best way to descend the Great Wall!
This excellent tour to Mutianyu has almost 1000 5-star reviews, so it's a great one to choose if you don't want to make your way to the Wall alone!
It's a little bit more difficult to get the Mutianyu independently because there isn't a direct public bus, but it's definitely doable. You can also buy return coach transfer tickets here in advance – you just need to turn up at the meeting point and get on the bus.
You'll need to get to Dongzhimen subway station first (via line 2, 13 or the Airport Express). The subway and the bus station are in the same huge building, so find the Bus Transfer Hall and you'll need to get on bus 916 Express.
It will cost you 12 RMB and should take just over an hour. You can pay cash or use your transportation card.
You need to get off the bus at Huai Rou Bei Da Jie (it's the 15th stop). The bus will announce the destination in English but most people will get off here anyway.
You can then get a local bus (H23) from Mutianyu Roundabout and then walk to the ticket centre, or choose to take a taxi. Be careful of the scammers – only take a metered cab. It should cost around 40 RMB for a taxi and 3RMB for the bus. For super detailed instructions on taking this second local bus, take a look at this website.
There are also cable cars here at Mutianyu, and it's the most wheelchair-friendly section.
If you're travelling to Beijing with kids then we recommend choosing Mutianyu to hike, as it's not too difficult and it's the safest due to the high-quality restoration. The toboggan, or luge, is also really fun and isn't too fast or scary.
Bus Timetable:
| | | |
| --- | --- | --- |
| Bus | To Mutianyu Great Wall | To Dongzhimen Station |
| 916 Express | 6am – 9pm | 4.50am – 6.50pm |
| H23 | 6am – 7pm | 5.50am – 7pm |
If you'd prefer to take a guided tour to this part of the Wall, then click here to find out more and book your spot.
Visiting Simatai Great Wall
You should visit Simatai if you want to explore the Great Wall at night time. There are official tours and it's well lit, meaning that it's much safer than scaling a random part of the wall alone!
This part of the wall is also not very restored so it is very much unchanged since the time of being built. It's pretty wild and steep in places though so you can actually take a cable car up if you'd prefer.
You can also only climb this part of the wall if you buy a reserved ticket here. Book at least 10 days in advance so that you're guaranteed a space. You can also wander around Gubei Water Town as this part of the Wall is right next to it.
There are a few food vendors on the wall but I wouldn't recommend relying on them for a full cheap meal. Bring your own or, if you're going into the town then you'll find plenty of restaurants serving food there.
To get to Simatai, make your way to Dongzhimen Subway station, which can be accessed via lines 2 and 13. You can then take the tourist bus or a local bus. It takes around 2 hours and the tourist bus times are as follows:
| | | |
| --- | --- | --- |
| | Monday to Friday | Weekends & Public Holidays |
| To the Wall | 8am, 9am, 12pm, 3.30pm | 8am, 9am, 11am, 12pm, 2pm, 3.30pm |
| Return to Beijing | 11am, 12pm, 4pm, 9pm | 11am, 1pm, 3pm, 5pm, 7pm, 9pm |
The local bus is 980 but you'll have to transfer onto bus 51 at some point, and the bus station can be difficult to find. For in-depth instructions, if you really want to take this bus, use this website.
Visiting Jiankou Great Wall
If you are looking for a more authentic and wild Great Wall hiking experience, then visit Jiankou. There are no food vendors and definitely no cable cars here!
This tour is a great option if you want to see the wilder parts of the Great Wall without it being dangerous!
Camping on this part of the Wall would be an adventure, but be prepared for some tough climbing ahead! You'll also have to pay between 5 – 10 RMB to the local villagers to start this hike.
There are small villages surrounding Jiankou where you can find food but most definitely take your own just in case. I wouldn't recommend hiking this part in hot weather as you'd need to carry so much water and you don't want to be running out!
You can also hike from Jiankou to Mutianyu, or vice versa, and that will roughly take around 4 – 5 hours as you'll be covering a distance of 6 miles (10km).
Unsurprisingly, there are no direct buses to Jiankou. You can take a bus from Dongzhimen Station, and then take a local bus to one of the small villages.
Or, you could hire a driver to take you to the village. That way, you are guaranteed a quick and easy return journey to Beijing. Not only that but someone local also knows where you are so if you get into any trouble they could send for help!
Here are the bus times from Dongzhimen:
| | |
| --- | --- |
| | Bus 936 |
| To Yujiayuan Station | 6.40am – 5.10pm |
| Return to Beijing | 4.35am – 5pm |
Once you're in Yujiayuan, you have two choices. You can pick which village you want to start your hike from. Getting from Xizhazi Village to the actual Wall only takes around half an hour, so many people pick that option.
However, getting a taxi from Yujiayuan station to the village will cost approximately 120RMB. If you would rather have a cheaper taxi ride, go to Wofo Mountain Villa. There are more restaurants and accommodation options here, and it will cost you around 65RMB to get there from the station.
Pro Tip
All of the prices of public buses will be 50% cheaper if you use a Beijing Transportation Card, which we do recommend. They're easy to get form any subway station with a booth. You have to add a 20RMB refundable deposit and then you're good to go. It makes getting around the city super easy as you can use it for the subway too (although the price won't change on the trains).
---
5 Day Beijing Itinerary
If you've got more time in the city or you want to skip a few of our suggestions because you've already done them, we've added in two extra days of activities for you. As you can now get 6 days visa-free in Beijing, this is a perfect amount of time to give you a day of recovering from the flight!
A 5 day Beijing itinerary allows more time to explore local attractions and either find new restaurants or return to those that you've already enjoyed! You could even take a couple of day trips from Beijing.
Day 4
Temple of Heaven
Travel down to Tiantan East Gate station on subway Line 5 to reach the Temple of Heaven. This is another famous and very large temple complex that is beautiful to have a walk around.
You can buy your admission ticket in advance here if you're travelling in the high season.
798 Art District
If you're into art, this is the place to be. In fact, even if you're not into art, this area is a really interesting part of the city and we would highly recommend taking a visit. You'll find galleries, museums, quirky shops, tattoo studios, art exhibitions and more here.
Walking around with a guide is great fun because they'll be able to find the most unique places!
It's best to get the subway (Wangjing South on Line 14) and then hail a taxi to the actual district, as there's no direct public transport there.
You could spend at least a few hours wandering around the exhibitions and studios. There are bars and restaurants too but most will close around 6ish to be prepared to eat before then or wait until you get back into the city centre.
Olympic Park
The famous Olympic park, built for the 2008 games, has some great architectural structures to marvel at. You'll find the Bird's Nest, the Water Cube (particularly impressive at night time), as well as the Forest Park.
You can spend a few hours here, as there is 2.6 square miles of land and water to explore! There are two gardens – the Northern and the Southern – that you can enjoy. Hire a bike, take a small boat cruise or even get some tennis lessons with a training partner!
Get here by jumping on Line 8 on the subway, and get off at the Olympic Sports Centre, or South Gate of Forest Park. Or, take a walking tour like this one.
Day 5
Panjiayuan Antique Market
Plenty of people visit markets in Beijing and find cheap fake goods or tacky souvenirs. If you want something a little more special, then go to Panjiayuan Market. This is where you'll find the locals, and you can buy some incredible artwork and locally made crafts.
If you don't speak Chinese, or this is your first time in China, you might find it a little overwhelming in the market! You can take a shopping tour with a guide to help you navigate the language barrier and stop people trying to rip you off just because you're a tourist!
There are artists painting simple pieces that you can buy there and then, and there are also beautifully hand-woven embroidery pieces too.
Of course, not everything is unique, and there will some items that are extremely highly-priced but there is room for a little haggling, especially if you're buying more than one item from a vendor.
However, only haggle if you don't think the item is worth what you are paying. So many times I have seen people haggle for pennies and it can be insulting. Of course, do it if you feel you are being ripped off but don't be rude!
There are a couple of food stalls in and around the market where you can buy cheap and tasty rice meals. Panjiayuan Antique Market is open every day from 8.30am – 6pm during the week,and from 4am – 6pm on weekends.
However, only the permanent shops are open on weekdays, and the market stalls are only open on the weekends.
To get to the market, get to Panjiayuan Subway Station on line 10 and leave via Exit B.
Sanlitun
If you're here to party and shop for western brands, then Sanlitun is where you need to go. This area has heaps of bars, restaurants and shops that wouldn't look out of place in London.
You'll usually pay higher prices around here, but if you're looking for something particular then you can't complain.
You'll easily find H&M, Nike, Adidas , Mac and the Apple Store. There's also an abundance of foreign food – pizza places, Mexican restaurants, cocktail bars and more.
Sanlitun is not the place to go if you want to experience local and traditional Chinese culture, but it's definitely worth a visit.
The closest subway station is Tuanjiehu on line 10 – use Exit A and turn right at the crossroads. The swarms of foreigners will guide you to where the action is happening!
Alternatively, take Exit D and follow the same road in the same direction – you'll find more hidden restaurants and bars to hang out in.
When Is The Best Time To Visit Beijing?
Planning your Beijing itinerary involves a few careful considerations because the timing of your visit could really make or break your whole experience!
The first thing that I advise you to do is to AVOID CHINESE NEW YEAR! Before you do any kind of research, find out when the Chinese New Year falls and scratch it out on your calendar.
Not only are flights hideously more expensive around this time, Beijing pretty much shuts down because the locals go to their hometowns to visit their families. China travel is near impossible during the new year.
Yes, there will be fewer crowds, but that's mainly because they wouldn't be able to eat at any restaurants! There are also a lot of extremely loud firecrackers being let off across the city for over a week, so that could get annoying!
Another time to definitely avoid Beijing is National Week. Unlike Chinese New Year, it falls at the same time every year so you have no excuse to get it wrong!
National Day is the 1st October and is a public holiday across China. People celebrate the founding of The People's Republic Of China on that day, and the 6 days following it.
This time though, Beijing gets an influx of domestic tourists because it's the capital and there are so many links to the country's history there. Lines for attractions will be extra-long and it's almost impossible to get a train ticket during this time.
Basically, try to avoid any public holiday in China because you'll have an experience that is not a true reflection of the country.
Visiting Beijing in winter is also not ideal. During the winter, temperatures regularly fall below -5° Celsius (23°F). The coldest day we saw was during January and it was -17° Celsius but luckily we were travelling south to Thailand that day!
It rarely snows during the colder months as the air is so dry, but you might see some flurries.
The worst thing about Beijing in winter is the pollution and the air quality. There will be days that you are advised not to go out and the air will be a gross yellowy-brown. Other times, you'll see perfect blue skies and the air will be crisp.
---
Book your favourite hotel here

Where will you go?
---
However, airfare and hotel prices will be cheaper so that's something to think about when planning your Beijing itinerary.
The summer in Beijing is hot and sticky. There are some outdoor pools to cool off in, and some gorgeous parks to picnic in, however, so summer is still an okay time to visit Beijing. Be prepared for intense thunderstorms though!
Spring and autumn are the perfect times to visit Beijing because the temperatures are not too warm and not too cold. The air is clear and you'll experience fewer thunderstorms.
What To Pack For A 3 day Beijing Itinerary
You should be able to buy any clothes and toiletries that you need whilst you're in Beijing, so don't overpack. However, as you've already read, the seasons can vary drastically so your packing list will differ depending on the time of year that you choose to come.
If you don't have a camera then I HIGHLY recommend the Panasonic Lumix ZS70K. It is an affordable point-and-shoot camera that can be picked up and used by anyone of any ability. The camera captures gorgeous images and surprisingly excellent video whilst fitting in your pocket. The main difference between this and your phone's camera is that it also has an incredible optical zoom so you won't miss any of the shots you need to take. Check it out here.
People can go WAY overboard when buying hand luggage when you really don't need to spend a lot of money. We recommend going for something sturdy and affordable like the Wrangler 20″. It's exactly what you would expect from hand luggage but also comes with a neat charging trick. If you have a power bank, you can connect the power bank from inside the case and charge your phone from a port on the outside! Check it out on amazon here.
For city exploring and shorter hikes, you'll need a decent day pack. We recommend one like Osprey's Arcane, as not only can it hold a 15″ laptop, water bottle and everything else you would need day to day but it is also incredibly stylish (we think). We have used Osprey for loads of different bags over the years and they have all been perfect. Check out the Osprey Arcane on Amazon here.
If you're worried about powering your devices on your trip then the simple solution is to take this EPIKA worldwide travel adapter. We have used it all over the world and it has worked flawlessly. Being able to charge up to 5 devices by USB (4 USB-A's + 1 USB-C) plus a full power outlet socket is incredibly useful and works as an all-in-one solution. Check it out on Amazon here.
We all know that tampons and pads are bad for the environment (not to mention uncomfortable and expensive!) so get yourself familiar with a reliable menstrual cup, like this one from Sirona. These can be reused for up to 15 years – think of the money and plastic waste you'll save! Made from medical-grade silicone, Sirona's cup is designed for comfort, sustainability and protection. Click here to choose the right size for you.
If you're worried about your devices losing power throughout the day then we recommend the Anker 10,000mAh power bank. Anker actually makes quite a few power banks but this one comes with a USB-C and USB-A port which means that you'll be able to charge any of your devices regardless of connection. The 10,000mAh capacity is enough to completely charge an iPhone 12 twice so you should be good for a number of days with this beast. Have a look at the price here.
---
For a comprehensive breakdown of this list go to our budget savvy packing list guide.
If you are exploring this Beijing itinerary during the winter, you'll need a few extras too. It also might mean that you pack a few more layers so you might need a bigger bag.
Looking at the average temperatures in Beijing in winter, then a warm coat is definitely something you'll need! If you're travelling from southeast Asia then this is going to be a difficult item to keep with you. However, I really don't recommend going to northern China without one, so perhaps you could use vacuum pack bags like these to save space in your luggage.
If you are buying a new winter coat, choose one with fleece like this men's hooded jacket, and make sure that it has plenty of pockets, like this women's lightweight parka.
Onto the dreaded pollution masks! They look ridiculous, they mess up your make-up (or so I'm told!) and they aren't the most comfortable item you'll ever buy. However, if you wear a pollution mask for a day, when you take it off you'll see the brown dust inside the filter and realise how important they are!
You shouldn't have to wear one every day, but on those hazy days, you should make an effort to if you're outside.
When buying a mask, don't be that person who thinks a tiny bit of fabric over your mouth is going to protect you. You need to choose a mask that specifically filters out PM 2.5, because those are the tiny air particles that can sneak past fabrics and flimsy paper masks into your lungs.
It's so dry in Beijing in winter that you will notice your lips becoming chapped quite quickly. You can pick up Vaseline or any type of lip balm in a healthy and beauty shop like Watsons, but remember that they won't be cruelty-free because of China's animal testing laws. If you want to bring a lip balm that hasn't been tested on animals, try this vegan one from Hurraw.
Your head and ear will thank you for wearing a warm hat like this thick knitted number during your Beijing travels! Don't be fooled by those clear blue skies and leave the hotel without it – the reason the sky is clear is that the wind has blown the pollution away so a hat is a must!
A really useful feature of warm gloves is being touchscreen compatible. The technology wasn't that great when it first came out but toasty gloves like these unisex thermals really are handy when you're using apps on your phone to help you whilst you're in China!
Where To Stay During Your Beijing Itinerary
Beijing has lots of different accommodation options, from luxury apartments to local hutong rooms.
The neighbourhoods do vary in Beijing, but realistically the subway system is so good that you'll be able to visit all of the cool attractions and things to do wherever you stay. Here's a brief overview of the best places to stay in Beijing though, so that you can pick what suits you best.
---
Book your favourite hotel here

Where will you go?
---
Qian'men
We recommend staying in Qian'men if you're a first time visitor to Beijing as lots of the main tourist attractions are accessible from here. Not only that, but accommodation tends to be cheaper around here.
It's full of history as the ancient Forbidden City sits 2km north from the subway station, with the journey surrounded by other important features such as Tian'anmen Square, Mao's mausoleum and the Monument to the People's Heroes.
There are plenty of shopping opportunities too – you can pick up cheap but decent souvenirs in the local shops.
Recommended hotel in Qian'men:
New World Beijing Hotel
With its sleek and clean rooms, complimentary toiletries and free WiFi, the New World Beijing Hotel near Qian'men Street is the perfect place to rest after long days of sightseeing.
There's a lovely indoor swimming pool, a spa centre and a sauna. Rooms have bathtubs, iPod docking stations and a gorgeous rootfop bar!
Book your room here or look at the reviews below first!
---
Check Out The Reviews Of New World Beijing Hotel Here
---
Wangfujing
When researching things to do in Beijing, you've probably stumbled across the infamous Wangfujing Street. You're probably imagining yourself snacking on scorpions, starfish and seahorses o sticks, just like the locals do, right?
Well, unfortunately, it was a bit of a tourist trap and you're more likely to find the locals eating at KFC! Of course, there will be some nutters eating these weird snacks, but if you really want to try authentic Beijing food you should be on the lookout for dumplings, BBQ lamb skewers and sweet + sour pork!
The market is actually under construction anyway but you're better off not visiting!
When we first arrived in Beijing, we ventured down this street in search of local food and ended up with a sub-par spring roll, which we spent £6 on!! Looking back, we were ridiculously naive so don't make the same mistakes as we did! That being said, Wangfujing Pedestrian Street is still a great place to explore.
There are plenty of good restaurants, shops, bookstores and souvenir places you can wander around. There's a subway station directly outside the commercial street so you will be able to access the rest of Beijing easily.
If you are interested in checking out the local food scene without being ripped off, then take a tour like this with a friendly guide and learn all about Chinese cuisine!
Recommended hotel in Wangfujing:
Park Plaza Beijing
Relax after a busy day at the hotel spa with a massage, enjoy a cocktail or two a the bar or wind down in the gym. Enjoy the privacy of your own room and bathroom, and take in the gorgeous city views.
You're only a short walk away from the subway, but also close to a lot of the action too!
Click here to check prices and availability.
---
Check Out The Reviews Of Park Plaza Beijing Here
---
Dongzhimen/Sanlitun
The heart of the bar scene in Beijing, Sanlitun is a great place to stay if you're here to party! There are plenty of bars, restaurants and shops in this area, and many of those are western names you'll recognise. Go shopping at H&M, grab a burger at McDonald's and sip on a Guinness at Paddy's Irish Bar.
Or, if you have actually come to Beijing for a true Chinese experience then you can still indulge in an authentic Chinese meal, brave some baijiu (China's version of hell a white spirit) and dip into the local branded shops.
There's also the famous Worker's Stadium where you can catch a game of football. Support Beijing Guo'an (the ones in green) if you want to make any friends!
Recommended hotel in Dongzhimen:
Holiday Inn Express
Stay here if you don't want to be kept awake all night by party-goers, but you don't have to travel for an age to get back once you've had your fill of happy hour cocktails!
Breakfast is included in the room rate, there's free WiFi and a fitness centre for guests to enjoy. It's a recognisable and reliable brand – you can't go wrong!
Book a room here or check out the reviews first below!
---
Check Out The Reviews Of Holiday Inn Express Beijing Dongzhimen Here
---
Shichachai
This area is famous for the large Hòuhai lake, along with another two smaller lakes that are surrounded by hutongs (narrow historic alleyways with courtyard homes), bars, restaurants and shops.
The area has a much more traditional Chinese feel to it compared to Sanlitun, so come here if you want to try to see how the locals live. There is also plenty of street food for you to try along the way too!
Recommended hotel in Shichachai
Shichahai Shadow Art Performance Hotel
Only 5 minutes away from the lakes, this boutique hotel offers everything from shadow puppet performances, to complimentary breakfast and dumpling-making classes.
Not only that, but the accommodation is beautifully decorated, and the staff are on hand 24/7 to help you with anything you need.
Click here to check prices and availability.
---
Check Out The Reviews Of Shichahai Shadow Art Performance Hotel Here
---
How To Get Around Beijing
Somewhat surprisingly, Beijing is an incredibly easy city to navigate. As a short stay traveller, you have a couple of options that I've listed below.
Paying by card is less common in China – usually locals and foreign expats use WeChat to pay for everything. Unless you have WeChat and have linked it to a Chinese bank account, you should be prepared to pay for everything in cash just in case!
Bicycles
If you're in Beijing for a short while and want to explore the city without going underground or adding to the pollution problem, then a bike-sharing app is the way forward.
Mobike is the most foreign traveller friendly as you can download it in your home country and attach your own bank account to it. You won't be able to miss these bikes as they're bright orange and dumped pretty much everywhere around the city. The bikes are usually piled high outside subway stations too.
Once you've downloaded the app and added your bank account, simply find a bike, scan the QR code on the app and off you go. Once you've finished your journey, put the bike somewhere thoughtful (i.e. not in the middle of the path like everybody else seems to do!) and lock it. You'll hear 3 beeps which mean that your journey is complete and Mobike is calculating your costs.
Most apps don't require a deposit anymore, and your journeys will cost you 1.5RMB per ride.
Read More: Download These Helpful Apps Before You Visit Beijing
Subway
It is extremely easy to get around Beijing using the subway system. As it's relatively new (it opened almost 100 years after the London Underground with a huge expansion in the early 2000s), the trains are tall and wide enough to enjoy a comfortable ride. Also, they're air-conditioned as standard which makes a big difference in the sweaty summer!
The stations also are all very clearly marked with overground signs for all exits, which have English and colour coordinated labels too. When you are on the platform, there are Chinese and English signs for you to read, so you can't really go wrong.
When you first enter a Chinese subway station, go to the counter and ask for a Transportation Card. They will need a 20RMB deposit, but once you've got it you can top it up when you like and avoid queuing every time you need a ticket.
A journey on the subway will cost from between 3 RMB to 9RMB, and you can check out how much it will be either on this awesome website (which also has a handy free app) or by checking one of the ticket machines.
The subway will almost always be quicker than a taxi as it avoids the traffic, but it can be awkward getting to certain places if a transit line is closed.
Tuk-tuks
These little cabs are perfect for getting from A to B if you can't be bothered to walk, but it's too close to justify a taxi! Flag one down and be prepared to be ripped off, and then to haggle! A five-minute journey should cost no more than 10RMB if you're in a busy part of the city.
Make sure you agree on the price beforehand and you can usually pay in either cash or by scanning the WeChat QR code if you have the app.
If you're concerned about safety, then no, these aren't ideal but generally, they stick to the side of the road, are clearly seen by drivers and aren't travelling fast enough to cause any damage if you did bump into something.
Buses
The least tourist-friendly but also the cheapest mode of transport, buses in Beijing run frequently and and offer 50% off the ticket price if you use a transportation card. However, they will also have a box for your change if you want to pay cash.
Unless you know of a specific bus stop that you need to get to, it can be difficult to take a bus because there is no English on the bus stop sign.
There is an English announcement, however, so if you can listen out for your destination and remember where you have to get off on your return journey then buses in Beijing can be a good way to get around to places further away from subway stops.
It will cost you 2RMB for the first 6 miles and then 1RMB for every 3 miles after that. The prices are also capped at 12RMB however long you are on the bus for. Remember to beep your transportation card at the front of the bus and scan it again when you get off so that your journey can be registered.
Taxis (hailing and app Didi – China's Uber)
Unlike most city taxis, Beijing's cabs are also really affordable. The main problem with them is that they tend to take a long time to get anyway because of the traffic in the city.
However, if you don't want to be lugging bags back to your hotel and you want to be dropped off directly outside, then just hail a cab. Make sure you find an official one – you'll recognise them by their two-tone pattern and hopefully a light on behind the windscreen indicating that they're free.
---
Book your favourite hotel here

Where will you go?
---
Check that the cab has a meter before you get in, and that it is starting on 13RMB. Have your destination written down in Chinese just in case your driver can't understand you (it's highly likely that they won't speak English).
Do not get into a taxi that isn't the standard two-tone colour. It's a "black taxi" and they're illegal. They'll charge hideous rates and could even be dangerous.
In a taxi, you'll be charged 13RMB for the first 2 miles, and then 2RMB per 1.4 miles after that during the day. After 11pm there's a 20% increase in this fee, but either way your taxi ride will be cheap. If the driver is going at a slow-speed (in rush hour for example) then more will be added, or if you go further than 9 miles there will be extra charges. However, the extra costs shouldn't make too much of a difference. For example, an hour's journey from the airport to the centre of Beijing shouldn't cost you any more than around 100 – 120 RMB.
Another way to grab a taxi in Beijing is to use their online ordering service similar to Uber, which is Didi. The only downside to this is that you have to be able to pay on the app, which means that you need a Chinese bank account.
As a tourist, you won't have one of these but if you're visiting Beijing from another part of China as an expat then it's a great way of getting a cab, especially for those early morning/late night airport pickups.
Pro Tip
A lot of taxis in Beijing have their seat belts cut out. I can't explain it – no one really seems to know or care why they do it, so just watch out. These drivers are also not known for their slow and careful manoeuvring , so if you're a nervous passenger, perhaps the subway would be a better choice for you!
Beijing is such a cool city and there is so much more to see and do that this itinerary. However, if you're short on time then these are definitely the best things to do in the city!
Depending on your accommodation choices, Beijing is also the perfect place to explore on a budget as everything can be done cheaply or even for free, and you can take advantage of easy transportation.
Frequently Asked Questions
What are the best tours in Beijing?
Taking a tour in Beijing is a good idea if you are short on time as it leaves nothing for you to organise. You might also prefer a tour if you aren't comfortable with taking local buses further out of the city. Here are a few of my favourites:
What are some must-dos in Beijing?
If you are only spending 3 days in Beijing, then I recommend visiting the Great Wall as a priority. The Forbidden City is also a must-see, as well as Tian'anmen Square.
Which airport will I fly into?
Beijing has two airports – Beijing Capital International (PEK) and the newly built Beijing Daxing International airport (PKX).
Is it easy to travel around Beijing?
Yes! Pick up a subway card at a station booth and top up the card as and when you need it. The subway in Beijing is quick, cheap and reliable, plus the signs are in English!
How long should I spend in Beijing?
As foreigners can now get 6 days in Beijing visa-free, I would recommend spending at least 3 here. If you have the time and money though, it would be ideal for you to take advantage of the full 6 days by following our itinerary! Spending just under a week here is perfect because you can take a day to rest or enjoy the city at a slower pace.
---
Have you used this Beijing itinerary? Is there anything decent that I've left out? Let us know if you have any other Beijing travel tips in the comments below!
Click on the image below to repin this post!