This post may contain some affiliate links. We'll get a couple of quid if you use the link – at no cost to you of course. We'll also always be honest and only suggest companies, hotels or products we actually think are worth it!
Are you in Beijing for only a few days? We have put together all of the best sights to see in a Beijing itinerary in a nice compact schedule! Have a read to find out what you can see and do in Beijing.
We spent two years living in Beijing so we got to see everything there is to see. If you are there on business or just passing through you won't have the luxury we did.
Of course, Beijing isn't the only place to see in China, but it's a great place to start if you only have a limited time in the country!
I have put together a Beijing itinerary seeing all of the best sights and activities in a 3 day window. Hopefully you'll get to see all the beautiful places in Beijing – check out this guide before you go to make sure you're prepared, and download these apps to make your Chinese trip easier!
Day 1
Some time ago we put together a personalised walking tour for our friends over at Walkli. Take a look at this route looking at the centre of Ancient Beijing.
Walkli – Beijing Cultural Walking Tour
Start – Qianmem Subway Station
Walk south through the central Beijing hutongs and through the famous Dashilan Commercial Street. Here you can purchase anything China related, so this is the time to pick up gifts for those back home. The prices here are mostly non-negotiable, however they are also some of the most reasonable in the whole city. The cost of living in Beijing is low, so if you're here as a tourist then you can find some great bargains!
At the end of the road you will find yourself at Qianmen Street, the central road leading back towards Tian'anmen Square. Walk north towards the Qianmem gatehouse and pass directly underneath.
Across the road will be Mao's Mausoleum. Here you can go inside and see the preserved body of the revered leader. Regardless of what he did in life this is definitely a unique experience.
On the other side of the mausoleum is the infamous Tian'anmen Square. It truly is a massive open area. On the right is the museum of China and in the middle is the memorial to all the fallen soldiers in World War 2. We personally didn't go into the museum however this is something you can add to the day.
At the far end of the square is the imposing entrance to the Forbidden City. This is the first time you will understand the sheer scale of the palace.
Upon entry just follow the crowds to the ticket offices inside the gates. You really can get lost inside this palace so have a good look around. Keep going North through the whole palace and you'll eventually get to the North Exit.
In front of you is a very out a place hill inside of Jingshan park.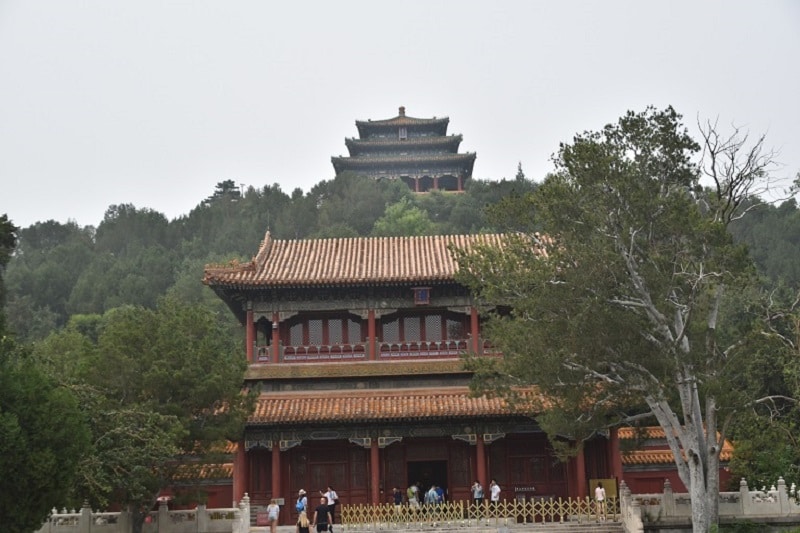 It's very cheap to get inside, and after walking to the top of the hill you get a spectacular view over the top of the Forbidden City you have just walked through. Hopefully you get a low pollution day and get some nice photos, unlike we did!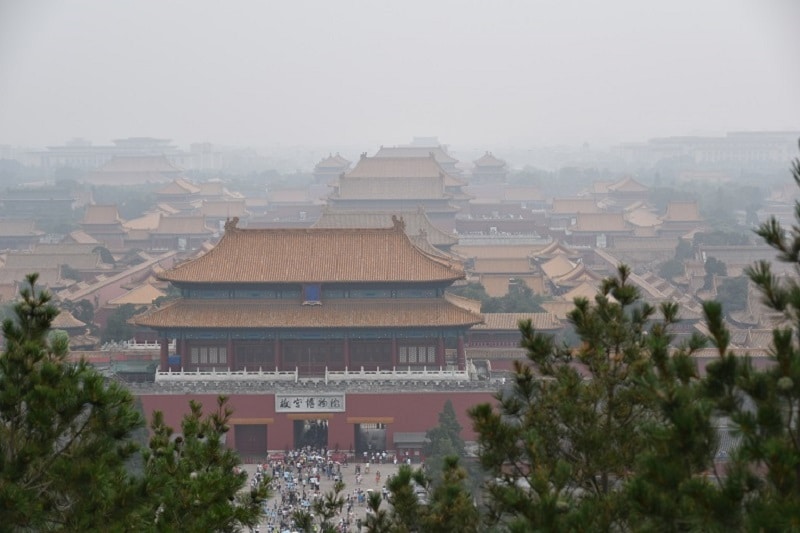 It is very difficult to put a time on this first day. Some people might walk straight through all of the areas and it takes 3 or so hours. If you decide to go into every attraction, do some shopping, see the museum and really get a feel for the places it could easily take 7-8 hours. Therefore I have left this as all of the sightseeing for day 1.
Day 2
Beijing Zoo
Disclaimer – This zoo as a whole is terrible. The way the animals are kept is extremely bad. I am only advising to go to the zoo to see the pandas. The panda enclosure is extremely good as you can imagine. If you are going south in your trip and going to a place called Chengdu then do not bother going to Beijing Zoo.
Summer Palace
If you are coming from the zoo you can get a boat up the canal to the summer palace. The Summer Palace is absolutely beautiful all year round and is very big. I would advise taking some food for a picnic if the weather permits.
Hutong Tour
If you still have time at the end of the zoo and Summer Palace, take a look at this tour we created in one of the most famous hutong areas in Beijing as well as the Houhai Lakes.
Day 3
Great Wall
Wake up early on day 3 to catch a bus to the very well known and one of the most well restored sections of The Great Wall, Badaling.
On Subway line 2, travel to Jishuitan Station. Then walk to Deshengmen bus station. I would advise using a map app on your phone so you can find Deshengmen bus station from the subway as it is a 10 minute walk.
Then find bus 877, which will be obvious because of the queues of people. I have read that there are many fake 877 busses en route to the bus station. If there is someone trying to convince you to get on the bus then it is almost certainly a fake.
Busses run from 6am – 12.30 midday to the wall so plan the morning so you don't miss it.
Temple of Heaven
If you have got up early enough, and get back to Beijing around 2pm, then travel down to Tiantan East Gate station on subway line 5. There you will be able to see the Temple of Heaven. This is another famous and very large temple complex that is beautiful to have a walk around.
Tips
 Only attempt to haggle with street vendors and stalls if you don't think the item is worth what you are paying. So many times I have seen people haggle for pennies and it can be insulting. Of course haggle if you know they are ripping you off.
 I haven't mentioned anything about food in Beijing, however there is street food and restaurants everywhere in this itinerary. I would suggest finding a place with pictures if you are going to be going to a restaurant.
 When you go to the Wall make sure you have a lot of water with you. The vendors at the wall all charge about 5 times more as they know you need it. Always good to stay hydrated!
---