The southern coastline of Sri Lanka is absolutely beautiful, so it's not a surprise that there are some incredible beaches in Galle and the surrounding areas! Find out where the best ones are in this post!
Galle is a pretty town in the southwest of Sri Lanka, with plenty to see and do. Visit the Fort area, stroll around Old Town and explore the fascinating history of the country.
Read More: How To Get From Galle To Colombo By Train
However, Galle is home to a surprising amount of beaches too, which most people seem to disregard!
We visited the best beaches in Galle – so you can scroll through this list, save your favourites and get cracking with your sandy adventures!
There is also one of the beaches in Galle that we DON'T recommend! You might see it on Google and want to find out more – but we don't want you to waste your time, so we've included the no go beach too.
Don't just take our word for it that these are the top Galle beaches – watch the video below too so that you can see for yourself!
The Best Beaches in Galle To Visit (and 1 to avoid!)
Here are the top 10 Galle beaches. We've done all of the hard work for you, so you can see which beaches have which facilities to help make your decision on where to go!
---
1. Pittiwella Beach
The furthest west of Galle, Pittiwella Beach is a great option if you're looking for a relatively quiet beach, with great accommodation options right on the front and the chance to enjoy some watersports!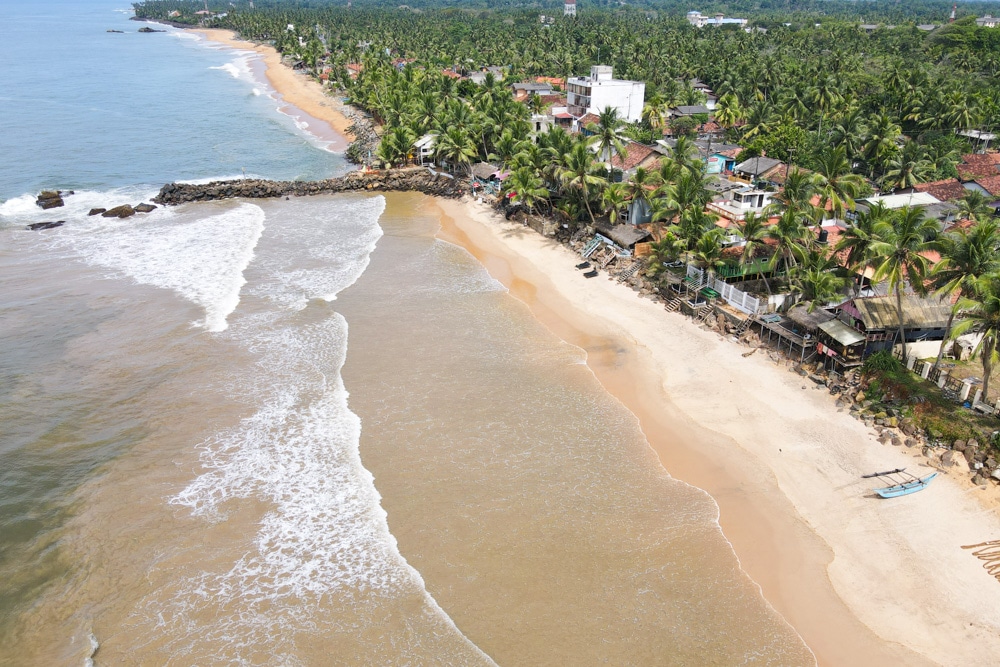 To access it, you'll need to find one of the narrow alleyways that snake past the guesthouses – there are some signs pointing to the beach so you can just wander along the main path until you see one.
You'll have to climb down a set of stairs (or rocks, or tyres filled with sand, in our case!) to get to the sand, so be aware that it is not an easily accessible beach.
However, there are plenty of beach huts and bars along the coast, all providing a great view so if you're just here for a cocktail and the sound of the ocean waves, you have lots of places to enjoy those.
You can rent surfboards from any of the huts, and it will cost you around 500 rupees for one hour.
If you need a lesson, that will set you back 5000 rupees. You'll be taken up to into the main part of Galle where there's a good surf point to learn in, so in all, you'll be gone around 2 hours.
There aren't any lifeguards here, so be careful if you're swimming. Let someone know if you're in the water if you're on your own!
Pittiwella doesn't have any specific facilities – no toilets or sunbeds – but just buy a drink or meal from one of the guesthouses and use theirs!
Apart from surfing, there isn't much to do here except drink, eat and chill out. Those aren't the worst things in the world to do, so give Pittiwella a visit if you're looking for a place to relax!
Where To Stay Nearby
There are some lovely beach huts along Pittiwella Beach – they offer private rooms, dormitories and even treehouses! Your money will go far here too.
For a great hostel try;
Click here to check room availability.
If you'd prefer to stay in a private room, try out;
It's next to a great reggae bar and Indika Beach Villa serves great food.
---
2. Gintota Beach
We tried to visit Gintota Beach but it really was just a tiny stretch of sand over a river!
On Google, there are a few positive reviews of this place, but honestly, it's not worth taking the time to come, especially when there are so many other amazing beaches in Galle!
Don't bother coming here because there isn't anything around – onto the next one!
---
3. Dadalla Beach
This little gem is not to be confused with Dalawella Beach – if you type it into Google, that's what comes up! Don't worry, it's also on our list but just not yet!
Dadalla Beach is around 10km west of Galle Fort. It is essentially just a strip of sand, but that's what makes it so beautiful!
There is a small local restaurant just on the side of the road at the main entrance of the beach, selling snacks as well as a typical rice and curry meal (220 rupees).
There are no other facilities for this beach – it's truly just a lovely and peaceful place to relax on the sand or swim.
However, there is an incredible hotel called Amari Galle at one end of the beach.
We asked if people from the beach could use the toilets, and they said no BUT they do offer a package on the weekends that you can pay for to enjoy their facilities.
You get pool access, a buffet lunch, a welcome drink and a sunbed, for 5000 rupees. It's available from 10 am until 5 pm, and you really would have a great day here.
Enjoy a quiet morning or gorgeous sunset at Dadalla Beach, and then try out the facilities at Hotel Amari.
Where To Stay Nearby
The most obvious choice is, of course,
There's also a kids club if you need to offload your offspring, whilst you relax in the spa!
Click here to reserve your room.
If a 5-star hotel on the beachfront isn't your thing … then try the more budget-friendly but highly rated;
Click here to check prices and availability.
---
4. Galle City Beach
This is also referred to as Siyambalagahawatta Beach on Google Maps, but we asked a local restaurant owner and he just said it was called Galle City Beach!
Either way, it's a lovely stretch of sand with a few small restaurants hidden underneath the trees.
There are toilets in the restaurant across the road but none on the actual beach, so consider that if you're planning to spend all day here!
Apart from that, there is nothing here but it really is a great place to come and switch off, unwind and take in Sri Lanka's beautiful coastline.
The restaurants that serve food and drink are much more expensive than any other local places we saw in Galle, but that's because they're right on the beach and there aren't that many options!
They're still cheap by western standards, so go and grab a beer and a kottu and enjoy the vibe!
Where To Stay Nearby
For a lovely guesthouse just 300m from the beach stay at;
The owners are super friendly – ask them if you ever need to get a tuk-tuk anywhere!
---
5. Lighthouse Beach/Galle Fort Beach
We were surprised to find that Lighthouse Beach, Galle Fort Beach and Galle Fort Swimming Bach are essentially all the same place!
The beach sits on the corner of the famous lighthouse. There is a large area that is cordoned off where you can and should specifically swim – but the actual sandy parts are all the same.
It can get quite busy at weekends, with big groups and families coming down to enjoy the water, so try to go on a weekday if you can.
There is also a fair amount of rubbish and waste on the eastern side of the beach, which makes it pretty unsightly! The main part next to the lighthouse is okay, and it is a great place for swimming so I'd recommend it for that.
However, if you just want to sunbathe, read about the next beach because it is literally just around the corner and you escape ALL of the crowds!
Where To Stay Nearby
Staying in the Old Town area is best – you've got the best access to the shops, museums and galleries as well as the beach.
---
The only thing separating Hidden Beach from Lighthouse Beach is a huge bastion outside of the Dutch Hospital Shopping Precinct.
If you can climb down from there, you'll be treated to a super quiet and empty area.
The water is a bit rougher here, so I wouldn't swim, but it's perfect for a bit of alone time right next to the Fort!
Where To Stay Nearby
Another option in the Galle Fort area is the;
Click here to check availability.
---
7. Dewata Beach
This is the busiest beach so far, with bars pumping reggae music, selling food and offering surfboards for rent.
It's the closest one to Galle Fort with all of the amenities you need to enjoy the whole day at the beach, but there are a few drawbacks.
If you don't want to surf, drink or eat at Dewata, you'll find it difficult to avoid being targeted by all of the bar staff along the sand.
They'll try to get you to buy something or have a surf lesson, but this is sometimes the price you pay for visiting a busier beach like this!
There is also a lot of rubbish on the eastern side, so try to stick to the other end.
It's not the best place for swimming, but if you're looking for a good place to rent a surfboard, then Dewata is a decent option. Sunsets are also great here!
Where To Stay Nearby
If you want a room close to the beach then;
There are two single beds and 1 double bed so this is great if you're travelling in a group!
---
8. Jungle Beach
Jungle Beach has got plenty of amazing reviews and it is easy to see why!
There is a parking area at the top of the path that takes you to the beach. It cost us 100 rupees to park our tuk tuk there all day and it's the same for bikes. If you've got a car then you'll pay 150 rupees.
To get to the beach, you'll have to walk for around 10 minutes down a rocky hill. It's not difficult, but if you use a walking aid, a wheelchair or even have a buggy then unfortunately you won't be able to get there.
It's actually split into two different beaches (we decided to call them Jungle Beach 1 and Jungle Beach 2!) and you can reach the other part by climbing over a very rocky path with huge boulders.
At Jungle Beach 1, there is a little restaurant serving food and drinks (cocktails too!), and it has a toilet.
You can take a boat tour from here – glass-bottom boat, snorkelling etc.
On Google Maps, it looks like there is a path linking to two beaches. This path is literally just a stack of rocks! It's not too difficult but I'd wear trainers to be safe. As the "path" comes inland, take your shoes off though because it becomes really boggy and you can't walk through without getting wet.
This part of the beach doesn't have any facilities, but it was still really busy when we were there and people were having a great time swimming in the water.
The path carries on and you can go towards Rumassala South Beach, which turned out not to be a beach at all! We couldn't access anything down there but did spot the shipwreck in the corner.
Carry on following the path, you'll come back around and go past the Japanese Peace Pagoda. You can go and see this, and then walk all the way back up towards the car park. The purple markers on the map below show you exactly where to go!
Where To Stay Nearby
For gorgeous and distinctive accommodation, spend a few days at;
There's a restaurant on-site, and you can even go with the staff to the local fish market, choose what you want and how it will be prepared!
---
9. Unawatuna Beach
On the other side of the land is Unawatuna Beach. This is the most famous beach in Galle, and for good reason!
It's perfect if you are looking for restaurants, bars, water sports and swimming. There are also plenty of sunbeds across the beach, but if you'd prefer to just lay a towel down then that's easy too.
The sand gets HOT though – like unbearably hot – because there is zero natural shade and the water doesn't reach up to the top.
It's a great place for swimming because the bay is a little sheltered from the crazy waves that you'd find on other south coast beaches like Mirissa.
Read More: The Most Stunning Villas In Mirissa
There are also some cool things you can do on the water that we didn't see anywhere else – banana boats, jet skiing and wakeboarding to name a few!
It's around 6000 rupees to try out a jet ski for 15 minutes, wakeboarding is 7500 for a similar time and you can jump on a glass-bottom boat for a snorkelling tour for 5000 rupees for an hour. You could probably haggle these prices but they'll be pretty similar all the way down the beach.
Unawatuna is also a cute little town with winding streets lined with boutique shops, cafes and hotels.
Where To Stay Nearby
Set right on the beachfront,
It's got its own restaurant and bar, every room has air conditioning and breakfast is included in the room rates!
This hotel is such a steal – you won't find many higher-reviewed places in this location for the prices they're offering!
Click here to check room availability and prices.
---
10. Dalawella Beach
Dalawella Beach is best known for two things – turtles and a rope swing!
The beach is split into two, like Jungle Beach, but it is much easier to get between them! You still have to walk over a few rocks and take the risk of getting wet as the water really does push its way up the shore, but if you time it right, you'll be okay!
If you want to see turtles, definitely come here, but make sure you come early. The bay was quite busy with snorkellers, and we saw a few people touching the turtles, following them and generally just being pests to the wildlife. There are lots of signs telling people not to touch the turtles, but not everyone plays by the rules.
It's also a nice place to swim because the rocks protect the beach from the huge waves that happen out to sea.
There are restaurants and hotels lining the beach, so you can hire sunbeds (500 rupees), cabana beds (1000 rupees) and snorkels (500 rupees for 1 hour) all the way along.
If you want to get the fancy Instagram picture of the rope swing, make your way down to Dream Cabanas. This is where you can pay 500 rupees for the pleasure of swinging from a palm tree over the ocean.
Where To Stay Nearby
For the perfect place right on the beach where the turtles visit, choose;
Choose a deluxe cabana with a sea view, and you'll get a fantastic breakfast included too!
Click see pictures and check prices.
---
11. Mihiripenna Beach
This is just a few hundred metres further east than Dalawella Beach.
It's very different though – it's much less touristy and there are hardly any places to eat or drink.
A few small restaurants serve food, and you can hire sunbeds but barely anyone bothers to come to this part of the beach so you'll probably have it to yourself!
There is also a small swing here, and you only have to pay 300 rupees. It doesn't go as far but we saw a few people getting pictures with it here!
Mihiripenna Beach is lined with a few gorgeous four-star hotels, so if you're staying in one of these, it's basically like you've got your own private beach!
Where To Stay Nearby
If you want a luxury hotel on the beach, look no further than the;
The beautifully decorated rooms are spacious, and all have equally large bathrooms. You can even book a two-bedroomed suite if you need it!
Click here to check availability.
---
---
Things To Do In Galle
Despite there being some awesome beaches in Galle, you'll need a couple of other activities to fill your time in this pretty city. Check out the Galle Heritage website to plan your activities.
Galle Fort
Galle Fort surrounds the Old Town and is a lovely place to wander around, explore and discover the history of the city.
Discover how the bastions protected the city, and see the famous lighthouse standing over the edge of Galle.
Museums
There are a number of museums and galleries dotted around the city – but they're mainly located in the Old Town. Learn about the maritime history, colonial archives and the city's past.
Shopping
The Dutch Hospital Shopping Precinct has some lovely jewellery shops, restaurants and cafes. A short walk away takes you to the Old Town, which is full of boutique shops, cafes and spas.
For a much more detailed itinerary and comprehensive list of things to do in Galle, check out this post! Once you've explored Galle, travel on down to Mirissa to enjoy a chilled out vibe in the town!
Read More: Check Out Our Insane 5 Day Sri Lanka Itinerary
---
Which of these beaches in Galle was your favourite? We personally really like Galle City Beach, Jungle Beach and Unawatuna! Let us know in the comments below!