This post may contain some affiliate links which means we can earn commission at no extra cost to you.
Backpacking in Bali is cheap, easy and extremely beautiful. Read this guide to find out how you can see this country and make the most of your backpacking experience! Bali is not a country on its own but part of the larger Indonesia. We felt that Bali is so unique that it deserved its own page describing why you should definitely go backpacking in Bali.
Bali on a Budget
Accommodation
Backpacking in Bali on a budget is very easy. You will find that accommodation in Bali is very cheap and also extremely nice. For example, Base Hostel in Canggu is $4 a day and is rated over 9 on Booking.com. Take a look at the pictures to see exactly what I mean. You will be staying in the incredible beauty and paying next to nothing for the privilege.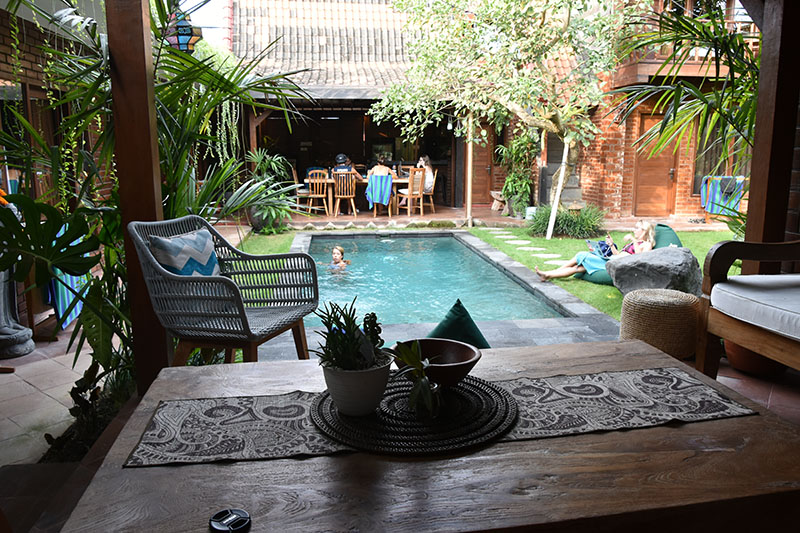 Food
Every backpacker knows that food costs can seriously increase your budget even if the accommodation is cheap. You will not have that problem backpacking around Bali.
You really can eat some incredible food in Bali, and we can guarantee that you will not be stuck for options! Whether you're looking for restaurants in Ubud, Canggu, Kuta or Amed, you'll find something you fancy
A typical Indonesian meal is going to cost you $1-$2 and they are huge trust me. It can be a full curry with 7 to 9 sides which will fill you up for most of the day, or a bowl of fried rice or noodle dish.
Even if you decide to go foreign food for the day, you can pick up any meal from $3-$5, for example; burgers, smoothie bowls, Mexican, Indian or anything else for that matter. They have it all in Bali and all of it is under $5.
Visas for a Bali Vacation
Less than 30 days backpacking around Bali
There is a list of 140 countries that DO NOT need a visa to enter the country, click HERE to find out if you're are on that list. If you arrive without a visa you will have 30 days in the country and you WILL NOT be able to renew.
More than 30 days backpacking around Bali
If you are planning on staying in Bali for more than 30 days then you will have to pay for a visa on arrival. The list of countries eligible for visa on arrival is NOT the 140 countries listed above, click HERE and scroll down to the second list to check if you are on this list.
If you do this you will be able to extend the visa ONCE for another 30 days. After 60 days you will have to leave the country. You can come back straight away however and start the process again.
The price for a visa on arrival is currently US$35.
Vaccinations for Bali

As always it is highly recommended that you check you are up to date for all standard vaccinations in your country, regardless of the country you are travelling to.
For Bali specific vaccinations please click HERE for all the information you need.
Hopefully, you don't have the need for medical attention whilst backpacking Bali but I cannot recommend enough the importance of getting travel insurance. You can be the safest person in the world but that doesn't mean the people around you share your actions. There are many companies out there but we recommend World Nomads and they never let us down.
Best time to visit Bali
Bali is very close to the equator so you can expect a tropical climate all year round so you won't need to bring a jumper whenever you go backpacking in Bali.
However, because it is tropical it does have periods of time when rainfall and humidity peak and this can make your time slightly uncomfortable.
You also have to take into consideration that high season in Bali pushes the prices for accommodation and tours up by up to 50%.
So the best time to visit Bali has to be, April, May, June and September. This is the period of time where accommodation will still be reasonably priced and the humidity and rainfall and very low.
It's also a very nice time to go because the crowds have not yet rolled in.
What to pack for Bali
Backpacking in Bali is very similar to backpacking anywhere. The following list is everything we recommend you take for your Bali adventure.
Packing List
7x T-shirts/vests
7x Socks
Holdall (if you'll hike go rucksack, if not definitely go holdall)
7x Underwear
2x Shorts
Cover up (for temples, a shawl would suffice)
---
For a comprehensive breakdown of this list go to our budget savvy packing list guide.
Pro Tips
Don't put anything in the day bag when you leave your home country, roll it up and place it in your main bag. This means that you'll have a whole bag to fill with souvenirs and gifts for the way home.
Getting to Bali

Plane
Bali is a small island so the only feasible way of getting there is by plane to Ngurah Rai airport in Denpasar.
Getting around Bali

Obviously, you could hire a motorbike but, as I said previously, ONLY rent one if you have a full license in your home country so you are covered on your travel insurance.
The best way, in my opinion, to get around Bali is by using the app GoJek. This app allows you to call a vehicle anywhere you are easily and all in English. The price is very reasonable and there are always drivers available to take you where you need to go.
If you are going to be in one place for a long time, I recommend renting some bicycles. Everything will be so close to where you are staying that these give you the ability to get around as well as being able to claim on your insurance if an accident does happen.
Where to stay in Bali
Bali is a paradise for cheap luxury accommodation and is a budget Bali backpacker heaven. There is really no need to look at sites like Air B&B to try to find cheap deals or better accommodation.
We use booking.com for all accommodation in Bali.
Most backpacker accommodation in Bali will have both dorm rooms and private rooms. Neither are expensive but if you are in Bali on a budget then the dorm rooms are exceptionally well priced.
Best Places to Visit in Bali

Take a look at our packed 1 week Bali itinerary!
Canggu
A chilled digital nomad's heaven, Canggu has everything you could possibly want.
The world-renowned Tanah Lot temple is just up the road and is one of the most Instagramable spots in the whole of Bali.
You can buy any cuisine you could possibly want and all of it is amazing quality.
Surfing in Canggu is pretty good as well. They say it is best for intermediates but I have known many a beginner who has braved the waves with an instructor to help them out.
Ubud
Ubud is one of the most popular locations for backpacking in Bali because of its beautiful scenery and relatively close location to so many things to do.
You can go to cooking schools, white water rafting, hiking mountains at sunset and even play with monkeys in the monkey forest.
The town is famous for its large sprawling market in the centre of the city which is great for souvenirs and gifts.
Check out Ubud's awesome tours
Pro Tips
The market in Ubud is renowned for suggesting prices 8-10 times higher than they should be. Do not feel bad about slashing the price right down because they really do try to rip you off here.
Nusa Lembongan
Nusa Lembongan is a small island off of the south-east coast of Bali. It isn't Bali itself but the culture and atmosphere are very similar. You can take a day trip, but I highly recommend going over for a few days at least, especially if you are a couple as this island is much quieter than the mainland and has some very romantic spots.
Gili Islands
The Gili Islands are the definition of paradise beauty. If you can afford to grab a boat over there then you will struggle to find a more beautiful place for the rest of your life.
If you do go over activities like swimming with turtles, snorkelling and diving are some of the things that will be easily booked.
If you are backpacking in Bali you may not have the budget to splash on going to the Gili Islands.
Check out the top tours to the Gili Islands
Mount Batur
Climbing this volcano at sunrise is something you won't forget.
Summary
There are too many places to visit in Bali to list them all here but we will be writing individual posts about all the things to do in Bali over time so stay tuned for more detailed guides!
The Best Tours in Bali
Best Things To Do In Bali
White Water Rafting
You can book a white water rafting tour and be picked up in the morning from pretty much anywhere in south Bali. I recommend booking when you are staying in Ubud as you won't have to wake up as early to be collected from your hotel. We highly recommend the Telaja Waja Rafting Tour, we went on this one and it was very good.
Monkey Forest
Playing with the wild monkeys in the monkey forest is always a fun experience. The monkeys climb on you and generally have a good time whilst you are walking through. If you are new to Ubud, and most of you will be, it can be quite chaotic. It is one of the busiest places in all of Bali. To maximise your time and experience I recommend booking a tour around the best spots in Ubud, this includes the monkey forest.
Cooking School
Balinese food is so damn nice that you'd be crazy not to do a cooking school. We went to Lobong Cooking School and it was a 5-star experience from start to finish.
Waterbom Bali
Ranked the 2nd best waterpark in the whole of Asia, Waterbom Bali is phenomenal fun. A little pricey but at the end of the day, you'll think to yourself that it's well worth the price. It can get very busy at Waterbom, so if you're worried you won't get a ticket then you can book your Waterbom ticket in advance.
Learn to Surf
There are so many surfing spots all over Bali, ranging from beginner and up. If you are starting out then remember to always have an instructor and never go alone. I don't recommend going surfing, for the first time, alone. Book a surf school to minimise the risk.
Trekking a Mountain at Sunrise
If you can get up at 2 am for the ride over then you'll be blown away by some of the views at sunrise over the top of Bali. There are even some tours where you camp out for two days on top of the mountain and experience the sunset and sunrise!
Day Trip to the Islands
There are many tour companies that will ride you over in the morning for you to explore the islands. You can even go over to floating play parks and spend the day in a waterpark in the sea. What's not to love?
What to Eat in Bali
Nasi Campur
Nasi Campur is a Balinese dish that consists of rice in the middle of a plate with 7-8 sides placed around the rice. You choose your sides from a buffet style counter and eat the rice as you make your way around your choices. If you go to the right place then this dish is probably my favourite out of all the Balinese cuisines you can buy.
Nasi Goreng
Nasi Goreng literally translates to fried rice and is usually served with a fried egg on top. It tastes slightly different to other fried rice I've had throughout Asia but rest assured it very good! It also costs $1 so you can't really go wrong.
Mie Goreng
Mie Goreng is fried noodles. Just like fried rice, it has its own Balinese twist that makes it unique and tasty. You can also pick this up for a $1 so you'll be getting fat in no time.
Bebek Betutu
Bebek betutu is fried duck served with rice and vegetables. It differs quite a lot from restaurant to restaurant but it tastes so bloody good. The duck is wrapped in banana leaves and left to slow cook for 6+ hours so it falls off of the bone when it finally reaches your plate.
Non-Balinese Food
Everywhere you go in Bali you'll have access to other nationalities cuisine. This food is nearly always only slightly more expensive than the Balinese food and is also don't very well. Places like Canggu have literally everything you can possibly think of so don't worry if you're feeling like something from home.
Staying Safe in Bali
Motorbikes
Every single backpacker in Bali we ever met was hiring or using motorbikes to get around. They are literally everywhere. Nearly none of the people we spoke to about it realised that their insurance does not cover any accident involving a motorbike if you don't have a FULL motorbike licence in your home country. This INCLUDES if you are a passenger.
I think the common mistake is thinking that you are riding a 50cc moped. In most countries, you do not need a licence to drive a 50cc so people assume that they are covered to ride the motorbikes in Bali. The motorbikes look like the 50cc mopeds you have at home however they are all 125cc and above.
When we went backpacking in Bali we literally saw so many people limping along with bandages on their knees and feet. I strongly advise against anything that is not covered by your insurance.
Theft
I haven't heard a lot of stories about crime happening to backpackers in Bali, however, one thing that has come up a few times is theft whilst riding bikes.
If you do choose to hire a motorbike then do not put your bag on the floor of the motorbike between your legs.
People ride up beside you on their motorbikes and snatch the bag as it is not attached to anything and then ride off.
Street Food
If you go backpacking in Bali you will almost certainly experience 'Bali Belly'. It's nothing to worry about, just some bad diarrhoea. If you want to minimise your risk then don't buy street food that has been out unrefrigerated for any amount of time.
I recommend that you always purchase food that has been freshly cooked.
Pro Tip
Nasi Campur is a rice dish that comes with a large selection of different sides and curries. It is always presented as a buffet and is VERY nice. This buffet is left out all day and not refrigerated. If you go for an early lunch then it is all fresh and you minimise your risk. I do recommend trying it though!
Scams to be aware of in Bali
GoJek Drivers
When you call a vehicle to come and collect you it will say a price on the screen. Half the time the GoJek driver then private messages you and starts negotiating the price 2 or 3 times more than the official price.
This can be annoying because if you say no then they just don't pick you up. Sometimes it is easy to get another driver more willing to accept the official fare but sometimes you don't have a choice. Try to barter them down but if you are struggling to get a cab then accept what you think is reasonable.
Visa Renewals
Make sure you go through an agency when you are renewing your visa for the second month. When you start handing over passports then it's time to use an official source. Don't open yourself up to theft or being ripped off.
Language in Bali

The official language of Bali is Indonesian however they do also have their own language called Balinese. The general consensus is that less than a third of the population now speak Balinese and nearly all of them also now Indonesian.
English is also spoken to at least a beginner level at all tourist locations.
Key Phrases
Thank you – Terima kasih
Goodbye – Selemat Tinggal
How much? – Berapa banyak
Vegetarian – Vegetarian
No – Tidak
Hello – Halo
Taxi – Taksi
Spicy – Pedas
Yes – Iya NIH
Toilet – Toilet
Currency in Bali
The currency in Bali is Indonesian Rupiah. Unlike other backpacker countries around the world they do not accept USD as a currency so you have to get your home currency exchanged before you purchase anything.
Pro Tip
There are many places around Bali that exchange money and they have slightly better exchange rates than the airport. I recommend changing a small amount at the airport to pay for your transfer and maybe a meal for that evening and then exchange the rest nearby to where you are staying.
Our Honest Opinion of Bali
I truly believe that Bali is one of the best places in the whole world for backpackers to travel to. It has everything you would ever want al at cheap and affordable prices. The natural beauty is up there with some of the best in the world and the people are extremely accommodating to the growing tourism trade.
They have some work to do to clean up the streets and they are going to have to improve infrastructure if they really want to maximise the potential of the tourism industry. At the moment 99% of the roads in Bali have no pavement so you just walk on the road.
I highly recommend that you go backpacking in Bali as soon as possible!
Frequently Asked Questions about Bali
Which is the best place to stay in Bali?
If you want adventure activities then Ubud as it is close to so many of the rafting and trekking opportunities. If you want to relax and experience the 'nomad' lifestyle then Canggu has to be at the top of the list.
When Should I go to Bali?
April, May, June and September. These times are the best prices and fall either side of peak seasons so they will be the calmest. They also avoid the rainy season so the weather is not as humid and hot.
Where do you fly into Bali?
Ngurah Rai international airport in Denpasar
Is Bali a separate country to Indonesia?
No, Bali is in Indonesia however the Balinese have quite a unique culture and language as opposed to other locations in Indonesia.
How much for a meal in Bali?
An Indonesian meal from a local restaurant should cost $1-$2
Can I ride a motorcycle in Bali?
If you have a domestic motorcycle licence and an international motorcycle licence then you can legally ride in Bali However nearly every person who comes to Bali rides anyway as you almost certainly will not be stopped. This is STRONGLY NOT recommended as you will not be insured on your travel insurance in the case of an accident.
What is the local beer in Bali?
The local beer in Bali is Bintang and will cost around $1.5 for a bottle in a restaurant.
What is the local spirit in Bali?
Arak is the local spirit in Bali. It is very cheap but definitely has an acquired taste.
How long should I go backpacking in Bali?
I recommend backpacking in Bali for 2 weeks. This gives you enough time to thoroughly explore the mainland and even get out to some of the islands.
---
Click on the image below to repin this post!