7 days in Sri Lanka is not a long time but if it's all you've got, take a look at this 7 day Sri Lanka itinerary to see how you can use your time effectively.
---
7 Day Sri Lanka Itinerary
This 7 day Sri Lanka itinerary assumes you have 7 full days to explore. If your flights are part of your 7 days then you may need to adjust a few times. I have made the first and last day flexible on time for this reason. You can simply get to Galle a little later or leave Kandy a little earlier if you need to.
There are so many things to do here but if you only have 7 days in Sri Lanka then you will need to use your time extremely effectively. This itinerary is pretty fast-paced but I have put in some time where you can relax and get your bearings again!
If you don't think you have a full 7 days to travel in Sri Lanka then check out our 5 day Sri Lanka itinerary here.
---
Day 1 – Galle
Everyone starts their 7 days in Sri Lanka in the same place, Colombo. Whether you have just arrived in Sri Lanka or you came the day before, you'll make your way into Colombo to start your trip. This is because it is the main transport hub for the whole country.
I don't recommend staying in Colombo as you don't have a lot of time and Colombo is not one of the highlights of the country.
Take the earliest train you can, from Colombo Fort station (check it out on the map here) to Galle. I recommend booking your tickets in advance as you can get reserved seats and not have the possibility of standing for the whole journey. Let's start the trip on a good note!
The train is going to take around 2 hours and passes some of the most incredible views of the east coast. This is the time when you can go to one of the open doors on the train and get that insta-worthy pic hanging out the carriage. Do I recommend doing it? No, as it is quite dangerous. Did I do it? Yes, so if you're going to, just be safe.
When you get to Galle, you're going to want to get to your accommodation to drop off your bags. If you've gone for the 6 am train then you will be in Galle just after 8 am. Don't worry as you will be able to arrange with your accommodation to drop off your bags early.
They may not let you into the room yet but you will still be able to store your bags with them until you come back later. Book one of the accommodation options below depending on what budget you have in mind.
There are loads of activities in Galle, other than just the Galle Fort. In this 7 Day Sri Lanka itinerary, I will only be advising you to go into Galle Fort and spend the day exploring that area. However, if this does not sound like your cup of tea, check out our full article on things to do in Galle to better plan your time there, or watch the video below.
I recommend getting a tuk-tuk straight to the Galle Fort Gate. You can organise this in two ways; ask your hotel to grab you a tuk-tuk or use the Pick Me app (android/apple). I recommend using the Pick Me app as it is incredibly easy to use, has competitive prices and you'll be able to arrange transport wherever you are without the need for help.
Either way, once you get to Galle Fort, you have lots of options to choose from. Take a look through this list and choose which activities sound the best for you! The map below highlights the location of the list below.
Relax On Hidden Beach (or just the regular beach)
Hidden Beach is a tiny area of sand that hardly anyone uses as you have to climb down the wall to get to it (it's not that far). Because of this minor inconvenience, it is almost always empty and is a fantastic place to relax and sunbathe in complete peace.
If you would like more of an established beach, with designated swimming areas and facilities, then check out Lighthouse Beach. This is directly adjacent to the famous Galle Lighthouse (you would never have guessed it by the name…). This beach is much busier but has fantastic views and a great area for swimming safely.
We actually visited every single beach in Galle, so if you're a big sand magnet then definitely check out our article on the beaches of Galle here.
Museums
There are 3 decent museums to visit in Galle Fort.
The Maritime Museum – A small yet interesting museum about the evolution of the maritime industry in Sri Lanka as well as the local marine species.
Historical Mansion Museum – This museum is free to enter as it is actually a private collection of historical artefacts from all over the world. Everything is also for sale in the whole museum so if you are a collector then this is the place to be.
Galle National Museum – This is one of Sri Lanka's national museums and it is built in the oldest building in the whole of Galle Fort, built-in 1656. It has various archaeological and anthropological objects throughout history and is well worth a visit.
The Lighthouse
The lighthouse is still in use so you are unable to go inside but you can still get brilliant holiday snaps with the lighthouse in the background as we did!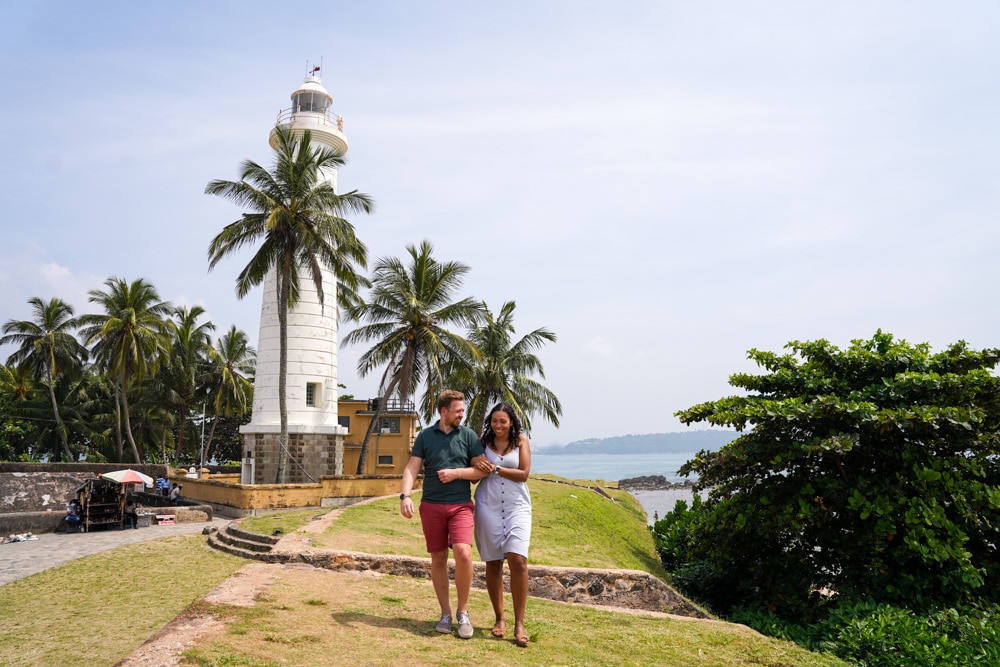 Flying Your Drone
Galle Fort is one of the best places in all of Sri Lanka to fly your drone. It is just begging for aerial photography. You can fly out to sea so you are not directly over anyone's head and can capture pretty much everything you would want to. Remember to make sure that you are fully licensed. Many people in Sri Lanka are not and whilst we were there someone staying near us was actually put in jail. Check out up to date rules here.
Walking The Fortifications
The Galle Fort is actually a pretty decent size and walking around the perimeter gives stunning views of the Indian ocean and is absolutely spectacular at sunset. I highly recommend walking around during the day and heading over to Flag Rock when the sun starts to set.
You can also get a walking tour around the Fort with a local which will give you much more insight into the history of the area. Have a look at pricing and availability here.
Lunch In The Lanes
You might find yourself walking around the outside of the Fort quite a lot as the scenery is incredible but don't forget to walk into the centre of the fort where all of the old streets, cafes and shops are. This is a great place to find somewhere to have lunch and get out of the midday sun.
Dinner At The Old Dutch Hospital Complex (and cocktails)
After a full day of walking and exploring Galle and the Galle Fort, you are going to want a decent meal. I think the best place to eat in all of Galle is the Old Dutch Hospital. There are loads of restaurants here and they are all set in a gorgeous building decorated with lights and commanding stunning views.
We ate at Starbeans Ocean Bistro and it was great.
Souvenir Shopping
There are plenty of little shops scattered around Galle Fort and it's a great place to grab a few souvenirs or gifts for people back home.
Jumping Off Flag Rock
We know this is something that some people do and there was a big sign advertising it at Flag Rock. However, no one was doing it when we were there and we have absolutely no idea how to go about this. If it sounds like your type of thing then I recommend doing some research or speaking to your hotel.
Best Tours For Galle
---
Day 2 – Mirissa Beach
Wake up nice and early and make your way to Mirissa. You have a couple of options to get there but I highly recommend jumping in a taxi by using the Pick Me app. The last time I checked, the cost of this was less than $10 so it is extremely affordable. Here are all of the ways that you can travel from Galle to Mirissa.
Not only that but Mirissa train station is a little out of town so when you get there you will have to get a tuk-tuk to your hotel anyway. So the cost of getting the train will probably be a similar price; especially if you are in a group.
Check out the following accommodation options for your budget and remember to organise an early bag drop-off with the hotel of your choice!
Read More: The Best Boutique Hotels In Mirissa
After dropping your bags off at the accommodation, make your way to Mirissa Beach. This is the one and only beach day of this 7 day Sri Lanka Itinerary so make the most out of it! (If you didn't decide to spend the day by the beach in Galle).
Mirissa Beach is a huge stunning arch of sand that is lined with nice boho restaurants and bars. Many of these establishments allow you to use their sunbeds free of charge if you purchase some drinks/food. I recommend getting there before 11 am to make sure that you actually get a bed. In the high season, it may be even earlier than that.
There are plenty of this to do at Mirissa Beach like; surfing, snorkelling, jet skiing and swimming. The swimming is particularly fun as the waves here get pretty big and I love it. If you are not a strong swimmer then I would recommend going up to the east end of the beach as the waves here tend to be a bit smaller.
Read More: Want to take some more Instaworthy shots? Check out the famous Coconut Tree Hill in Mirissa
For lunch, I recommend checking out The Station Food Truck towards the east end of the beach. It has some decent food and is pretty affordable.
As the day gets later you will notice that the workers start to put the sunbeds away and start to get tables ready for the evening meals. Make your way back to the hotel and get ready for a nice meal by the waves. Make sure that you are ready before sunset as then you can get back to Mirissa beach and watch the sunset as you drink a beer/cocktail.
I recommend the tuna from any of the restaurants along the beach as it is some of the best tuna I have ever had.
Read More: Colombo To Mirissa (Miss Out Galle In This Itinerary)
---
Day 3 – Whale Watching!
We have been with a couple of whale watching companies in Mirissa and we personally loved Eagle Eye whale watching. Check out how to book and availability here.
It's an early start but well worth it! The company will pick you up from your hotel in Mirissa at around 6 am. The boat leaves the harbour at roughly 7 am so take your sea sickness tablets around the time they pick you up (if you require this). The Indian Ocean can be quite rough.
This is an absolute MUST when visiting Sri Lanka as it is one of the easiest and cheapest places in the whole world for seeing the majestic blue whale. Don't miss this opportunity.
I won't go on about it too much here as I have written a full article about it so check that out here. Or simply watch the video below!
After whale watching, you will have a decent amount of the day left. I recommend walking up to Secret Beach which is actually relatively close to Mirissa Harbour so makes sense as this is where you will be dropped off. Check out the full article on secret beach here.
Secret beach is a nice little hideaway where you can spend a couple of hours before heading over to Tissamaharama in the afternoon. The journey has to be done by car (you can take the bus but don't do this) and will take roughly 2 hours. You will probably not be able to use the Pick Me app for this journey as it does not really work in Mirissa, therefore, talk to your hotel about arranging a local driver to your next stop.
I recommend leaving at around 4 as this means you will get to Tissamaharama with enough time to get some dinner and get an early night for the safari the next day!
Choose one of these Tissamaharama accommodation options based on your budget.
---
Day 4 – Yala Safari!
Another early start! There is no other way to get these two incredible activities all within 7 days in Sri Lanka without doing them back to back. But don't worry, you got an early night yesterday so you should be absolutely raring to go for the safari right!
We have used Shehan Safari twice and can utterly recommend their tours. Book your Yala safari here.
Either way, Yala is, in my opinion, the best safari in all of Sri Lanka. This is because it has the most animals and the highest chances of seeing the rarest, including leopards and sloth bears.
We have been on two 12-hour safaris here and we managed to get an absolutely incredible viewing of a leopard on the first trip and then got to see a sloth bear on the second! Very lucky.
I highly recommend getting the 12-hour tour. I have written an entire article about all of the different safari options you have at Yala (including staying over in the park) so check that out here for more information. You can also watch our Yala experience in the video below.
If you go for the 12-hour safari, I do not recommend travelling to Ella on the same day in the evening. The safari actually takes a lot out of you and you have already got up early for the past 2 days. Head back to your hotel after the Safari and spend the evening relaxing.
Read More: If you only want to see elephants then check out these Udawalawe safaris close by to Yala
---
Day 5 – Ella
The Pick Me app, unfortunately, does not work in Tissamaharama as of yet so this is another place you will have to organise a vehicle with your accommodation.
Book one of the following accommodation options in Ella based on your budget.
As you get close to Ella, you will pass the gorgeous Ravana Falls on the left-hand side. Speak to your driver before you set off and ask to stop here for 20 minutes. They always get asked this so it shouldn't be an issue although they may ask for a little more money.
Ravana Falls is one of the most beautiful waterfalls in Sri Lanka and is well worth venturing into and getting some cool pictures. It is right next to the side of the road so it is very easily accessible and you shouldn't need more than 20 minutes here.
If you get here and it is very busy, advise the driver that you are going to be a bit longer as queues may slow you down.
It says you cannot swim in the water here but every time we have been there has been some tourists jumping in. I hate it when tourists break the rules in foreign countries when none of the locals are doing it as it is really cringe-worthy so if you want to bathe in the water, make sure you ask one of the rangers before doing so for permission.
After that, head on up to your accommodation and drop off your bags. Talk to your hotel about getting a tuk-tuk to take you to a couple of places around Ella. Namely the Nine Arch Bridge and the Halpewatte Tea factory.
Read More: How to rent a tuk-tuk during your week in Sri Lanka!
Go to the Nine Arch bridge first and get some immense insta worthy shots with the bridge in the background. This is another fantastic place to fly your drone! It's a bit of a walk down some muddy steps to get to the Nine Arch bridge so be sure to be wearing closed shoes so you don't slip.
After Nine Arch Bridge, make your way to the Halpewatte Tea factory. This is the best tea factory in Ella and you can pay to jump on the next available tour where they show you around the factory and explain how they make the tea.
It was actually a lot more intense than I thought it was going to be as they actually take you into the working sections of the tea factory where all of the workers are walking around you as they make and prepare the tea from start to finish.
After this, you can enjoy a cup of Sri Lanka's finest with an absolutely fantastic lookout view at the top of the factory.
For dinner, there is only one place I could possibly recommend if you're only going to be in Ella for one night; Cafe Chill. There are other decent places to eat in town but Cafe Chill is the best by a considerable margin.
Remember to give them a call in advance to book as Chill gets incredibly busy in the evenings. We went on our anniversary and we got the very last table in this 2-floor sprawling restaurant, don't make the same mistake!
---
Day 6 – Seeing The View & World's Best Train Journey
A lot of people are not going to like the sound of waking up before sunrise and climbing one of the local viewpoints in Ella. However, take a look at this picture and decide if you want to miss this or not!
Don't worry if you're not a strong walker as you have two options; you can either climb Ella Rock or Little Adams Peak. Ella rock is a very steep walk and is not very well marked, whereas Adams Peak is quite a gentle walk for the majority and takes only 30 mins to the peak from town.
I'll be honest and probably suggest that you do not climb Ella Rock during this 7 day Sri Lanka itinerary. It takes upwards of 1.5 hours each way from town which means you will have to wake up obscenely early to get there for sunrise. Also, this would mean that you would probably get on the later train and arrive in Kandy quite late.
However, if you are super adventurous and want to see the best view in Ella then this is the one to do.
Adams Peak will take you around 30 minutes from the centre of town all the way to the peak and commands absolutely stunning morning views. We climbed both but Adams Peak is the one we chose to do before sunrise.
Do not worry about safety as there are many people doing this walk in the morning and if you are a solo traveller you should be able to look on local social media and group up with some others climbing to the top.
As you walk up Adama Peak you will notice that they have a mega zipline here. This zipline is definitely worth a go and goes all the way from near the top to the bottom, passing through the mist, trees and tea fields as it goes.
The zipline opens at 8.30 am so you will need to wait a while if you've gone up for sunrise (around 6.15 am usually). Whilst I do strongly recommend you do the zipline, this will also mean that you miss the morning train to Kandy. Is it worth it? Maybe… You decide.
If you do want to do the zipline, pre-book your tickets here. It's quite a cool thing to do as a couple as there are two zip lines next to each other so you can go down together. They also rent out go pros to capture the whole event for a pretty reasonable price.
The next thing you have to do is make your way to Ella train station to get the Ella to Kandy train. I recommend getting the morning train at 9.20 am which is easily achievable even if you have climbed Adams Peak for sunrise.
This train journey is rated by many to be the most stunning in the whole world. We have done this journey twice, one from either direction, and we can confirm that it lives up to this statement. It's a long journey but one that is unmissable whilst you are in Sri Lanka.
I strongly recommend that you pre-book your tickets for this journey as this train can get very busy and if you do not reserve your seats then you may be on the floor. We split our most recent Ella – Kandy trip into two and on the first train we didn't manage to get the class we paid for and on the second train we were on the floor for nearly 4 hours. Don't be like us! Book your tickets in advance here.
I actually don't recommend getting first-class as first-class has sealed windows as it has air conditioning units in the carriage. Second-class is just as comfortable as 1st and the windows open so you can fully appreciate the views.
If you really do struggle with the heat of Sri Lanka then by all means get the first-class carriage as it is a decent price and you can still leave the carriage when you want to see the view out of another class.
If you have decided to get the 9.20 am train then you should be arriving in Kandy around 4 pm. This gives you plenty of time to get to your hotel, drop off your bags, and get into town for dinner! If you do all of this very quickly and it's a bit early for dinner then I recommend having a little walk around the Kandy lake as the sunsets. As always, remember to book one of the following hotels based on your budget.
If you keep your eyes peeled you should be able to see tonnes of wildlife including the absolutely huge monitor lizard which basks next to the water's edge.
I won't recommend a place to eat in Kandy as I think walking through the streets of the town, looking for somewhere to eat is part of the charm. Simply head into the centre and look around until you find something that piques your interest.
---
Day 7 – Kandy Exploration
The last day is finally upon us! This 7 day Sri Lanka itinerary has been full of early starts and long days so finally just wake up when you want to as you have plenty of time to explore Kandy throughout the day.
Here is a list of some of the best things to do in Kandy. You choose which options best suit you!
Temple Of The Sacred Tooth
The Temple of the Sacred Tooth is considered to be one of the most significant sites in the Buddhist world. It is said that when Buddha was cremated, they sifted through the ashes and found his left canine tooth. This tooth is said to be housed at this highly sacred temple in Kandy.
If you go to the temple, you will not get to see the tooth as it is not on display, however, it is well worth a visit just to see the temple itself.
Kandy City
This is the last place to do your holiday shopping and to pick up those souvenirs and gifts for those back home! There are a couple of very good places to do this; the Kandy City Center shopping mall and the Kandy Municipal Central Market. The mall is a modern shopping centre so if you are looking for handcrafted, local souvenirs then it's better to check out the Central Market instead.
Kandy City also has a fantastic array of street food and local restaurants that absolutely come to life during the lunch hours. I recommend getting lunch at one of these local places as they tend to run out of food, close or have very limited options as the day goes on.
Ceylon Tea Museum
Tea has an incredible history in Sri Lanka and the Ceylon Tea Museum is a brilliant place to go and check that out. You may have already been to a tea factory in Ella so if you are all tea'd out, after your week in Sri Lanka, then you could put this activity to one side. However, the factory you went to in Ella is a working factory so this may still be an interesting take on the past.
Kandy Lake
If you didn't have time to have a walk around the lake yesterday evening then now is your time. You could hire a local tuk-tuk to take you around the lake but make sure that the driver stops and allows you to take in the beauty and the nature available at the lake throughout your trip.
Royal Botanic Gardens
These botanical gardens are truly a sight to behold. It's a really good place to go and visit if you want a little peace and quiet from how busy this 7 day Sri Lanka itinerary has been!
There's even a tree here that was planted by King George V and Queen Mary in 1901 so there is some incredible history to be seen here as well.
Final Evening!
So, you've made it to your final evening and you want a nice, affordable rooftop bar with incredible views to cheers to a successful 7 day Sri Lanka itinerary completed? I thought you did…
Head over to The Whizz and climb all the way to the top floor; you'll be greeted by stunning views of the city and mountains. I was actually really impressed by this place. The affordable food and drink, coupled with the nice views really made our evening a little special.
If you need some help getting back to Colombo from Kandy then read our guide on how to do so here.
---
Itinerary Table – Including Hotels
---
When To Start Your 7 Day Sri Lanka Itinerary
The best time to go do this 7 day Sri Lanka itinerary is between November to March. The weather is the best during this time around the places you will be visiting. You can go throughout the year but there is a lot more rain and whale watching in Mirissa may not be running due to seasonal bad weather.
---
---
Tips For Travelling Sri Lanka In 7 Days
Use Pick Me
If you've read the article then you already know how important this app will be throughout your week in Sri Lanka. You can order taxis (including tuk-tuk all the way to vans), as well as food and groceries.
It is, unfortunately, not available throughout the country BUT it is a really good tool for seeing how much money a ride should cost. So, before you agree on a price with a local taxi driver, put your journey into Pick Me and see what it quotes; use this figure as a baseline.
Don't Use ATM Conversion
If you are using ATMs in Sri Lanka, they will give you the option to use the ATMs conversion rate, DO NOT DO THIS. The exchange rate your bank will give you will almost certainly be significantly better than the ATMs so you are literally just throwing money away. This may change by the card provider.
I recommend getting an account for international travel, like the one we use with Starling.
Local Restaurants Have Sinks
Even the smallest of street food vendors or small establishments have a sink with soap so you can always wash your hands. This is because locals tend to eat with their hands so it is very important.
Reserve Seats On Trains
We have been caught out and had to sit on the floor of the carriage when we have travelled through Sri Lanka in the past. This can be completely avoided by reserving your seats before your travel here.
Take A Decent Point & Shoot Camera
Decent Zoom Camera – We constantly update this camera to make sure you get brilliant shots as well as have a great zoom range in order to capture everything far away as well as close by. This is a must! It happens to currently be the Panasonic LUMIX ZS70K which is a fantastic all-around camera that will fit into small spaces and do you well throughout all your travels.
Many Accommodation Options Do Not Have A/C
Budget accommodation options tend to not have A/C in Sri Lanka. Unlike countries like Thailand which tend to nearly always have A/C irrelevant of the price.
If A/C is a must be sure to double-check before you book. All of the accommodation options recommended in this article have A/C.
Have Ear Plugs For Sleep
You will probably not need them but it is pretty customary in Sri Lanka for prayer to be started at around 5 am in many places (Ella centre is the worst for this). This entails a loudspeaker loudly calling prayers for 1 hour. Jade had some trouble sleeping because of this and recommends any light sleepers take earplugs for this reason.
Sri Lankan Rice & Curry Is Always Different
I love Sri Lankan rice and curry. One of the reasons is that each and every time I have had it it is slightly different from before. you get so many options that every chef puts a completely different spin on it. You could literally have a completely different meal with only the rice staying the same. I recommend trying it as many times as you can whilst in Sri Lanka.
---
Frequently Asked Questions
---
That's it, guys! I hope you have found this 7 day Sri Lanka itinerary helpful. If you have, let me know in the comments section below. If you have any ideas on how to make this 7 day Sri Lanka itinerary better then please also drop me a comment!
---