It's famous for the beautiful scenery, but are there any other things to do in Guilin? Read on to find out how to spend your time in this wonderful city!

Most people visit Guilin to take pretty pictures of the terraced rice fields. That was our plan but it didn't quite work out how we wanted it to! However, there ARE other things to do in Guilin to keep yourself busy. Just make sure you remember your camera!
One thing to remember is that it's best to avoid visiting Guilin during the winter months. It's shrouded in thick layers of cloud and fog throughout the winter and this will ruin all of your spectacular landscapes and memories.
Read More: Backpacking China – The Ultimate Guide
The Best Things To Do In Guilin
Cruise The Li River
If you're looking for picturesque scenery, then you've come to the right place. Famous for being printed on the back of a 20 yuan note, the Li River stretches for over 430km all the way from Xing'an to Wuzhou.
This river really is the stuff of dreams and I'm not trying to be dramatic. As you cruise down the river, the pictures you will get are the ones people will want to see again and again. It can be the priciest part of your trip to Guilin but I think it has to be at the top of the list.
Chinese people come all the way to Guilin just to have their wedding photos taken in one of the most beautiful places in the whole of China. The way the hills dot the horizon and the engulfing natural greenery merges together is stunning.
This is the best thing to do in Guilin and you'll be missing a trick if you don't book a tour whilst you're there.
When To Go
The best time to go is between March – October. You won't have your view ruined by thick fog and the temperature will be perfect for enjoying the weather. If you go in the winter, this can really impact negatively on your experience in Guilin as everything is covered in thick fog and high humidity.
---
Book your favourite hotel here

Where will you go?
---
The Dragons Backbone Rice Terraces
Visiting the terraces is an all-day event. From Guilin, it takes 3 hours to drive to one of the villages within the Longji Rice Terrace.
It takes a couple of hours to walk to the top, stopping to admire what you can see and also to just take a breath!
Stop at the Nine Dragons and Seven Tigers lookout, and the Seven Stars Around the Moon. Both are great, even without perfect vision, and at the top, there is a little shop where you can purchase and send postcards for 10RMB (£1). There are plenty of stalls on the way down selling souvenirs and clothes that you can haggle for.
There are a few restaurants about halfway down the hill. The prices range from 30RMB per dish to upwards of 130RMB. Be aware if you choose the whole chicken dish! When they say a whole chicken, they literally mean you will get every single part of the scrawny little chicken. They also serve sticky rice inside a bamboo tube!
There are lots of different ways of seeing the terraces. You can hire a taxi guide, a private tour from a company or even get the bus there yourself.
Getting the bus is understandably tricky if you don't speak Chinese! There are a few different ones you have to catch and it's quite confusing. If you miss the last one you're stuck in the mountains!
When To Go
To get the best possible pictures of the Longji rice terraces there are two options. You can either go in mid-May when the paddies are full of water and there is no fog or September/October when the rice paddies have become a more golden colour.
Both of these times of the year are nice and clear in the mountains so you won't have to worry about no visibility. However, the best advice is just to avoid November – February as there is a risk of bad weather!
Mid-May
September – October
Cost
The cost of a private driver to drive you, from the city all the way to the rice paddies, is around 300RMB ($40). The driver won't be a guide though – they'll just get you there, wait and take you back.
If you would rather book in advance then I highly recommend booking the Longji rice paddies tour. They will organise everything for you and you will have an English speaking customer service department to talk to you with any issues you have.
I don't recommend getting the bus because of the difficulty for non-Chinese speakers.
Click here for information and prices about the Longji rice paddies tour.
Pro Tip
I implore you not to go to the rice paddies in the winter. The cloud and fog are so thick that you will have visibility of maybe 10 meters. It is a near complete waste of time, don't spend your money on something that you will regret.
Read More: The Best Apps For China
The Reed Flute Cave
A natural beauty and a must-see if you are looking for more things to do in Guilin. A 15-minute taxi ride away, the Reed Flute cave area offers fantastic views and a fun day out.
You pay a 120RMB entrance fee which is pretty high, but you'll probably spend a few hours there so you'll get your money's worth. The caves themselves are situated relatively high up.
You'll either need to jump on the train and pay 35RMB or walk up the steep stairs. The stair option gives you the chance to view your surroundings, but you'll be knackered by the end of it!
There are Chinese guides who take groups into the caves, but they do give the tour in Mandarin. Inside, the rooms are huge and lit with colourful glowing lights, which give a great effect to the stalagmites and stalactites.
If you want an English tour guide then book online.
Once you've seen the caves, you can stroll around the park. You'll find a small waterfall which is gorgeous to watch, and a large lake where you can rent little bamboo boats out from the locals.
When To Go
This cave system is open all year round and is protected from the elements. However, the best time to go has to be between April-October as these are the warmest months of the year. this will mean that the rest of your visit will be optimised.
Anytime but April – October best to optimise trip.
Cost
The cost of a taxi to get there will be around $3-$5. DO NOT get in a car that is not an official taxi, unless it has been arranged specifically through a reputable hostel. They will charge you 10x more than the official taxis and are not trustworthy.
The entry fee to the Reed Flute Caves is RMB120 – $17 per person.
Read More: 8 Reasons You Should Move To Beijing
River Night Show
The river night show in Guilin is one of the lesser-known attractions that Guilin has to offer. It is a huge show on the banks of the Li river involving up to 600 performers every night. It follows a love story between two incredible singers in Chinese folklore.
The show has been beautifully designed to use the natural beauty of the Li River and the songs echo through the hills.
It is a 30-minute walk from the town centre of a very short tuk-tuk journey which will cost around RMB20 for the trip.
Best Time To Go
You're going to be spotting a pattern here, the best time to go is between March – October. This is to minimise the risk of rain and fog affecting your experience. There really isn't any reason to ever go to Guilin during the winter months.
The show does not normally run between January and February so do not plan your trip around that time.
Cost
It will cost RMB195/$28 per person for a standard seat.
Pro Tip
Even if the weather is absolutely beautiful all day, take a light raincoat just in case. Guilin has a tendency to have small quick showers and you don't want to be stuck in one watching a play outdoors.
Eat southern Chinese food!
Chinese food in China is different to Chinese food we know back home. The people who own takeaway joints in England use Cantonese recipes, dating back to the time when Britain owned Hong Kong.
The further south you go, the more similar the food is to what we're used to from home. We found lots of little restaurants and they served some of the best food we have had since we moved to China. Don't get me wrong, food in Beijing is awesome but you sometimes have to work to find it! Some of the restaurants in Guilin have pictures and an English (badly translated) menu, but some don't.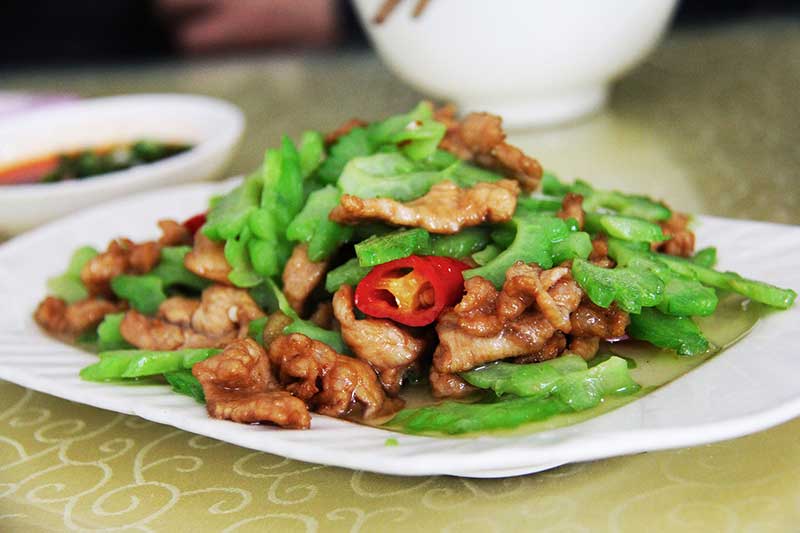 Always branch out and try something you're scared of because chances are, it'll taste good! If you walk past the Forrest Gump restaurant and are as intrigued by it as we were, go straight in! To this day, we have no idea what the reference was because the restaurant was a standard yet well-to-do Chinese establishment.
If you're planning to go to Guilin, you'll want to spend at least three or four days here. There are plenty of things to do in Guilin so take your time! Grab some fried noodles, watch the fisherman on the lake at night time and take in the authenticity of the city!
Pro Tip
It may not be on the menu, but basically, all of the vendors will cook you up a chow mien if you ask for it. We had some of the best chow mien in China when we were in Guilin. You may pronounce it Chow Main, but they won't know what that is, the pronunciation is Chow Me En.
Read More: Travelling Overland From Beijing To Bangkok – Via Guilin
Pedestrian Street
Most cities have these but each will be different. You'll always find at least one thing that will interest/shock you! About a ten-minute walk from Guihu Lake, the pedestrian street is buzzing with food, clothes and toy stalls.
Lined with shops, bars and restaurants too, you're guaranteed to find somewhere you'll want to check out! There are turnings off the main street – wander down here and you'll find more authentic restaurants and bars.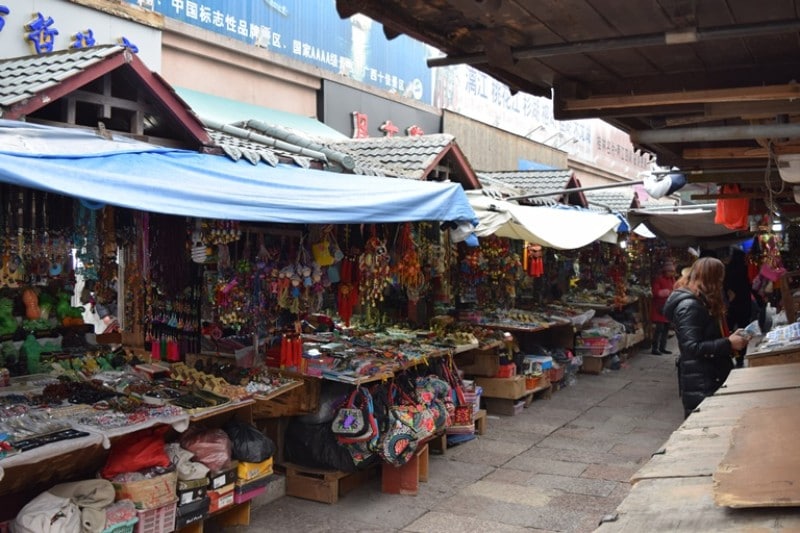 At the very end, there are stalls that appear to be more 'markety', if you like. Hand-made jewellery and clothes, weird porn-themed dice and small little decorative trinkets all feature here. If you're looking for souvenirs or gifts, this is the place to come.
---
---
Where To Stay
Before you have a little look at my recommendations below I have to tell you that you are about to be spoilt for price and choice. You will be able to get immaculate hostels and hotels in Guilin for a fraction of the cost elsewhere in the world.
Some of the recommendations below are really nice places to stay and the hostels don't even go above $5 a night.
---
Book your favourite hotel here

Where will you go?
---
The Best Hostels In Guilin
Sky Garden
The very best hostel in Guilin has to be Sky Garden. The facilities are very good considering the price is so amazingly low. You will be able to book any of the tours or private drivers, that you will need in Guilin, through the hotel reception. There is an in-house restaurant and bar so if you're hungover one day or being lazy, you won't have to even leave the hostel.
If you're looking for a slightly different hostel experience then this is the place. The dorm rooms don't come with bunk beds but rather some very nice single beds all on the same level. Have a look and see what you think.
Ease Hostel
This has one of the nicest, fanciest bars that I have ever seen a hostel have. The rooms at Ease Hostel are ridiculously clean and well maintained and the beds are soft and comfortable. The hostel staff can help you with organising any tour you wish to go on and will ensure you are not being ripped off.
This is a typical bunk bed dorm room layout but it has been done stylishly and has a very modern feel. Considering you'll be paying around $5 a night, you literally cannot go wrong.
Guilin Central Hostel
You only have to look at the reviews to see that Guilin Central Hostel is one of the best hostels in Guilin. The rooms here are immaculate and the staff are very attentive to your needs. They can help with any tour or excursion you are thinking of planning around Guilin.
One of the best selling points are the computers available to use inside the hostel itself. If you have an online business then you may have to have a look at Guilin Central Hostel.
The Best Hotels In Guilin
Zen Travelling
This is an absolute peach of a hotel. I literally cannot say enough positive things about it. I think you just have to have a look at the images and the rooms to see what I mean.
Zen Travelling is literally $20 for your own miniature apartment with a staircase and wall mounted flat screen TV. Considering it is $10 for a couple to get a couple of beds in a hostel, I implore you to get the double room at Zen Travelling. You will thank me later.
For an extra $10 you get a free standing bath with some incredible views, the news gets better and better.
Eastern Plato Hotel
The interior design for the Eastern Plato hotel is beautiful. The furniture and art are all made from natural wood which has not been processed in any way. It gives the whole hotel a lovely feeling of being next to nature, and when you see the views from the window you'll see why they have chosen this design.
It's starting to get a little more expensive but even then it's still only around $40-$50 depending on what room you go for and this is very good value for what you get.
Jolie Vue Boutique Hotel
The best of the lot by a good margin. If you have the money to stay at the Jolie Vue Boutique hotel, then just do it. It really is incredible luxury throughout the whole hotel. The staff will help you organise anything and 100% you are being placed on the best tours and the best activities. If you go in the summer, which you should, then the large restaurant balcony offers stunning views whilst you eat.
---
Frequently Asked Questions About Guilin
What is the best thing to do in Guilin?
If you only had time to do one thing, then take a cruise down the Li River. The scenery and geography of this part of China is exceptionally unique and impossible to get anywhere else.
Is Guilin safe for solo travellers?
When we were there, we did not feel like this city has any negative feeling about it whatsoever. As always, anywhere in the world has bad people so always stay alert and keep to the main roads.
How many things to do in Guilin?
I would say there are 5 main unique things to do in Guilin; the Li River, reed flute caves, river show, walking street and the rice paddies.
When should I go to Guilin?
The warmer, clearer months between March – October are the best times to go to Guilin.
---
Have you ever been to Guilin? What were your favourite things to do? Let us know in the comments below!
Click on the image to repin this post!