We compare all of the best 5 star hotels In Kandy to make sure that you get the exact accommodation to make your Kandy trip super memorable.
#1 5 Star Hotel In Kandy
If you don't want to have to look through the whole guide and just want to know what the best 5-star hotel in Kandy is right now then check out The Elephant Stables. Every hotel on this list is incredible but there's just something about The Elephant Stables that calls out to me.
---
5 Star Hotels In Kandy
Kandy is one of the most popular places in all of Sir Lanka to visit. The cooler mountain air, history and bustling vibe attract hoards of tourists and locals alike.
We were quite surprised about how busy Kandy gets (and we were there during a significant decrease in tourists due to covid). So, to get away from this and to fully enjoy your stay in Kandy, we recommend checking into one of these incredible, peaceful and stunning 5-star hotels in Kandy.
Oh, and if you're interested in world-class accommodation in Sri Lanka (which I know you are), check out my detailed guide on the best villas in Mirissa if you are planning on going to the south coast during your stay. There are some absolute beauties on the list.
---
The Flame Tree Estate & Hotel
---
Check Out The Reviews Of The Flame Tree Estate & Hotel Here
---
The Flame Tree Estate was built by a previous mayor of Kandy on the outskirts of the busy town. Unfortunately, it became run down and half claimed by the jungle during the civil war. However, it has been gorgeously renovated and now site proudly as it was always meant to do.
The Flame Tree Estate is a good distance away from Kandy and this creates an incredibly quiet and undisturbed atmosphere amongst the jungle, where only natural sounds can be heard in the pristine gardens.
There is, of course, a stunning pool with quite breathtaking views out into the forest and a private amphitheatre set into the grounds where you can arrange performances to be held for entertainment in the evenings. I doubt many other places in the world have such facilities.
The estate prides itself on a varied and healthy menu and breakfast is included in all of the room rates. Check out availability and book your stay here.
Read More: Thinking of checking out the incredible animals of Sri Lanka? Then look at our guides to Whale Watching In Mirissa, Elephant Safaris In Sri Lanka, Yala Safaris (leopard), Udawalawe Safari and All Sri Lankas Safaris In One Place.
---
The Golden Crown Hotel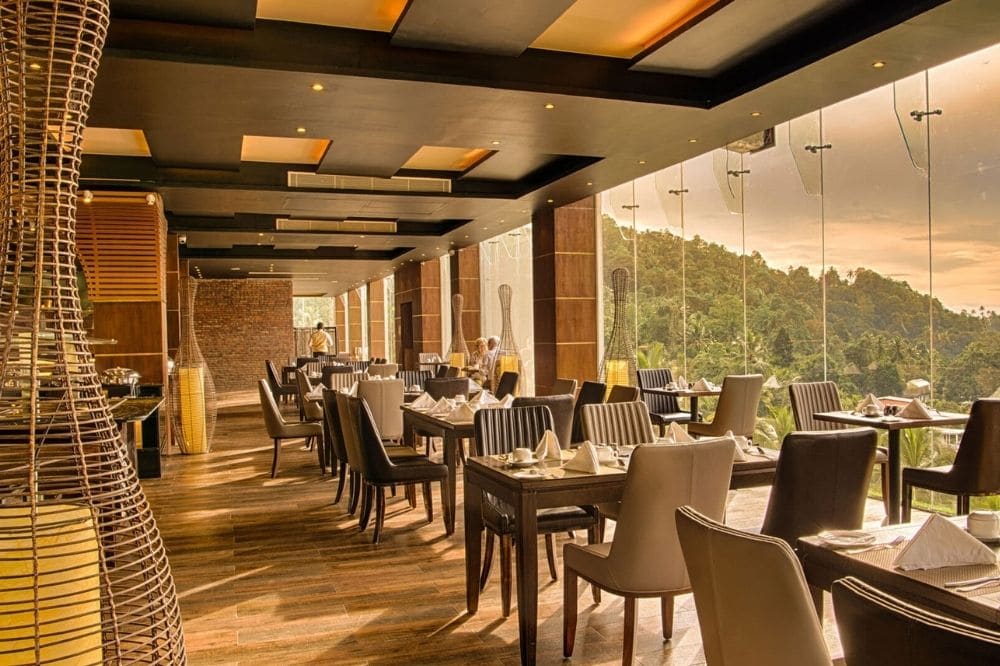 ---
Check Out The Reviews Of The Golden Crown Hotel Here
---
The Golden Crown Hotel is situated less than 4km to the very centre of Kandy and it is perched in the gorgeous green mountains that surround it. This gives this incredible 5 star hotel in Kandy brilliant views as well as convenient proximity to the best things to do.
The hotel features a stunning infinity pool reaching out into the surrounding forest which also has a swim-up bar so you can enjoy a drink whilst taking in the beauty. The hotel also boasts 3 restaurants as well as 4 banquet spaces, including one on the rooftop!
Many of the 5-star hotels in Kandy have features like a spa, bar and infinity pool, but how many can say they have their own nightclub? Check out availability and see more images here.
---
The Elephant Stables
The Elephant Stables is one of the best boutique 5 star hotels in Kandy, so if you are looking for a peaceful, more personal experience, then this may be the accommodation you are looking for.
---
Check Out The Reviews Of The Elephant Stables Here
---
Built-in an old aristocratic bungalow, The Elephant Stables embraces the vintage feel and even has a collection of classic 50's and 60's vehicles that can be booked for yours around Kandy or further afield. This is truly a unique experience in Kandy and one that is utterly memorable.
The Elephant Stables comes with facilities that you would expect from 5 star hotels in Kandy, including an infinity pool that overlooks the mountains and the city, as well as an in house restaurant and bar.
The hotel also boasts the Sir David Lean Bungalow which is 4km from the main hotel. This breathtaking building comes with its own chef and quite possibly the best views in the whole of Kandy. It also has furniture purpose-built for Queen Elizebeth for her state visit in 1954, you can't get much more unique than that.
The array of incredible accommodation (including a luxury tent) is quite staggering at The Elephant Stables so I strongly suggest checking out more images and availability here for more information.
Read More: Planning On Going To Galle? Check Out Our Guide To The Best Things To Do Here!
---
Jetwing Kandy Gallery
---
Check Out The Reviews Of Jetwing Kandy Gallery Here
---
Jetwing Kandy Gallery is situated on the outskirts of Kandy right next to the beautiful Mahaweli River. It is a short drive to Kandy city and prides itself on its tranquil and peaceful setting next to the water.
As I am writing this guide to 5 star hotels in Kandy, I am left wondering if it is possible for every hotel to have something unique about it. So far so good as Jetwing Kandy Gallery assigns a personal butler to each and every room in the hotel. I've had room service before but this is something else!
The facilities here include a restaurant, bar, pool, spa and wellness centre and 24-hour room service. The hotel prides itself on sustainability; 60% of its staff is comprised of local youth and 40% of the hotel's electricity requirement comes from on-site solar production.
The hotel comes with a variety of rooms for different budgets and requirements so make sure you check out all of the available options here to see if they have what you're looking for!
Read More: Try A Cycling Tour Around Kandy!
---
Earl's Regency Hotel
---
Check Out The Reviews Of Earl's Regency Hotel Here
---
The Earl's Regency Hotel wants to make you feel like royalty for the entire duration of your stay. To be honest, if you stay here, you may never want to leave. The facilities include the Royal Pavillion Restaurant, the Mountbatten Bar & Lounge and two other bars on site!
Other facilities include a gym, spa, a ridiculously nice swimming pool, billiards room, business and conference facilities and incredible views of the mountains and surrounding forest. You will not be left wanting for anything.
The staff here will do everything in their power to make your stay in the hotel and Kandy as memorable and as easy as possible. If there is anything you need, from help organising day trips to simple requests about your room, they will be on hand to help.
Have a look at the different room options and check availability here.
Read More: Fancy Renting A Tuk Tuk In Sri Lanka? It Is As Fun As It Sounds!
---
The Theva Residency
---
Check Out The Reviews Of The Theva Residency Here
---
The Theva Residency is another of the more unique 5 star hotels in Kandy. They embrace a culture of emotional, physical and mental well being and strive to give you more than a simple place to stay. They want this holistic approach to be part of your memory of Sri Lanka.
It combines close proximity with the hustle of Kandy city with the peace and tranquillity of the mountains and valleys to truly get the best of both worlds.
The best facilities include a pool, games room (including billiards) and absolutely incredible views from the restaurant's terrace. This is one of the most beautiful places to eat in the whole of Kandy. The restaurant has also recently implemented a meat-free menu to further its holistic goals to its customers.
If this more personal well-being approach is what you're looking for then look no further than The Theva Residency. This is one of the best 5 star hotels in Kandy for this experience. Check them out in more detail and check availability here.
---
Santani Resort & Spa
---
Check Out The Reviews Of Santani Resort & Spa Here
---
Wow. Where do I even start with Santani Resort & Spa… Every single thing has been designed to detox every part of your mind and body.
The accommodation is in the form of 16 separate mountain view chalets with a full glass wall with uninterrupted views of the surrounding valleys. The chalets are purpose-built to provide no distraction to your own personal meditation; this includes no TV and a very minimalistic design.
The sheer amount of spa and wellness packages available is too many and too detailed to list here. They include extremely specific examples like immune-boosting, de-stress, weight loss and de-addiction programmes. This is more of a life-changing experience than a simple place to stay in Kandy. This makes it one of the most unique 5 star hotels in Kandy for sure.
Everything here is designed to remove you from your everyday life, even down to the fact there is no menu available. The chef creates a custom meal plan for each person in coordination with the head of wellness and the in house Ayurvedic doctor.
I haven't even touched on the sheer quantity of facilities and experience that you can have at Santani Resort & Spa so make sure you check out their official website for a full list of services or book your stay here.
Read More: Planning On Taking A Trip Down To Ella? Then Check Out The Best Things To Do In Ella INCLUDING VIDEO.
---
Amaya Hills Kandy
Just take a look at these incredible pictures; Amaya Hills screams 'never leave the hotel'. This gorgeous accommodation option boasts everything you would ever need which makes it one of the best 5 star hotels in Kandy.
---
Check Out The Reviews Of Amaya Hills Kandy Here
---
Remember when I said earlier that surely having a nightclub on-site would make the Golden Crown utterly unique? Well, scratch that because Amaya Hills has one too. This nightclub is less chic and more techno house so if that's your scene then this has to be the best option.
Don't worry, however, there are other options to eat and drink throughout the hotel so if you're looking for fine dining and high-class bars then this is also a fantastic option. When the team describes their food as a gastronomical adventure then you know you're in for a decent journey.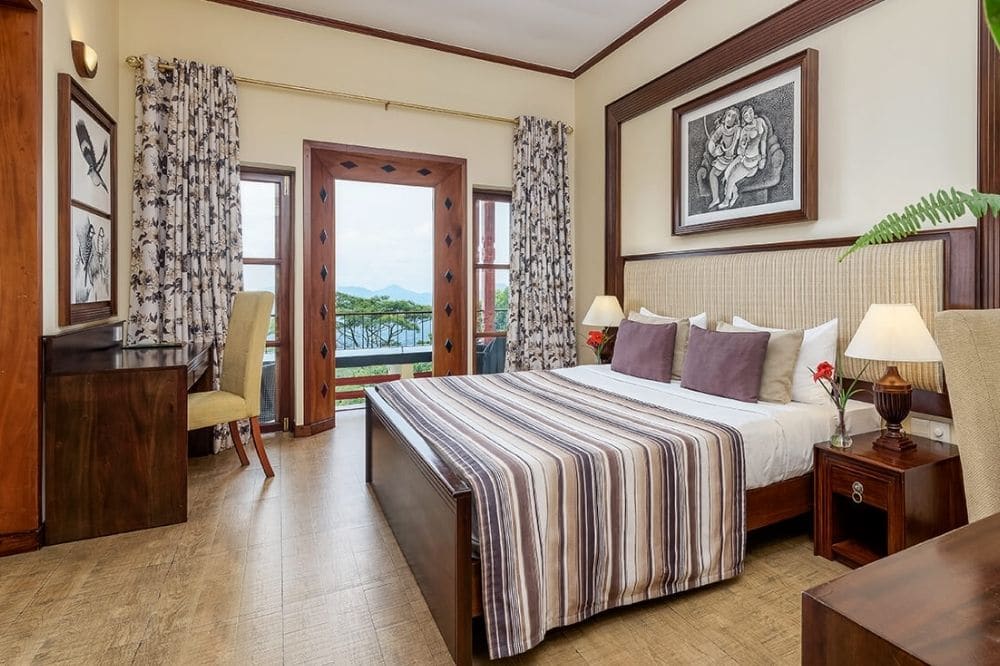 I can't finish this section without talking about the incredible views you get from the Amaya Hills hotel. Check out availability and room options here and I highly recommend choosing a mountain view room. As you can see from the images above, it really isn't to be missed.
Oh, and if you're looking for unique 5 star hotels in Kandy, Amaya Hills has a squash court so… That's pretty damn rare.
---
---
Things To Do Near Your 5 Star Hotels In Kandy
Temple Of The Sacred Tooth
The Temple of the Sacred Tooth is one of the most important sites in the Buddhist world. It is said that the left canine of Buddha himself is housed at this temple.
You will not get to see the tooth itself as this is only out during ceremonies but the temple is still worth a visit, whether you are a Buddhist believer or not.
---
Kandy City
Simply take a tuk-tuk or walk into town, depending on where you are staying. The city is very busy with locals and tourists alike and offers some great places to try local food as well as the best souvenir shopping around.
I recommend popping in after/before visiting the Temple of the Sacred Tooth.
---
Ceylon Tea Museum
This museum looks back to when tea first started to be cultivated in Sri Lanka (Ceylon as it was called then).
You might not think that tea would have a rich and interesting history but starting in 1869 when the coffee rot fungus destroyed the island's main crop (coffee), tea was suddenly a viable option. This museum is well worth a visit when you are in Kandy.
---
Kandy Lake
If you know anything about Kandy then you will be aware of the large lake that sits right at the top of the city. Whenever I go into Kandy, I always marvel at how all of that water is directly above the entire city in such close proximity.
Either way, the lake is a very beautiful and peaceful place to have a walk around and see the array of animals that inhabit the edges of the lake.
Read More: Visiting Lovers Leap Waterfall In Nuwara Eliya
---
How to Get To Kandy
The vast majority of people reading this will be coming directly from Colombo or the airport itself (slightly north of Colombo). If this is the case then you have 3 options:
By Taxi
Download the Pick Me App (android/apple). On here you will be able to simply write in your 5 star hotels in Kandy and you will be picked up from your location. This app does not work that well all over Sri Lanka BUT it worked very well in Colombo and Kandy so it is perfect for this use.
By Train
I recommend getting a taxi from the airport to Colombo Fort train station and booking yourself onto the next available train. It is quite a simple process and you can find train times here.
If you are coming from Ella then check out our article on the incredible Ella to Kandy train here.
By Plane?
Yes, some of the 5 star hotels in Kandy offer a seaplane service from Colombo. This is by far the quickest option and probably the coolest too!
Frequently Asked Questions
What Are The Best 5 Star Hotels In Kandy?
There is a lot to choose from but I love a boutique hotel so coupling 5 star service with boutique living is a win for me. If you agree then check out Flame Tree Estate.
How Long Should I Stay In Kandy?
I recommend staying in Kandy for at least a week. There are plenty of things to do in Kandy and it's a great place to do nothing at all; just relax and breathe in the mountain air.
Are There Any 5 Star Hotels In Kandy With A Spa?