5 days in Malta gives you enough time to explore a little of the history, culture, food and fun that this glorious island has to offer. Save this guide for the best information about how to use your time wisely!
---
5 Days In Malta
Malta is a small island, which makes it perfect for a quick 5-day trip. You can get from the very south to the tip of the north in less than an hour. This means that you'll be able to see so much in a short space of time.
Click on the links below to take you to exactly what you need to know, or take the time to read this whole post and let us help plan all the details of your trip!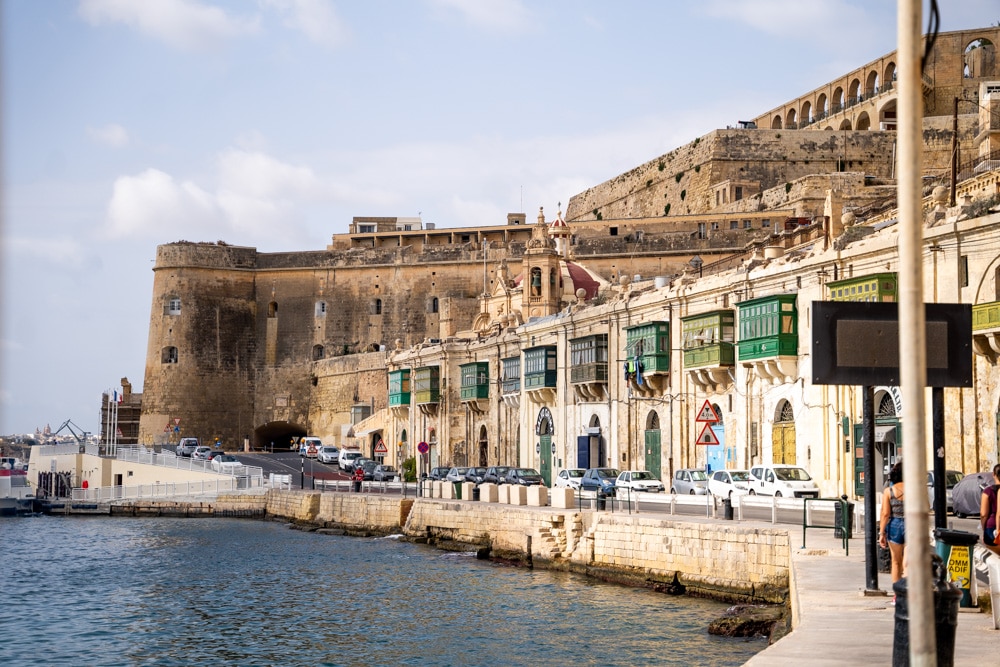 To be able to fit everything in with such a short amount of time, you'll really have to plan ahead.
I've created this 5 days in Malta itinerary in a way that will maximise your time having fun rather than travelling. It will also limit the number of times you have to go back on yourself – no one wants to drive past the same landmarks every day!
However, don't forget that these daily schedules might not work for everyone, so feel free to change the plan to fit your holiday!
Watch the video below to see the pros and cons of each of the main places to stay for 5 days in Malta. I know you won't be able to resist watching Kev's dance moves!
Read More: Planning The Perfect Honeymoon In Malta
---
Day 1: Valletta and the Three Cities
From the airport, Valletta is only less than 10km away. It's a great place to start your 5 days in Malta because straight away you'll be blown away by the beauty and incredible history the country has.
As you haven't got a great deal of time, I'd recommend joining a walking tour for a fully immersive experience – without having to worry about getting lost!
Once you've familiarised yourself with the city, you might want to take a peek inside the famous and impressive St John's Cathedral.
You can also book a walking tour that includes entrance fees and a guide to the cathedral.
---
Check Availability For A Valletta Walking Tour With Or Without Cathedral Entry Here
For lunch, you've got to try the best local sandwich! A ftira is a traditional Maltese bread, usually stuffed with delicious fillings such as tuna, tomato paste, capers and olives. They're often served in HUGE portions, so check before you order because you might not need to order 1 per person!
Our favourite was at Museum Cafe, just a short walk from the cathedral.
After you've filled your stomach, head on over to the Three Cities. These are Vittoriosa (Birgu), Senglea and Cospicua, and they have a hugely rich history. Discover why on another walking tour, or simply visit the fort and the Maritime Museum (in Birgu) to learn more about the ancient workings of the cities yourself.
There is plenty of fantastic accommodation in Valletta – you might be spoilt for choice! Decide whether you want a cheaper hotel, somewhere romantic or somewhere you can really treat yourself!
Read More: Only Have 4 Days In Malta – See This Itinerary Instead!
---
Day 2: St Julian's + Sliema
For a bit of a change of scenery, leave the capital and make your way up the east coast of Malta.
I'd recommend browsing the shops, wandering along the promenade and enjoying the gentle hustle and bustle.
Take a slow cruise of the Grand Harbour from here and see Malta from a different perspective. The commentary will give you more information about Valletta and the Three Cities, so if you already did a walking tour then it might not be super helpful, but you can still enjoy the views and fully stocked bar!
St Julian's is renowned for being the party place in Malta. There are countless bars, restaurants and nightclubs here, so it's great if you enjoy a boozy and loud evening.
Visit Paceville for great drinks deals, all-night clubbing and casinos. It's not for the faint-hearted or easily offended – there are plenty of gentlemen's clubs dotted around here and it's common for scantily clad girls to try and lure you in with free drinks tokens etc.
If you want a good atmosphere, but also a decent night's sleep (!) then Sliema is a better place to spend your evening.
Grab a seat on the Guadalupe boat on the seafront to watch the sunset with great Italian wine and even better pasta.
If you're hiring a car (which we highly recommend doing!), don't forget to check if your hotel offers parking. It's notoriously hard to find a space in this part of Malta.
---
Day 3: Gozo
This pretty island is the second-largest in Malta. It's definitely worth a visit, even if it's just for one day.
Take an early morning ferry across from the Cirkewwa terminal – check the timetable of the ferry here. You'll only pay for your ticket on the return journey, so don't worry about buying it beforehand.
Gozo has some amazing beaches, impressive architecture and incredible diving sites, so getting there early is the best way to see as much as you can!
Read More: Check Out These Stunning Boutique Hotels in Gozo
Head towards Dahlet Qorrot for a gorgeous early morning swim. It's a wonderfully quiet beach, with no tourist attractions.
This is the type of place where I recommend going in a car though – there's no internet down here and no nearby bus stop so it would be difficult to make your way back independently.
Take a lovely drive towards Victoria, and spend part of the day exploring the medieval Citadel that dominates the landscape.
Grab a couple of delicious pastizzi from one of the many bakeries that lined the streets, and head up toward The Inland Sea.
This is where the famous Azure Window used to sit until its collapse in March 2017. The area is still breath-taking though, and if the conditions are right then it is a fantastic place for some scuba diving! Try these tours – there is a beginner option and a tour for more experienced divers.
Even if you're not a diver, you can still enjoy the Blue Hole – a natural cavity that you can swim and snorkel in when the water is calm. Be very careful though – the walk on the way there is rocky, and this area is known for strong winds and waves.
After diving, I'd go back towards the south to watch the sunset. Go towards Xlendi and sit on the Ta' Ċenċ Cliffs for a spectacular view. Afterwards, find a spot at one of the many restaurants in Xlendi Bay for dinner.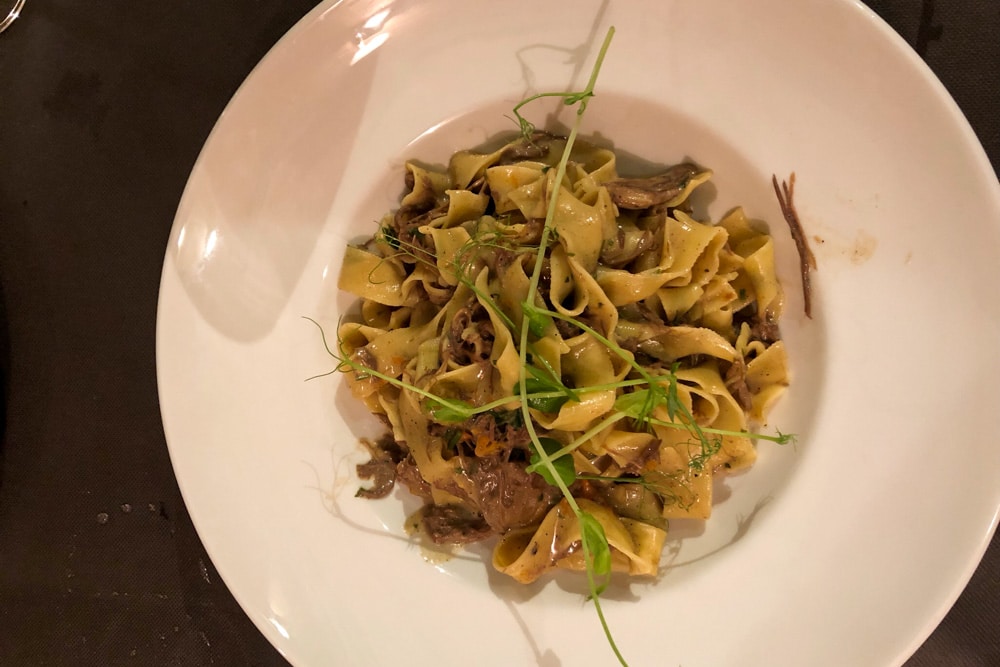 If you're not bothered about the sunset, then I would highly recommend going back inland to Xaghra. There's a restaurant called Al Sale and it is INCREDIBLE. We ate there for our engagement dinner and it was faultless.
Read More: Looking For A Tour Of Gozo? These Are The Very Best!
---
Day 4: Comino Island
You can't miss spending a day on Comino Island when you're enjoying 5 days in Malta!
It's a beautiful yet tiny island off the north coast of the mainland. You can get the local ferry, or take a tour boat across.
The boats run from Gozo too, so it's easy to get to wherever you are. Take a look at the ferry schedule here.
Comino is famous for the Blue Lagoon, which is a gorgeous bay on the south coast with crystal clear waters. Snorkel and swim here, before relaxing on a sunbed along the shore.
It isn't a sandy beach, and you'll have to get there early to get a spot.
The tour boats arrive at around 10am, and by 11 the music is pumping, drinks are flowing and people are ready to party!
These boats usually include a sunbed, locker and snorkelling equipment, so you don't have to worry about finding a space on the beach or bringing your own gear.
If that's not your thing, then don't worry because you can hike across this idyllic island and escape all the noise completely.
It takes around 3 hours to do a full loop from the pier, but don't forget to include stops for lunch, swimming and just taking in the views!
There is a lovely little bay in the north too, called Santa Marija and it's a whole different world to the Blue Lagoon side!
It's more of an intimate place, with trees offering shade and only a short strip of beach. It is sandy though, and the water is inviting, so don't miss it.
The only way to stay in Comino is to camp, so read our comprehensive guide!
---
Day 5: Waterpark/Popeye Village
You can't go on holiday to a warm country and not visit a water park! Malta has one official water park, with all of the typical slides you'd expect.
Read More: Try Out These Epic Water Parks in Malta!
It's called Splash and Fun, and it's a great way to spend the last of your 5 days in Malta. There's a lazy river, a huge wave pool and sunbeds too if you'd rather just swim and relax.
The slides are not the most modern, and the whole park could do with a little refurbishment, but overall it's a great place to spend a day or an afternoon, whether you're travelling solo, as a couple or with a family.
The cost varies between high and low season, and you can also get a half-day ticket if you wanted to save a bit of money.
The park is open from May until October, but these dates vary and rely on good weather. Email them if you're coming around those times, just to check if they are open when you're there.
From June to September, entrance will cost €25 for adults and €16 for children. Outside of those times, it's €22 for adults and €15 for kids. There are family packages and multi-day passes too.
Another fun day out is the Popeye Village, located just next to Mellieha. It's the film set for the 1980 Popeye movie (the one with Robin Williams!) and has been turned into a popular tourist attraction.
I was surprised by this park actually. I thought it would be hugely tacky and old, with not much to do, but we spent a whole day here and had a great time!
There are some cool film set features to look at – mostly props, posters, full-scale scenery and backdrops. Not only that, but a couple of the characters come out to play too!
You can watch a short documentary in a mini-cinema about how the film was made, and what happened to the village afterwards. Keep the tickets they give you at the entrance because they'll entitle you to a free bag of popcorn!
There is also a swimming pool, but we preferred swimming in the gorgeous Anchor Bay, which the village sits on the edge of. There is an inflatable obstacle course, and throughout the day there are competitions that you can get involved in if you're brave enough!
Everything is included in the ticket price, which is €18 for adults and €14 for children in the high season of July + August. Rates differ throughout the year.
Realistically, you could spend your last day at BOTH of these attractions. Get to Popeye Village at 10:30 and enjoy the movie set aspect of it, grab a quick lunch and then head down to Splash and Fun for 1 pm when their afternoon tickets go on sale and get in the water there.
---
The Best Time To Visit Malta
Most people spend 5 days in Malta in the warmer months, and I'd recommend that you do the same!
Luckily, the country is warm for most of the year, so you can even squeeze in a late October half-term holiday and still enjoy gorgeous sunny weather.
Read More: What is Malta Like in October?
Here's the lowdown on Malta through the year – I personally think that early autumn is the best time to go, but you can make up your own mind!
January – March
Malta is pleasant enough at this time of year – as long as you're not planning on snorkelling or beach hopping! Temperatures tend to stick at around 10°C (50°F).
Some of the hotels close their swimming pools at this time of year too – understandably in my opinion! But if you were looking for a refreshing early morning swim, check with your accommodation first.
So, it's not too cold, and there will be a significantly lower amount of tourists visiting at this time of year. If you want empty streets and quiet hotels, this is when you should be visiting Malta.
April – June
Spending 5 days in Malta in spring is not a terrible idea.
The weather is warming up, attractions are opening again and the high season prices haven't kicked in just yet!
I would say that a trip planned towards the end of spring is better, just because the weather will be getting nicer.
It might get a little bit chilly in the evenings still, so pack some light layers that you can wear whilst you eat, if you want to enjoy a balcony or terrace dinner.
July – August
If you're a beach bum and you have a high factor SPF sun cream, then spending the summer in Malta is a good idea.
Long days, gorgeous evenings, cold beers and dips in the ocean are what a summer holiday is all about, right?
The only thing you have to remember is that EVERYONE wants the same thing, so it's going to be very busy at this time of year!
Prices will be higher, tours will be booked up and beaches will be full of tourists.
I'd only recommend going at this time of year if you don't have any other option – you'll still have a fantastic time but just know that so will everybody else!
September – October
I think this is the best time to spend 5 days in Malta. The kids have gone back to school for the most part, the sun isn't as strong and hotels + tours are starting to bring down their prices for the lower season.
However, even if you are travelling with a young family, you can still come over for a short trip in the October holidays.
Most of the activities and tours you'll want to do will still be running, especially in September. Some hours might be reduced (like at the water park), so do check before you book anything but you can still be pretty confident that you won't miss out on anything.
There's a lovely light breeze that begins to visit Malta at this time of year, which makes hiking much more bearable.
November – December
If you're only interested in the culture, history and cuisine, and you don't want to sunbathe or swim in the sea, then the winter months are still a great option to visit Malta for 5 days.
At the end of November, the Christmas decorations really start coming out and the festivities begin!
It's unlikely that you'll see a white Christmas – temperatures rarely get below 11°C (52°F) but the cooler weather means that you can pack your ugly Christmas jumper and join in with the fun!
---
---
How To Get Around Malta
Travelling between towns and cities in Malta is incredibly easy and cheap.
You can hire a car, get a taxi or jump on the bus. There are also jump-on jump-off tour buses that take you around the island.
Hiring A Car
I really recommend hiring a car when you visit Malta. Even though the public transport system is great, having a car gives you so much more flexibility!
Plus, it's not that expensive, especially if you only want a car for a few days. Click here to get an idea of the type of car you can get for your budget.
We hired a small car in Gozo for 3 days and it cost €60, which we thought was reasonable.
Make sure you do all of the obvious things, like check for scratches and bumps before you drive away, and take photos with the staff watching so that they know what you're doing.
Booking A Taxi
As I mentioned earlier, you really want to be downloading the Bolt app as soon as you arrive. Don't waste time haggling with drivers at the airport.
You can be guaranteed a good car and an honest price with the added benefit of being protected by the app's policies.
Using The Public Bus
The public bus system in Malta is great. Again, you should download the app which will help you plan your trip.
Prices stay the same during the day – it's €1.50 per trip in winter and €2 during the summer. At night time, this goes up to €3. No change will be given so make your you've plenty of coins!
I would recommend buying a bus card for your trip as it makes things so much easier, and it can save you money too.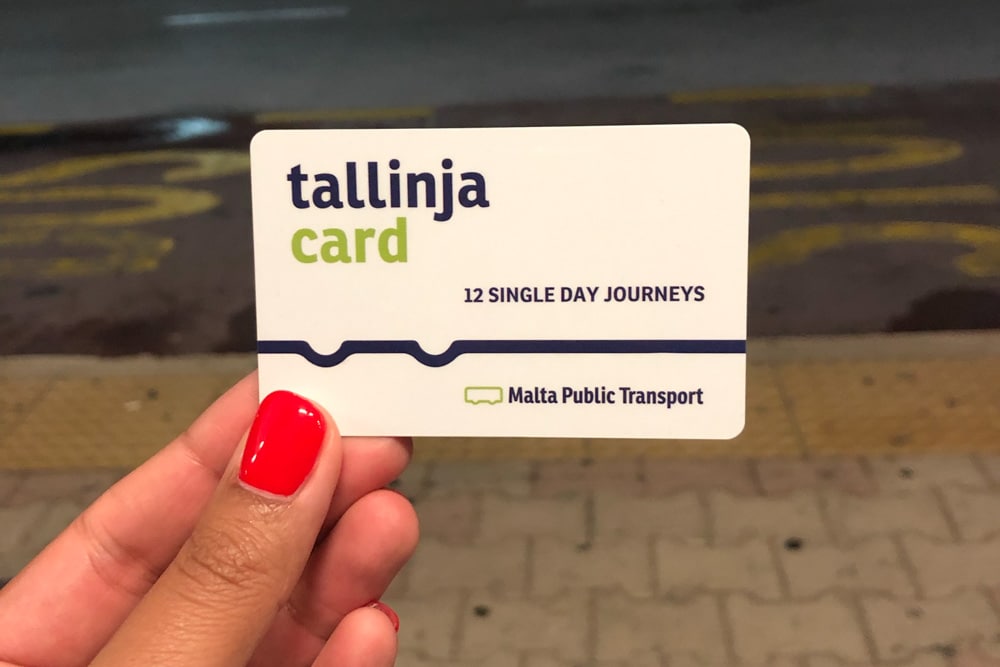 If you're planning on lots of trips around the country, get an Explore Card.
If you are staying in Malta for a while, choose an Explore Flex Card.
The 12-Day Journey Card (this is the one we used) is perfect for people who will be using the bus regularly, but not every day!
---
Where To Stay in Malta
Because the island is so small, you don't actually have to change your accommodation to reach any of the activities (except if you decide to visit Gozo) so make sure you pick a good place that you'll want to spend the whole 5 days in.
Read More: The Lowdown On Where To Stay In Malta
Here's a quick guide to the best places to stay in Malta for every different type of traveller!
Families
Stay in St Paul's Bay for plenty of restaurants, cafes and ice cream shops! There are two fun water play areas for kids, and this is where the aquarium is too.
Couples
Mellieha is a lovely place to base yourself. It's got a fantastic beach, it's got easy access to pretty much everywhere on the island and there are some gorgeous apartments overlooking the ocean.
Gozo is a great option for all of you romantics too (including Kev – that's where he proposed!)
Solo Travellers
Stay in Sliema if you're on your own. It's close enough to the capital that you can do plenty of exploring, but far enough away to be able to afford a private room or even a dorm!
Groups
Paceville in St Julian's is the place to be if you want to party and not worry about other people complaining about your noise!
If your group isn't into that, then hop on a boat over to Gozo and rent out an entire villa or farmhouse for a more sophisticated stay!
---
Have I convinced you to spend 5 days in Malta yet? This itinerary is a sure-fire way to have the best time on this gorgeous island!