Travelling to a new city can be daunting, especially when you don't speak the local language. There are always guidebooks giving tips and hints about the most famous attractions, where to find the best food and which hotels to stay in but sometimes all you need is insider info to get you started!
Beijing is where we have called home for over a year now. We're by no means experts – there is so much to see and do that it's a good job we'll be here for a while longer! Moving to Beijing did throw us in the deep end a little … to say the least. What we needed was a quick guide on how to settle in quickly.
We've compiled a list of four things you'll need when coming to Beijing – either as a traveller on a short trip or an ex-pat. There's also one thing you definitely won't need to organise when you get here too!
Read More: A Perfect Beijing Itinerary For First-Timers
---
1. WeChat
This is really more for you if you're planning on staying in China for a while and making some friends! If you're planning on staying a while and NOT making any friends … erm … well maybe you should stop reading and re-evaluate that first 😉
What is it?
WeChat is the Chinese version of all the Western social media in one. There's an element of Facebook's news feed, Twitter's mentions and Vine's short clips. You'll most likely be communicating with Chinese people purely on WeChat as most other social media sites are blocked.
My favourite part about WeChat is that you can pay for basically everything using just the app. Your landlord might ask you for rent using it, or even your tuk-tuk driver!
Read More: Why We Love WeChat In China!
---
2. VPN
Talking of blocked websites, please please please for the love of all Facebook addictions … Download your Virtual Private Network BEFORE you get to China! If you're only here for a week then you might be able to hold out. Any longer than that, or if you're living in Beijing – the perfect picture you took of the locals playing chess might never make it onto Instagram.
We made the mistake of waiting until we got here, and lo and behold – the VPN sites are mostly blocked by the Great Firewall. So you have to be using a VPN to download a VPN … A few sites will work sporadically, and other times they don't at all! Just be prepared and research before you come!
Which company to use?
The first company we tried was ExpressVPN. Their website actually worked randomly so we jumped on that and tried their free trial. We didn't have much success with it so decided to buy Astrill instead, whose servers work fine. Also recently they have fully integrated their VPN to work with Apple products.
Currently, we use Surfshark and are very happy with the service!
A few others we have heard of but not used are Vyper and PureVPN.
If you're only staying a short while but want to access not only social media but websites like BBC iPlayer and Netflix, your two best options are:
---
Book your favourite hotel here

Where will you go?
---
1. Take advantage of the free trials. You'll either get a week's trial, or you can put your card details in and cancel it when you leave. Most companies offer this.
2. Use a free VPN. We don't recommend these for the long term, or for streaming a long film for example, but they actually can work pretty well. I used to use VPN Master on my iPad. While it only has 6 servers, it did the job and only disconnected every so often …! For browsing around the net it works fine. You can also for the VIP service to get access to more servers, but I'm not sure how much better this is.
---
3. Subway Card
In a big city like Beijing, there's always loads to see and do but it can take up a lot of your time and budget. The best way to get around by far is the subway.
It's quick, easy to use and so cheap! All of the signs are in both Chinese and English, and most stations have a map. It's a really good idea to download the subway app Explore BJ though. Not only does it tell you how long your journey will take, it tells you the price too. We always use it to find the best way to get from A to B!
How To Get It
The subway card is easy enough to get – you can pick one up from any station. You have to deposit 20RMB and then you can put on whatever you like extra to pay for your journeys. Bear in mind that most journeys will cost you 3 or 4RMB – I think you can get the money back if you return the card and there are loads still on there but if you want to keep it as a souvenir then don't put too much on.
You can always add to the card from the machines at the stations or at the kiosk. Using the subway card doesn't save you any money, it just makes it quicker and easier to get where you want to be because you don't have to queue up each time.
Read More: 8 Reasons Why You Should Move To Beijing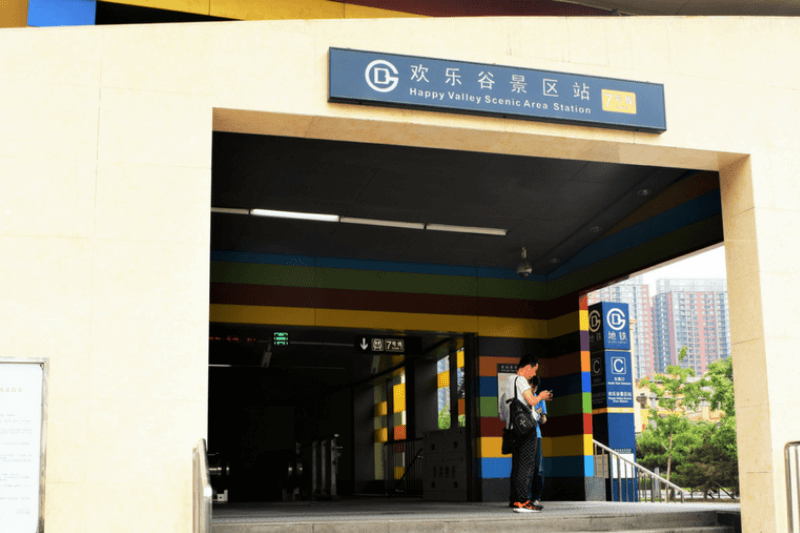 You can also use this card on the buses, which are even cheaper (1RMB!), but unless you can read Chinese characters or are with someone who can, I doubt you will get on a bus.
We have been on a few routes as we live here and wanted to explore the best way to live in Beijing on a budget, but as a visitor don't stress yourself out too much about the buses. The chances are the road traffic will make your journey longer anyway.
You can't use the card if you're planning on getting an actual train in Beijing, but there's plenty of information online about that too.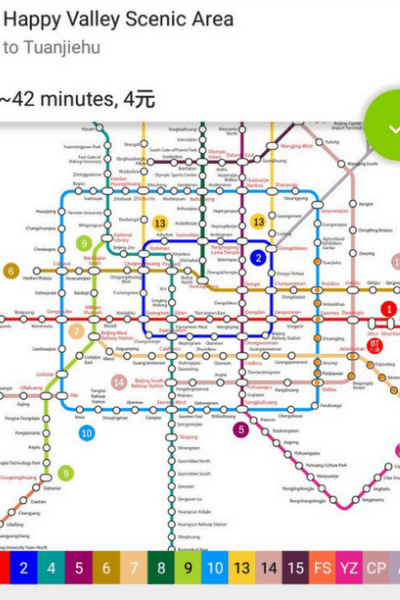 ---
4. Pollution Mask
Unfortunately, this made the list because the winter is starting here in Beijing and it's bringing with it some dirty smoggy days! If you're here in the summer, you're unlikely to need one but you might want to take one just in case, especially if you suffer from breathing problems anyway.
You should buy a mask in the winter even if you're only visiting Beijing for 3 days. When you wake up for a day of sightseeing and the sky is a murky, browny yellow you'll understand why! If you're moving to Beijing to live, then stock up on those bad boys because you don't want to be using the same old mask every day – so many yucky germs living there, I'm sorry to say, from your own face!!
Where To Buy Them
You can buy masks cheaply once you're here but be aware that to protect yourself from the parts of the air that cause the most problems, you have to look for PM2.5 on the packaging. This means that the mask is designed to keep out the tiniest particles that your body can't. Or, you can order them online and read a few reviews before you buy.
Read More: Download These 17 Top Apps For China
---
---
1 Thing You Won't Need In Beijing!
Tour Guides
As I said before, arriving in a new city can be daunting so a lot of people spend money on tours and guides to help them navigate around and see the famous landmarks. We personally don't think you need to do this in Beijing as everything is so easy to do yourself! Some cities and countries are difficult to navigate and we have used tour guides before. In Beijing though, you should be able to manage fine without one. There are a couple of exceptions, for example, if you actually want a guide to take you on a food tour, or you want to learn the history of the city from a local.
Whether you're a tourist visiting for a week, or an English teacher spending a year here, the chances are you'll want to see the Great Wall, Tian'anmen Square and take a visit down some traditional hutong alleyways. We have seen excursions being offered for literally hundreds of pounds, and it's shocking!
There are also a lot of scammers out there. There will be plenty of people hanging around the Forbidden City offering to take you to experience a tea house, or to take you around for free just so that they can practise their English.
You're then being charged thousands of RMB before you know it! I'm sure there are some decent people genuinely looking for language exchange but I wouldn't take the risk! You'll be far happier going at your own pace anyway.
The best thing is that all of the tourist attractions are aware that a lot of their visitors will speak English, so you'll more than likely be able to read the information on the plaques. The subway is easy to navigate, so no problems getting to most places, and the internet is literally full of information.
Despite being a tour company (!) I'm going to recommend that you have a look at the China Highlights website – not to spend any money but to read their travel guides!
We regularly use the site because it gives simple and clear information about pretty much anything in Beijing! But don't get sucked into paying for a guide 😉
---
Using WeChat, a VPN, our subway cards and our ugly masks have all helped us since moving to Beijing. Don't forget to download Surfsharkb efore you arrive, and stick 50RMB on your subway card so you're good to go on Day 1! If you're moving to Beijing, once you're settled in you should check out our list of the best apps in China as well to make your life a lot easier!
These are the top four things we think you need to get off to a good start in Beijing. Have we forgotten anything? Let us know in the comments below!
---