Malta tore at my heartstrings like nowhere else I have ever been. This 3-day Malta itinerary crams the best of the best in just for you.
Necessary Spacing
Day 1 – Visit the capital city Valetta and jump on a walking tour and then visit the ancient city of Mdina and have dinner overlooking Malta.
Day 2 – Take a boat to the island of Comino, hike around the island or enjoy a full day by the famous Blue Lagoon. Have dinner and drinks in Sliema
Day 3 – Get an early boat to Gozo and visit the city of Victoria and look around the medieval citadel. Take a jeep tour around the island and have dinner in a picturesque Gozoan town. Spend the night in Gozo and leave the next morning.
---
A 3-Day Malta Itinerary
Three days in Malta is not the most amount of time so I have crammed in as much as I think is feasibly possible for you to see a lot and still enjoy your stay.
The itinerary also assumes that you have 3 full days in Malta, if you have afternoon flights or something similar then feel free to amend the itinerary as you wish!
Keep reading for all of the above but in much more detail and some extra secrets and tips to make your 3 days in Malta extra special.
Read More: Got A Little More Time? Check Out Thie 4 Day Malta Itinerary!
---
Day 1
Valletta
I recommend starting the day at the capital city Valetta. The only reason I recommend starting here and not Mdina is you can get yourself on an exceptional walking tour of the city with a fantastic local guide.
The tour starts at 10 am so this gives you enough time to wake up, get breakfast and make your way over to the start. As you are on a short timeframe, there really isn't a better way of doing Valetta. You'll see everything that you want to see and some things you didn't even know about.
Malta has an extraordinary history and as this tour is quite affordable, I highly recommend this option.
If you do not want to spend the money on the tour then here is a list of the best places and views from the gorgeous capital city. For this 3-day Malta itinerary, I recommend leaving for Mdina at 1 pm so try to plan your time around this.
St Pauls Cathedral
As soon as you see the Valletta skyline, you'll see the imposing yet beautiful structure that is St Paul's cathedral. Admission is free so I highly recommend having a little look around if you are going that way.
---
Upper and Lower Barrakka Gardens
Most people have heard of the Upper Barrakka Gardens and you should definitely visit this peaceful garden with gorgeous views of the city.
However, if you have time make sure you go and visit the Lower Barrakka Gardens as well as these offers a different perspective from the mighty heights of the upper gardens.
---
The National Museum of Archaeology
Malta blew me away with the amount of history it possesses, going back further than the pyramids of Egypt! For such a small island in the middle of the Mediterranean, it astounded me that this is the case.
There is no better way to explore this history than The National Museum of Archaeology. They have a huge collection, dating all the way back to 4000BC. Adults €5, Children €2.50.
---
The Saluting Battery
At 12:00 and 16:00 every day, a gun is fired just below the Upper Barrakka Gardens, which is a great place to witness this if you get there early to get a spot! This used to happen so all of the ships' captains could set their times accurately to help with navigation.
Nowadays it is a well-restored and vibrant tourist attraction that I highly recommend witnessing during your 3 days in Malta.
---
Walking Around The Centre
Valletta is very nice just to walk around and browse the many shops and visit the many bakeries and delicatessens. So, if you have some free time, definitely make sure to just have a wander around for an hour or so taking in the beauty of this old city.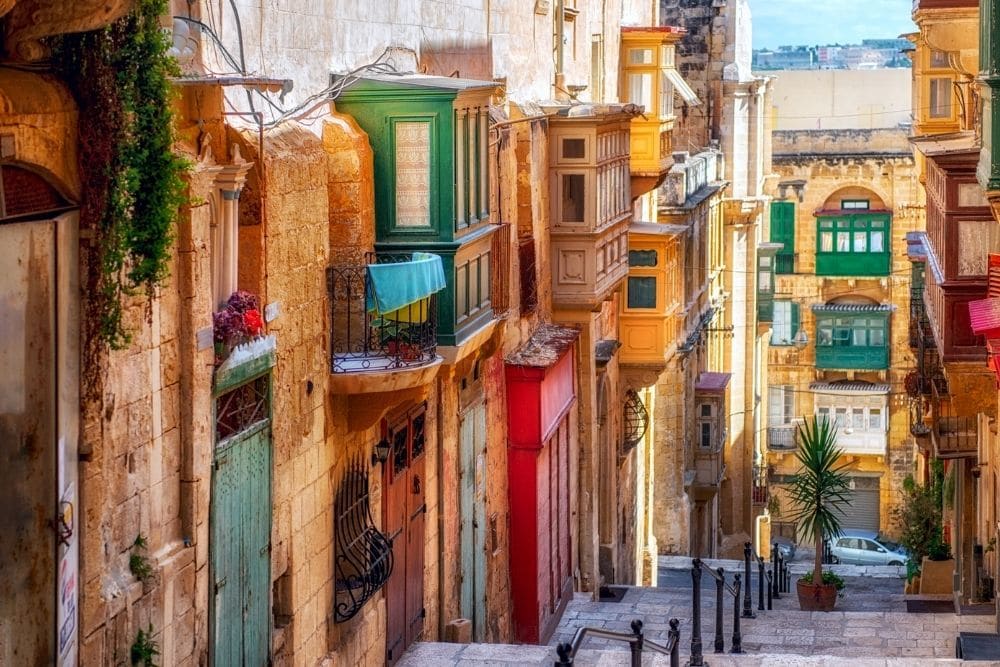 ---
Day 1 Afternoon – Mdina
Right, off to Mdina! Head over to the Tritton Fountain and grab a bus from Valletta to Mdina. busses are actually very easy and affordable in Malta due to their very decent transport app, Tallinja.
Download it on Apple or Android before starting your 3 days in Malta and get rid of the stress.
Get the bus to the Mdina or Mdina Gate station which should take from 30-45 minutes. Just in time for lunch! There are a few restaurants to choose from in Mdina so you can either have a little look around or I recommend visiting the Medina Restaurant in the middle of the city. Very picturesque and beautiful.
Read More: If 3 Days Isn't Enough – Spend 5 Days in Malta!
This ancient city is a mesmerising place to visit. Trust me, as soon as you see it from a distance you'll think you're going back in time.
The fortified city of Mdina is actually relatively small, as it is only the part that is actually within the city walls. The area surrounding the walls is called Rabat which can be translated into 'suburbs'.
Head straight to the Mdina gate. This is the main entrance to the city and it really is the perfect welcome to this gorgeous place. If you're a game of thrones fan then this is the part where you'll start to recognise places from the franchise.
I actually recommend just having a walk around this gorgeous place and going into places that look interesting when you're there. Either way, I will list some of the best attractions to help you plan in advance.
National Museum Of Natural History
As the name suggests, this is a decent museum that goes into depth about the extensive natural history that all of Malta has to provide. €5 For Adults, for Children €2.50 + 5 and under are free. Check up to date prices here (at the bottom of the page).
---
Mdina Cathedral Museum
The imposing building deep within the city walls is even more stunning inside than out if you can believe it. Even for people not interested in religion or temples, the cathedral museum is definitely worth the money just to marvel at the exceptional architecture inside. €10 Adults. You can book online here on the official website.
---
Book your favourite hotel here

Where will you go?
---
---
Walking The Walls
This is an absolute must! Do not leave this until last and run out of time. Walking to the back of the city and standing on the walls, looking out across Malta is literally one of the best things you can do here.
When you get to the back of the city, you will probably stand on the highest walls you'll ever stand on in your life. I've walked the Great Wall of China and the height here puts it to shame.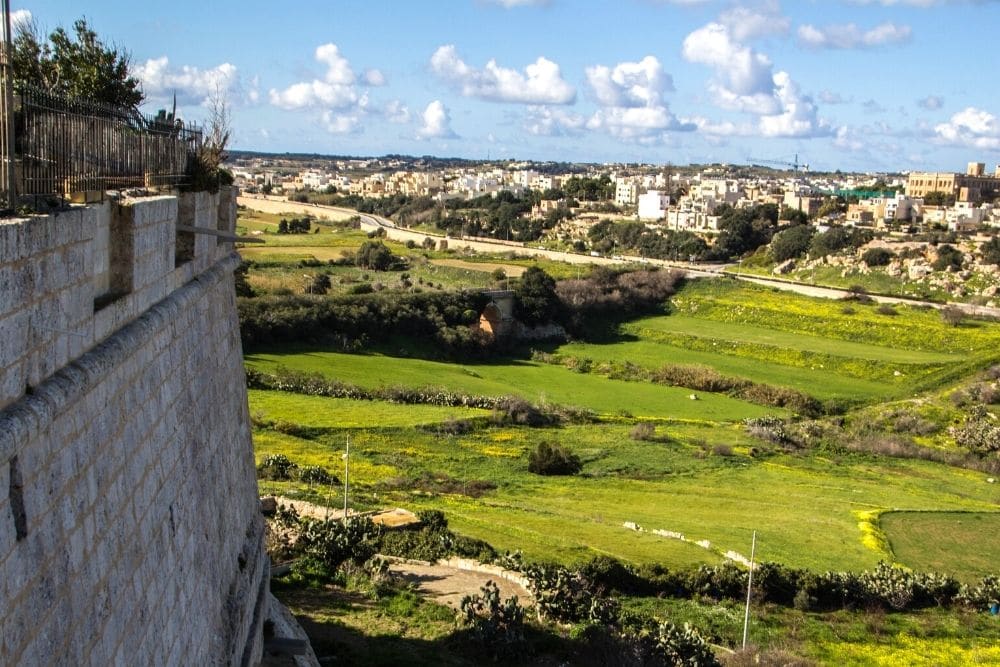 ---
Shopping
All over the city are small boutique shops and tourist outlets. Some of them are really nice and have a lot of local produce.
If this is your sort of thing then I highly recommend spending some time popping in and out of the shops to see if anything strikes your fancy.
---
By the time you have finished in Mdina, it will probably be getting on into the late afternoon/evening.
You can either choose to have dinner in Mdina or Rabat or head off to wherever you are staying in Malta and have dinner there. If you're trying to decide where to stay in Malta then make sure to check out my complete guide here.
---
Day 2
The second day of your three days in Malta is going to be an early start so make sure that you get some sleep the night before!
Comino
Today is easy! Comino all day. Comino is home to some of the best hikes in all of Malta but is probably (definitely) the most famous for the Blue Lagoon, which is a stunning lagoon right next to the boat drop-off point.
Now, it totally depends on when you have come to Malta as to what time you need to try and get to Comino. If you are coming in the offseason then you don't really need to worry too much about getting the earliest possible ferry across to get a space on the beach.
However, if you are coming in the summer then you have two options. You can either get a tour boat across or you can get an early Comino ferry.
The ferry will be cheaper and you'll have a little flexibility as to when you arrive and leave, but a tour is easiest way to experience Comino Island and the Blue Lagoon. Have a read of my Blue Lagoon guide which goes into more detail about this.
I recommend using the Comino Ferry company (check out their website and schedule here) if you'd rather travel to Comino without a tour boat. Get the earliest possible ferry you can and enjoy the Blue Lagoon in the morning before it gets too busy.
This should take you to around midday, at this point head off for a small walk around the island. Your destination is the small beach of Santa Maria Bay. We went anti-clockwise around the whole island which takes roughly about 1.5 hours and is just over 4km.
Even if you do take a tour, some of the boats stay in the bay for up to 4 hours so you could still do this hike and get the best of both worlds!
This will take you past Saint Marys Tower, the abandoned isolation hospital, the Santa Maria battery, Comino's highest point and finally to Santa Maria Bay.
The views and history you get by doing this walk are truly spectacular, however, I understand that this is midday and there is no shade. If this doesn't appeal to you then you can walk directly to Santa Maria Bay from the Blue Lagoon which takes about 20 minutes.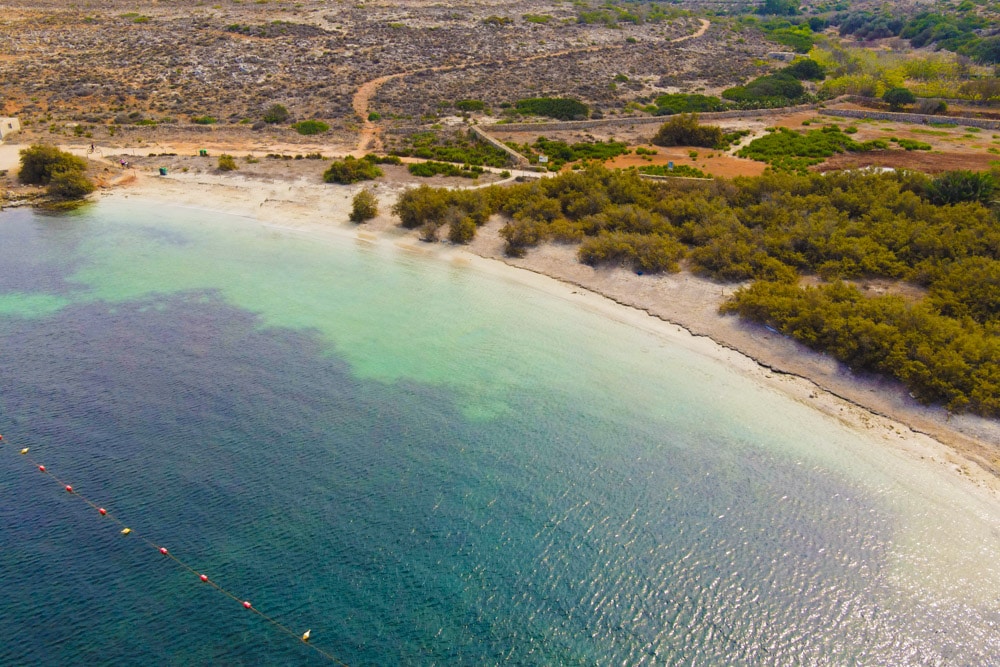 When you arrive at Santa Maria Bay, you will immediately notice that there are a lot fewer tourists and a much bigger sandy area to relax on. This is because there are limited facilities here, there is a toilet so don't worry about that though. The majority of the visitors to Comino want to have a party at the Blue Lagoon and you can't do that at Santa Maria so it's always more peaceful and relaxing.
I recommend spending the rest of the day here and making your way back to the boat for the return journey. Make sure you don't miss the return trip!
The return trips to the Maltese mainland are not that late so you will get back with plenty of time to go and shower and get changed for a nice evening meal. I recommend going to Sliema and eating at one of the marina restaurants overlooking the bay.
Secret Tip
There is a lovely small and romantic boat restaurant in the marina at Sliema. It's called Guadalupe Boat Bar & Bistro. We went there, had a few cocktails and enjoyed the sunset in the Sliema marina. It's 100% the best place to eat in Sliema.
---
Day 3
Gozo
On your last day, it's another early start to get the ferry over to Gozo Island. There's only one way to get to Gozo and that is the government-run Gozo Ferry. This service is excellent, cheap and runs 24 hours.
Head over to the Gozo Ferry website to see the schedule and to plan your trip over. You will need to get to the Cirkewwa bus station that will drop you directly outside the ferry terminal.
Pro Tip
To save all this planning you can get a full-day Gozo Island tour by jeep which pick up in Valletta. Take a look at it here to see if that's more your thing. You can also buy tickets for the hop-on hop-off bus to maximise the sights you are able to see in such a short amount of time!
I highly recommend renting a car for your day in Gozo, it will cost around €20 and it gives you complete flexibility of the entire island and it's significantly cheaper than the tour above.
You've got a couple of options in Gozo but it is quite a small island so you can definitely see the best of the best within 1 day. If you are feeling a beach day then check out our guide to Gozo's beaches. the beaches here are some of the quietest and most peaceful in all of Malta.
If not then the best thing to do in Gozo has to be the capital of Victoria and visit the Cittadella. This massive fortress is truly a wonder to see and the history is even more incredible.
The hill it is situated on has been inhabited since the bronze age and has changed massively throughout the years. Be sure to check out the museum which goes through this epic history in great detail.
You probably won't spend all day in Victoria so check out the best other things to do on Gozo below to plan your whole day out.
Diving
Diving in Gozo is rated as one of the greatest places to dive in the whole world! So, if you are a qualified diver then this is the absolute paradise, especially the inland sea tunnel! Have a look at these two morning dives to help you plan.
---
Azure Window
Unfortunately, the world-famous arch collapsed in 2017. This doesn't mean that the landscape here isn't worth a visit. The views are dramatic and stunning and you can get some great landscape shots.
---
Inland Sea Boat
The inland sea is formed by a cave that spans through a cliff and has created a small beach inland (hence the name). This is one of the best diving spots in the world but if you can't dive then you can take a boat through this tunnel which is affordable and well worth the visit.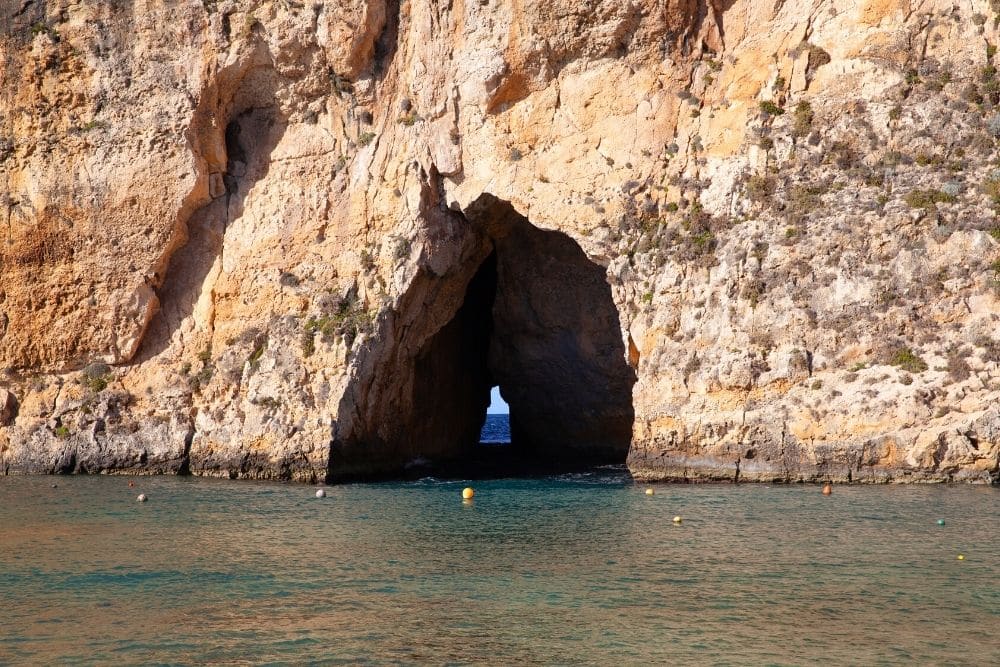 ---
Salt Pans
One family has been working these salt pans for over a century and is still doing it to this day. It creates a lovely sight to behold on the edge of the coast and allows for some very nice pictures, especially at golden hour.
---
Ramla Bay Beach
This is the biggest and most well-facilitated beach in all of Gozo and is well worth a visit if you want a day on a huge perfect beach. It doesn't matter how busy it gets, you'll find a spot on this huge stretch of sand.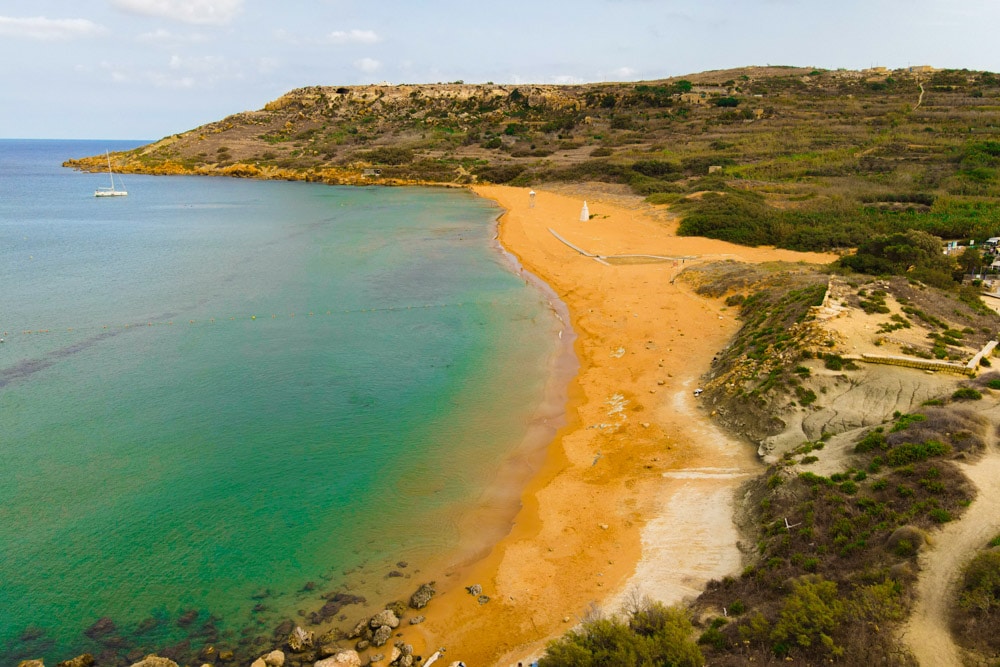 ---
So, after a full day of visiting Gozo, who would want to then travel all the way back to the mainland! I recommend staying on Gozo for one night and travelling back early the next morning (or not early if you don't need to).
We stayed in Bliss Boutique Living which was even better than we expected! What's great is that just down the road is one of the best restaurants I've ever been to. Al Sale is affordable and incredibly good food and drink. We came here on the day I proposed to Jade and it made the evening perfect.
---
Check Out The Reviews Of Bliss Boutique Living Here
---
---
And, with that, your three days in Malta are complete! Now, Malta is literally full of things to do and there are so many incredible things to do that I haven't even touched on in this list due to the time constraints.
This also means that this itinerary might not be suitable for some. Therefore I have gone into detail about some of the other things you can do throughout Malta below for you to have a little look at. I also recommend looking at our 7-day itinerary for Malta to get even more ideas.
---
Other Activities To Consider For your 3-Day Malta Itinerary
Water Parks
There are a couple of very good water parks in Malta (Splash n Fun & Popeye Village) which I highly recommend if you are coming to Malta with kids. Or, if you're like me, kidults. We have written a complete guide to water parks in malta so if you're interested in that then check out the guide here.
---
The Red Tower
After spending some time in Malta then you will quickly realise that there are beautiful towers dotting the horizon everywhere you go.
These were used as signal stations to communicate all the way back to Valletta (yes exactly like Lord of the Rings).
The Red Tower is by far the most famous due to its colour and restoration. Have a look at my guide to the Red Tower for more information about visiting.
---
The Three Cities
These are the three cities of Vittoriosa, Senglea and Cospicua which can be seen from the Upper Barrakka Gardens in Valletta. The history and elegance here are stunning and it's a very good place to go to get away from the hustle and bustle.
You can get there on a little boat in the grand harbour in Valletta or take a full tour to learn about these incredible places.
---
The Blue Grotto
This is a huge stunning natural arch and cave system that can be observed from above or explored by boat.
Some of the tours also take you to the local fishing village of Marsaxlokk so it's well worth it.
---
St Julians
If you're looking for nightlife then this is the place to do it! This is where all of the best bars and clubs are. Like all of Malta, this is a small area so once you are there you won't find it difficult to find where the party is. We walked past a place that was selling 100 shots of vodka as a normal thing so… yeah.
---
Mellieha Bay
This is one of the best beaches in all of Malta and you will also get to see the beautiful Mellieha Parish Church on the hill which is a total bonus. This could be coupled with a visit to the red tower and Popeye Village for a really fun and varied day.
---
Ħaġar Qim Temple
This temple was thought to be constructed as long ago as 3500BC and is well worth a visit if you're interested in ancient religious sites. If it's raining, it's also a great option as a fully protective tent is now over the site protecting it from the elements.
We found out that upon its first discovery, it was used for concerts and parties until its significance was actually realised!
---
---
When To Visit Malta
If you can choose any time in the whole year to go then simply put late September/ early October. This is because it is still extremely nice and warm and most of the crowds have gone. It's definitely the golden time for Malta.
Winter in Malta only goes down to around 10 degrees so this is easily the best time to come if you are thinking about going hiking. This is also the time when Malta blooms into a green paradise and is when the natural beauty of Malta is at its best.
Summer is obviously the worst time to come due to it being the high season and the highest temperatures which some may find uncomfortable. However, if this is the only time you can come, there are things you can do to mitigate this, like going to Gozo which is always quieter.
---
Where To Stay In Malta
I recommend staying in Mellieha for the first 2 days of this itinerary and Gozo for the third day.
---
Book your favourite hotel here

Where will you go?
---
I recommend staying at the Lure Hotel in Melliea and the Bliss Boutique Hotel in Gozo.
However, if you want to know all of your options in great detail, including a video, then check out my complete guide to where to stay in Malta for more information.
---
How To Get Around In Malta
There are three main options to get around in Malta: car, bus and taxi. I recommend getting the bus around on the mainland and hiring a car in Gozo. I'll go into more detail below.
Bus
Busses in Malta are very easy to use and very affordable. The ease of use comes down to the very good Tallinja app so make sure to download this before you get to Malta.
Car
Car hire is actually quite affordable in Malta so if you are staying for longer than three days it may be a pretty good option, especially if you have a big group of you.
For this itinerary, I only recommend getting a car for the day on Gozo as you have no real need for it other than that.
Taxi
Taxis can be hailed from the Bolt app and are reasonably affordable (due to Malta being so small). As you are only here for three days then it could be a pretty good option to get taxis everywhere you go. This would especially be true if there is a large group of you as you can order larger vehicles for not much more money.
---
Frequently Asked Questions
What is a good 3-day Malta itinerary?
Day 1 – Valletta and Mdina – Day 2 – Comino and the Blue Lagoon – Day 3 – Gozo and the Citadella.
Is a 3-Day Malta itinerary enough time in Malta?
It's definitely a packed schedule but you will get to see some of the best things that Malta has to offer.
Should I get tours for my 3-Day Malta itinerary?
When should I arrive in Malta?
Try to arrive as early as possible on the first day and leave as late as possible on the last day. Use this rule for all of your travels.
---
There you go, guys! I hope this 3-day Malta itinerary was helpful. If you can think of anything you can add or want to let me know anything at all then let me know in the comments section below!
---