Been reading about spending 2 days in Hanoi? Feeling overwhelmed about getting around this crazy city? My 2 days in Hanoi are chill and fun with no worries!
Necessary Spacing
If you're looking fo a great place to stay then look at our folloing recommendations for Budget | Boutique | Luxury
---
2 Days In Hanoi
Hanoi is an absolutely incredible city and 2 days in Hanoi is simply not enough time to experience this city in its entirety. However, that's all you've got so let's see what we can come up with.
My 2 days in Hanoi are designed to be as little hassle as possible and to maximize the experience of your stay. If my main 2 day Hanoi itinerary does not pique your interest then I have included some more options below!
Read More: The Best Halong Bay Day Tours Available Right Now
---
2 Days In Hanoi – Day 1
I assume you have 2 full days in Hanoi and you have woken up in the city with 48 hours and a raring smile on your face! Well, if you have decided to stay in Old Town (which I highly recommend) then this is the time to wander the streets, exploring what this beautiful part of the city has to offer.
I could recommend a route through Old Town but I think this takes away ALOT of the fun of just exploring on your own. A couple of hours of walking through the narrow streets, popping into shops, and discovering hidden gems is a really great way to start the first day.
I think this is a really good time to grab a massage from one of the many massage parlors dotted throughout Hanoi Old Town. I recommend traditional Vietnamese massage for anyone who is struggling with aches and pains (be warned, the massage itself is quite painful) or one of the oil-based massages for anyone who wants a bit more of a relaxing start to their day.
---
Walking Food Tour – 10:00
I truly believe there is no better way to learn about a city than a walking food tour. The guide will take you to all of the best food spots in town whilst teaching what different foods are, how to order them, and how to eat them (more of an issue than you may think!).
We actually went on two food tours when we were in Hanoi and I believe that this one from Crossing Vietnam is the better of the two. Check out our full guide and videos for both of them here.
They change the times of the tours throughout the year but they will always have a morning option so make sure you select that when booking! You will get ALOT of food on this activity so do not worry about having lunch afterward, that's sorted.
The walk will take upwards of 3 hours so this should take you into the early afternoon which you'll a few hours to find and explore some of the cities museums.
---
Hao Lo Prison /Hanoi Hilton – 1-3 pm
Roughly a half-hour walk away is the famous Hao Lo prison, AKA the Hanoi Hilton. I recommend you take a scenic walk around Hoan Kiem Lake to get there, it is a couple of minutes longer but much more pleasant.
This prison was first constructed by the French to hold Vietnamese prisoners in the 1800s but was later used by the Vietnamese to house prisoners of war during the Vietnam War; the most famous of the prisoners was the late US Senator John McCain.
The prison complex itself is a solemn but incredibly interesting affair. You get to wander some of the old buildings and learn about how prisoners were treated and where they were kept over the centuries of history this place has accrued.
We easily spent a couple of hours here and it is one of the most visited historic buildings in Hanoi for good reason.
---
Water Puppet Show 5:20
If you're planning on going to Hanoi then you must have heard of the famous water puppet theater near Hoan Kiem lake. It's a must-do activity for anyone spending 2 days in Hanoi. Basically, it's an elaborate puppet show based on a pool of water with an orchestra and singing. The show's story changes from time to time but even if I knew the current story I wouldn't want to ruin it for you!
You have a choice whether to go to the theater and see if there is availability on the day (cheapest option) or pre-book your tickets and collect them before the show. Depending on what time of the year you do your 2 days in Hanoi, the pre-book option may be necessary as the shows get pretty full.
If you are interested in pre-booking then I recommend getting tickets here.
---
Dinner
After your food walking tour of Hanoi Old Town, you should be an absolute expert on what food you like and where to get it! Use the next hour to head around town and find exactly what you want to eat. I, personally, fell in love with Bun Cha so I would be heading straight there.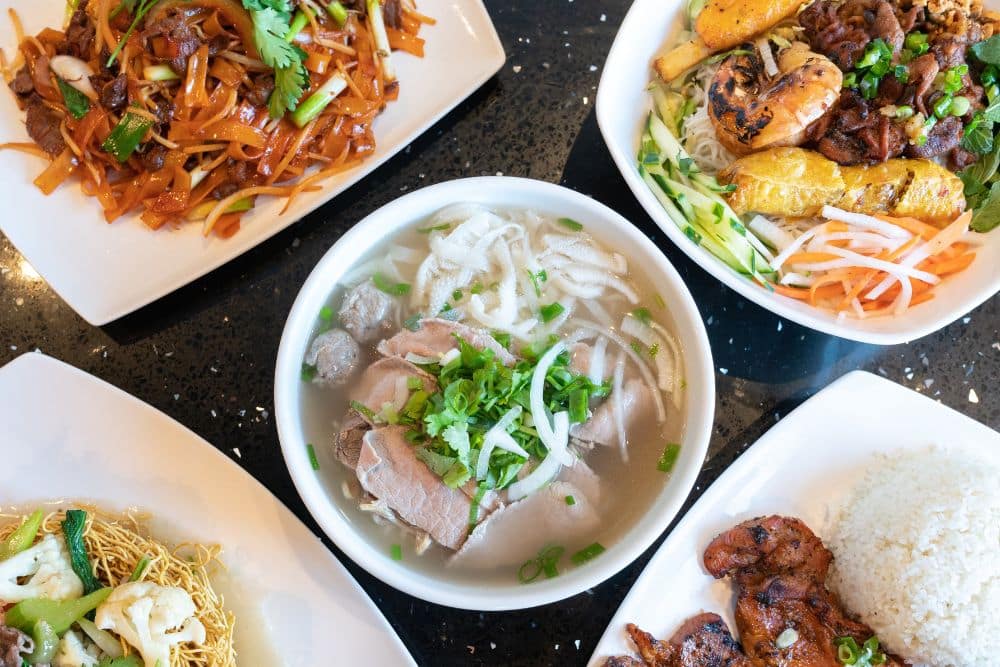 ---
Night Market 8 pm
On Friday, Saturday, and Sunday there is a huge night market running through Old Town and halfway around Hoan Kiem lake. We found this night market to be one of the best of all of the night markets we have been to in Aisa, probably because it is much more focused on locals than on tourism.
This is especially prevalent when they close down all the roads and put on huge entertainment and events (there was a roller skating competition when we were there). Watch our video below to see what we mean and have a read through our Hanoi night market guide!
---
Bar Street – Bia Hoi
After the Night market, day one of your 2 days in Hanoi is getting pretty late, so now could be a good time to head back to the accommodation and get some sleep. However, if you are still raring to go then head on over to bar street and try to find some Bia Hoi!
Bia Hoi is a local beer that costs around 25c per glass and tastes pretty damn good. You could go into one of the many more expensive bars and get an imported beer for $3 but I just can't see why anyone would do that!
The night market does actually filter off through some of the Old Town streets and you may be able to find some places that sell Bia Hoi whilst enjoying the entertainment and stalls that the night market has to offer.
Nightlife in Old Town is actually pretty good but don't go too hard because you have another busy day tomorrow to make the most of your 2 days in Hanoi!
---
2 Days In Hanoi – Day 2
Hopefully, you didn't have too many Bia Hois last night! They go down so well in the evening that it's easily done. It's an early start on the second day of these 2 days in Hanoi! Today you'll be seeing more of the city and learning how to cook the amazing food that you have tried so much of already!
---
Jeep Tour 8 – 12:30
So, you've spent basically the entire first day checking Old Town, now it's time to see a bit more of the city and the outskirts! This jeep tour is probably the highest-rated tour in the whole of Hanoi and you can see why. You'll be picked up at 8 am from your hotel and they will take you on an adventure to see all of the best Hanoi sights as well as provide another amazing Vietnamese street food lunch.
You may have heard that the famous train street has now been closed off from the public. I can only imagine that this is due to the safety risk this was imposing on everyone involved. However, this tour company is one of the only providers which still has access so if seeing train street is a must for you then this is one of the best ways to do it! Check out the Jeep Tour in more detail here!
---
Exploring More
As you can see below, your cooking class does not start until 3 pm, this means that you have a couple of hours to spare before you get stuck in! I recommend seeing some of the sights around Old Town on foot or simply going for a walk around Old Town trying to find some souvenirs or a place to relax. Here are some of the sights you could look out for;
Ngoc Son Temple – A beautiful temple in the middle of Hoan Kiem Lake. It has a very beautiful bridge leading up to it and is one of the best places in the city for photos.
Temple Of Literature – A very relaxing and peaceful historical walk through the city's ancient and most prestigious academy. Well worth it to get away from the crazy city vibe!
St Josephs's Cathedral – This cathedral was built by the French in a similar style to the famous Notre Dame cathedral. It is another incredible spot to get photos and is well worth the visit.
Harry Potter Cafe – Jade is an absolute Potter fanatic so we couldn't miss Always Cafe during our visit. A very good place to relax and unwind whilst being surrounded by a series that you love!
Another Massage? – If you didn't have a chance to grab a massage in Old Town yesterday then this is a great chance to get one now. Or maybe you did get one on day 1 and you fancy another? You're on holiday! Why not treat yourself?
---
Cooking Class 3 – 7.30 pm
If I have to be honest then I would say that this is the highlight of these entire 2 days in Hanoi. I've saved the best till last for sure. You'll be picked up from your hotel in Old Town and make your way to a local market. Here you will be shown around and fresh produce will be picked up for the class. You then make your way to a gorgeous Villa down some winding alleys and your cooking class experience will begin.
I could now go on and on about how good this cooking class is but just watch the video below to see how much fun we had! Book this cooking class here or have a look at our entire guide to cooking classes in Hanoi
---
Getting Dinner – 7:30 pm
Right, this is the time to head out and find some dinner………. NOT! Seriously, if you're still hungry after that cooking class then you have a bigger capacity than I do. You won't need dinner.
---
Cocktails By The Lake – 7:30 pm
What better way to cap off an incredible 2 days in Hanoi than a rooftop bar overlooking the lake or busy Old Town streets? We found an absolutely amazing little bar that we had to walk down an alley and up some tiny stairs to find. Once we got there it opened up to a gorgeous little balcony where we could watch the world go by.
I can't remember what it's called but I recommend you do not go to the huge, well-known bars near the lake as they are very expensive compared to finding a little local place in the street. Plus, it makes for a pretty cool adventure trying to find one!
---
Where To Stay In Hanoi
The best place to stay in Hanoi is Old Town. All of the best sights are here, the tours all pick up from here, the best food is here and the most affordable accommodation is here. Why would you pick anywhere else?!
Here is a collection of my favorite accommodation in Hanoi Old Town, remember to click through to see more details on price and availability!
---
What To Take To Hanoi
2 Days in Hanoi is not a lot of time but here are some of the most important things you will need as well as some things I think you'll need for your entire trip to Vietnam!
If you're worried about powering your devices on your trip then the simple solution is to take this EPIKA worldwide travel adapter. We have used it all over the world and it has worked flawlessly. Being able to charge up to 5 devices by USB (4 USB-A's + 1 USB-C) plus a full power outlet socket is incredibly useful and works as an all-in-one solution. Check it out on Amazon here.
If you're worried about your devices losing power throughout the day then we recommend the Anker 10,000mAh power bank. Anker actually makes quite a few power banks but this one comes with a USB-C and USB-A port which means that you'll be able to charge any of your devices regardless of connection. The 10,000mAh capacity is enough to completely charge an iPhone 12 twice so you should be good for a number of days with this beast. Have a look at the price here.
If you're not really planning on doing any major hiking then we recommend that you check out these AKK walking shoes. There are extremely lightweight, breathable and have memory foam insoles to make them super comfy. Don't make the mistake of spending loads of money on insane walking boots if you don't need to! Check them out here!
For city exploring and shorter hikes, you'll need a decent day pack. We recommend one like Osprey's Arcane, as not only can it hold a 15″ laptop, water bottle and everything else you would need day to day but it is also incredibly stylish (we think). We have used Osprey for loads of different bags over the years and they have all been perfect. Check out the Osprey Arcane on Amazon here.
If you don't have a camera then I HIGHLY recommend the Panasonic Lumix ZS70K. It is an affordable point-and-shoot camera that can be picked up and used by anyone of any ability. The camera captures gorgeous images and surprisingly excellent video whilst fitting in your pocket. The main difference between this and your phone's camera is that it also has an incredible optical zoom so you won't miss any of the shots you need to take. Check it out here.
---
Other Things To Do In Vietnam
Ha Long Bay
You are already in Hanoi so why not jump on a day tour (or better yet, a luxury overnight cruise) to the amazing Ha Long Bay? The overnight luxury cruises are extremely worth it (watch the video below to see what I mean) or have a read through our 1 day Halong Bay tours post to see if that is a better fit for you! Book the overnight cruise we went on here!
---
Hoi An
Hoi An is one of the most beautiful and magical cities I have ever been to. The ancient town near the river is simply a paradise for sights, activities and (most importantly) tailored clothes! We got dresses and suits made whilst we were there and we highly recommend checking out our video below or the full article here to find out how to do this. You should also check out our article on the Hoi An night market!
---
Phu Quoc Island
Phu Quoc is a beautiful little island off the south coast of Vietnam. This is the sort of 'resort' island that many locals and international tourists go to relax on a white sand beach with a package holiday. There are loads of things to do on the island and we both highly recommend it for something a little different from the mainland.
Check out our articles on Phu Quoc here;
---
---
Frequently Asked Questions
Are 2 Days In Hanoi Enough Time?
If your plan is to only see the city then 2 days in Hanoi is enough time in my opinion. However, if you want to explore the outskirts or Ha Long Bay then 2 days In Hanoi is not enough time.
Should I Spend 2 Days In Hanoi?
Yes. Hanoi is a beautiful city that has lots to offer and experience. I recommend more time if your plan is to also see Ha Long Bay.
Can I See Hanoi In 2 Days?
I believe so, if your plan is to also see Ha Long Bay then you will need more time than 2 days in Hanoi.
---
That's our entire guide to 2 days in Hanoi. We hope that this was a little different from the other itineraries out there! Let us know in the comments what you think!
---