A trip to Sri Lanka might not be high on your bucket list. But with its magnificent landscapes, elegant wildlife and heavenly food, it really should be! Enjoy a 10 days Sri Lanka itinerary and discover how to see this enchanting country.
---
10 Days In Sri Lanka
Previously known as Ceylon, and situated just south of India, Sri Lanka is often overlooked as a holiday location. Spanning only 65,000 km² (compared to the United Kingdom's 240,000 km²!), you'd be forgiven for thinking that you might be stuck for things to do on the island.
However, you can spend more than a week here and have a completely full 10 days Sri Lanka itinerary. If you only have a week then make sure to check out our 7 day Sri Lanka itinerary too.
Start in Colombo, and make your way around so that you can truly experience the diverse and captivating Sri Lankan culture! We enjoyed a 10 days Sri Lanka itinerary, and although we didn't explore the whole country, we felt that we saw plenty!
Read More: How To Backpack Sri Lanka: A Complete Guide
---
Day 1: Colombo
You'll more than likely fly into Colombo International Airport (also known as Bandaranaike).
There aren't many places to visit in Colombo in one day, but it's not the best place to reflect Sri Lanka's beauty so don't fret.
If you're into partying – think live music, nightclubs and rooftop bars – then Colombo's nightlife will likely impress you.
Take a simple wander around Colombo, to get a feel for the city and become accustomed to life in Sri Lanka! You can explore on your own, or take a walking city tour with a local guide.
If you're interested in Sri Lanka's history, take a visit to the National Museum where you can find all sorts of artefacts from coins to paintings, as well as information about the past.
Read More: How To Escape Colombo + Visit Hikkaduwa
There are a couple of other colonial buildings in the area – the ones worth a visit are St Peter's Church (the oldest functioning church in the country), the Dutch hospital (transformed into a shopping precinct recently but still retaining the architecture from the 17th century) and the Clock Tower (which used to be a lighthouse).
A 10 day Sri Lanka itinerary might not be enough for you. If you have more time, consider taking a food tour that will teach you all about the best dishes to look out for on the rest of your trip!
Whether you're travelling Colombo with kids or backpacking Sri Lanka solo, you can explore the city in a day and still have time to relax in your hotel for the evening!
One of the best things to do in Colombo is actually to leave it … because you'll be beginning the beautiful train journey that Sri Lanka has become famous for!
Read More: Your Guide To Taking The Train From Galle To Colombo
It takes less than two hours to get from Colombo to Kandy on the train but it really is the start of some incredible landscapes. You might even see a monkey or two sitting in a tree as you go past.
The Colombo to Kandy train timetable is available on the Sri Lanka railways website. You can turn up at the train station to buy unreserved tickets or click on the button below to buy your train tickets in advance.
Read More: Here's Everything You Need To Know About Taking The Train From Kandy To Colombo
If you haven't bought your tickets in advance, we recommend getting to Colombo Fort station about an hour before your journey to make sure that you get onto the platform in time. Go to the appropriate counter (we went to counter 2 but be aware that this could change) and keep hold of your ticket.
There are also often snack vendors who jump on the train at various stops throughout the journey so you can buy things like samosas and fresh fruit during the trip.
Accommodation in Colombo
There are plenty of apartments to rent in Colombo with beach resorts, boutique hotels and city hotels offering plenty of rooms too.
Whether you're a budget backpacker or a family looking for a 5-star resort, you'll be able to book your accommodation in Colombo in advance.
We've researched some of the best places to stay in Colombo during your 10 days in Sri Lanka so that you can easily pick your accommodation in the best area and for the best value for money too. Or just have a look at the map below to see current deals and availability.
The Best Apartment To Rent In Colombo
There are lots of apartments to rent in Colombo where you can cook for yourself, do your own washing (great news if you end up in Sri Lanka during the monsoon season because you can wash and hang up your clothes in your own space, rather than paying for them to sit damp in a launderette!) and a living area for when you just want to chill out after a day of exploring.
The Best Boutique Hotel In Colombo
Accommodation needs differ for everybody, but there's definitely a boutique hotel in Colombo for everyone.
Whether you want to spend your afternoons searching the library for your next paper addiction, you're travelling with a furry friend and they need somewhere to sleep or you want to wind down in a rare bath, you'll find somewhere in Colombo to suit your needs.
Read More: Getting To Mirissa From Colombo
---
Day 2 – 3: Kandy
If you've skipped Colombo completely and made your way straight from the airport to Kandy, you'll have missed out on some amazing views!
However, if you're not sticking to our suggested 10 days Sri Lanka itinerary anyway then it's not a bad idea to visit Kandy first because there's plenty to do here!
Famous for its historical Buddhist attractions, Kandy is the perfect place to learn about the local culture. The city itself is in the hills and is home to one of the most sacred places of worship for Buddhists in the world.
Take a guided tour around the Ceylon Tea Museum, where you can learn about how the tea is picked to where it is sold. Have a look at a few other great tours in Sri Lanka here.
There's a cafe on the top floor – choose a tea and enjoy a free cup here. If you're planning on doing any souvenir shopping in Kandy, this is a great place to buy tea and trinkets. You can do the same in the city centre but buying from an old tea museum just seems like a better story!
Another one of the smaller attractions in Kandy is a spice garden tour.
It won't take all day, but you can visit the garden and sample the variety of spices used in Sri Lankan cooking and medicine. Combine this with a fun cooking class and get to enjoy the food that you have picked and cooked!
One of the best places to visit in Kandy is the lake. It's in the centre of the city, yet it's a peaceful place to relax and stroll around throughout the day.
Once you're here, take a moment to visit the Temple of The Sacred Tooth Relic. It's said that when the Buddha died, one of his teeth was saved and it now lies in the temple in Kandy.
The temple can get busy with both tourists and locals, so it's a good idea to go early in the morning or in the evening.
Visit the Royal Botanic Gardens for a serene afternoon. You don't need more than a few hours here, but it is definitely one of the most beautiful places in Kandy so don't miss it!
Finally, if you want great panoramic views of the city, take a tuk-tuk up to the Big Buddha statue. You can see it from the ground but making your way up to the statue is more impressive!
Rooms in Kandy
Guesthouses are common all across Sri Lanka, and Kandy is no exception.
Many local families open up their homes to tourists and give them an experience you just wouldn't get in a hotel. A freshly made authentic Sri Lankan breakfast is usually included, and you can also often ask for dinner too if you're not interested in looking around for restaurants every evening.
Some will give you added thoughtful extras, like a map of Kandy, or a list of the best bars in Kandy! However, the cheaper guesthouses probably won't have air conditioning (there'll be a fan instead) so consider that when booking.
---
Day 4 – 5: Ella
The train from Kandy to Ella is meant to be one of the most gorgeous journeys in the world! Depending on the time of year, you'll encounter some unbelievable views.
Unfortunately, if your 10 days Sri Lanka itinerary falls in the early months of the year, the mist might ruin the scenery so think about that when you're planning!
At certain times of the year, the weather in Ella can be terrible. It also can be very unpredictable so it's hard to say when the best time to visit is. We visited Ella in February/March in two different years, and had awful, wet and foggy weather the first time, and beautiful sun and bright days the second!
Typically though, the best time to visit is from January – to March.
It takes around 6 and a half hours, and prices start from 270 rupees for a second class seat. You can also buy first-class tickets for this train to guarantee yourself a seat.
The train timetable in Sri Lanka can be found on the government website here.
There are some great things to do in Ella, despite it being a small town with not much tourism yet compared to somewhere like Mirissa.
There are a few shops and restaurants in the centre of Ella, but be careful about travelling back to your hotel. Tuk-tuks don't tend to run too late into the night – the restaurant owners had to give us a lift when we lost track of time!
Little Adam's Peak and Ella Rock are the most popular hikes in Ella. Enjoy an authentic Sri Lankan breakfast and then spend a morning climbing.
If you're hiking Little Adam's Peak, you can hike this and then make your way back down to the famous Nine Arch Bridge. Take some awesome photos but be careful not to fall off!
There are trains running on this bridge but they aren't very regular so you might just be lucky if you see a famous brightly coloured one go past!
You can also book a tour so that your day is organised for you! Click here for more information and prices.
One of our favourite things to do when travelling is to take a cooking class. There are a few highly rated ones in Ella so if you're interested in doing one, go early and try and book for the next day.
Accommodation in Ella
Unlike a lot of places, Ella caters for backpackers quite well. There are a few hostels and bars dotted around the town for you to enjoy.
There are also a couple of higher-end hotels if you want to splurge, and they'll offer incredible mountain views to justify the prices.
---
Day 6 – 8: Tissamaharama (Tissa)
We highly recommend visiting Yala Safari whilst experiencing a 10 day Sri Lanka itinerary. There are plenty of other parks, but this is the best place to see Sri Lankan leopards. Stay in Tissa as it's the closest town to the park and your safari guide will pick you up.
Read More: The Complete Guide To All Of The Best Yala Safaris
You'll probably arrive in the evening so relax and prepare for the long day and early start the next morning. Catch a bus from Ella or get a private car – share it with other travellers if you can. There are usually people waiting at the bus stop in Ella so if a driver offers to take you, you can split the cost. You can also download the PickMe app and book a car that way.
Have you ever seen a wild leopard? We definitely hadn't before we went to Sri Lanka, but we were incredibly lucky and saw THREE whilst on safari! Yala National Park has one of the highest leopard densities in the world, but you still usually have to look really hard to spot one.
Book a private tour – our advice would be to take a 12-hour safari. It sounds very long but the time just flies when you're seeking out new animals every minute! Honestly, I can't stress enough how you'll want every minute you can to find the leopards – if your driver gets a call saying that there is one nearby, you want to be able to spend the time waiting for these magnificent creatures.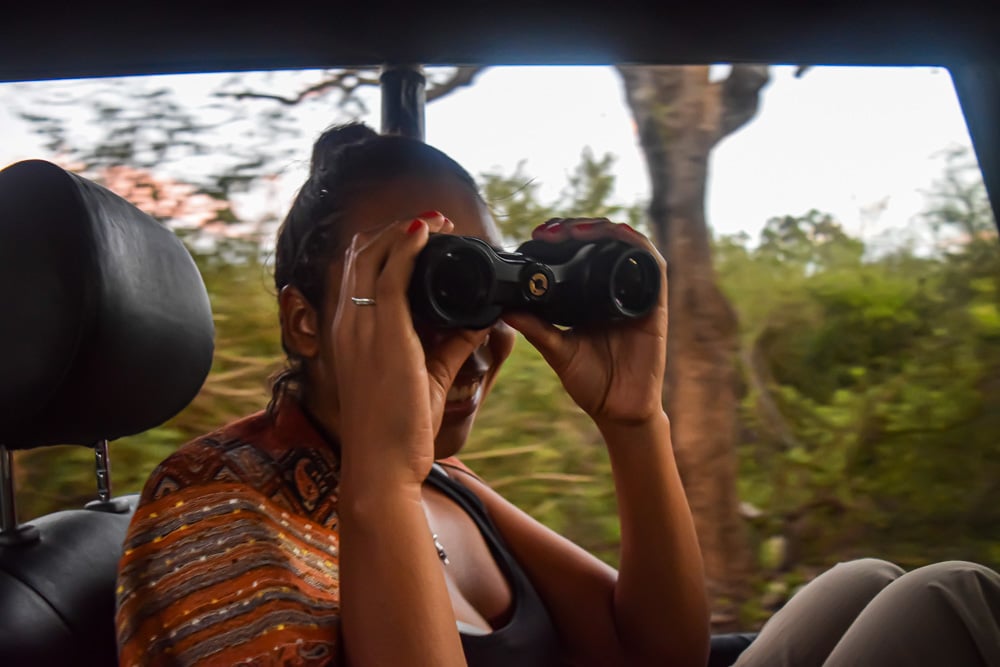 Read More: Choosing A Sri Lanka Safari: The Ultimate Guide
Be aware that there is really not much to do in the town of Tissamaharama. The few restaurants that do operate, close fairly early so it's unlikely that you'll be spoilt for dinner options. If your hotel offers meals, then I'd recommend eating there so that you're not wandering around in the dark looking for food.
Accommodation in Tissa
Your stay in Tissa will be short but you'll still appreciate a good bed after a 12-hour safari! There aren't many hotels in the town, but the locals are friendly and the hosts are welcoming.
There is another option for your Yala safari. You can choose an all-inclusive hotel in Tissamaharama, which not only includes all of your food and drink but TWO safari drives as well!!
Leopard Trails Yala is a campsite with a difference. You can stay in a luxury tent – this puts the GLAM in glamping, it's not your average two-man tent!
There is also a beautiful swimming pool, air-con (told you it wasn't a normal tent!) and amazing views.
---
Day 8 – 9: Mirissa
You've had a bit of a busy 10 days in Sri Lanka, so now you're ready to relax and unwind at the beach!
There are buses from Tissamaharama to Mirissa, so if you're confident with the transport system, then go ahead. The bus from Tissa to Mirissa stops in Matara, so jump off at the station and ask for directions for the right bus to continue on with your journey. The bus station can seem confusing, but people are quite helpful and Mirissa is a huge stop so plenty of others will be going there too.
However, if you have the budget, I'd recommend just asking your hotel (origin or destination) for a quote. We paid 6000 rupees for the trip the second time round we visited, and travelled in an air-conditioned vehicle with seatbelts – much safer than the bus trip!
There are a few fun things to do in Mirissa but once you've arrived, put your bags down and head on straight down to the beach!
Read More: Don't Miss The Popular Photo Spot at Coconut Tree Hill!
Sri Lanka has some very pretty beaches all over. Mirissa is more of a resort area where you can grab a coconut cocktail, sunbathe on loungers and eat the famous Sri Lankan curry.
A couple of cool things to do in Mirissa on the beach include surfing and bodyboarding! You can also visit Secret Beach (check out our complete guide to the secret beach here) or even take an afternoon trip to Galle to look at the forts. Here's how to get there.
Read More: Your Complete Guide To Galle
One of the best things to do on your Sri Lanka 10 day itinerary is to go on a whale watching boat tour in Mirissa! It's best to pick the early morning slot, as the whales are the most active then. You're likely to see huge blue whales, sperm whales and maybe even some playful dolphins.
Take a seasickness pill or put on some of these motion sickness prevention bands an hour before your boat leaves – the sea does get quite rough! Be aware though – the tablets can make you very drowsy so you might need to return to your accommodation for a nap!
A cooking class is a perfect way to get involved with the local culture in the afternoon. We took a class at Dewmini Roti Shop. The food was amazing but it wasn't the best class we've ever been to. We did get to keep the recipe booklet and took away some good tips though. Try out Nishani's cooking class near the river.
Be aware that everyone has a personal preference for how a class runs. Think about if you want a private class, or somewhere a bit more social.
Read More: Dewmini Roti Shop Cooking School: Is It As Good As They Say?
Mirissa nightlife isn't exactly Ibiza, but there are a few beach clubs and bars that offer a good vibe and a place to dance! Take a wander down the beach and sample the different cocktails at the regular Happy Hours! If Cosmopolitans and Strawberry Daiquiris aren't your thing, you'll easily be able to grab a large Lion beer to watch the gorgeous sunset with.
Mirissa Accommodation
There is plenty of decent Mirissa accommodation but booking online in advance is recommended, as the town is becoming more and more popular with tourists. If you're looking for something to treat yourself then take a look at these 9 incredible villas in Mirissa that we visited whilst there and the best 10 Mirissa boutique hotels!
Read More: A Guide To The Best Budget, Mid-Range and Luxury Hotels in Mirissa
You'll be able to find cool hostels, cute guesthouses and swanky hotels near the beach easily, and finding somewhere with breakfast included isn't hard either.
If you want a final night of luxury, book one of Mirissa's stunning villas. Your every whim will be catered to, you'll eat delicious fresh food and you'll wake up to the peaceful sounds of the quiet beach area.
Click on the button below to book our favourite villa in Mirissa, or read this post to do your own research on the top 14 in the area!
---
Day 10: Negombo
To finish off your amazing 10 days in Sri Lanka, I would recommend either spending another night in Mirissa or making your way up to Negombo to be near the airport for your departure.
You can take a train from Mirissa all the way to Colombo, and then you'll need to get a bus or taxi to Negombo. Don't forget that you can use the PickMe app to find the best price for your taxi ride.
There aren't many Negombo attractions but it's a nice enough beach town to stay in before you fly home.
Rent a bicycle (usually for free) from your hotel and take a trip along the beach. Grab a few bottles from one of the many many beer shops around, and enjoy one of the best sunsets you'll ever experience on the sand.
There are a few sellers trying to make a living – they weren't too pressing though and we actually bought a beautiful bowl from one guy!
If you're staying in a resort, you could spend the day relaxing and getting a couple of spa treatments. You could also book city tour to see the real side of Negombo.
If you've booked into budget accommodation, you can visit the Jetwing hotel and for just 1500 rupees per person, you get access to the swimming pool, with a sunbed and towel. You can also buy food there and enjoy the beautiful beach views.
Negombo Accommodation
Negombo has some great options, from luxury hotels to budget bunk beds. As you'll be going straight to the airport from here, you might decide on paying the bare minimum if your flight is late at night or in the early morning.
---
Where Else To Visit In Sri Lanka
Our 10 day Sri Lanka itinerary didn't cover everything but we certainly had a wonderful time. If you're going to backpack Sri Lanka, give yourself at least 10 days to explore it. Fantastic food, friendly people and gorgeous animals – there are so many fun things to do in Sri Lanka that it's the perfect destination for your next holiday!
There are so many other amazing places that we both saw and didn't get a chance to visit on our two trips, so if the above itinerary doesn't quite tickle your fancy then don't fret – there's more!
Here are our other suggestions on places to visit in Sri Lanka if you've got more time or you wanted to change the itinerary:
Galle
This old city is a must for anyone interested in the colonial history of Sri Lanka. Galle Fort lies on the tip of the coastline and is full of museums, galleries, boutique hotels + shops and local restaurants.
There are also some amazing beaches in the Galle area – some are popular tourist spots with all of the amenities that you'd need for a day out, but some are real hidden gems that only the locals seem to visit!
Read our full guide about the best things to do in Galle here.
Jaffna
Jaffna is an important cultural area for the Tamil people in Sri Lanka, so it's a really interesting place to go if you're into finding out more about their heritage, and its close links to India. It was also occupied by the 'Tamil Tigers' during the civil war, and suffered greatly.
Since then though, Jaffna has welcomed visitors with open arms, and there are plenty of fascinating things to see.
Visit Jaffna library, which was rebuilt after being burnt down in the war (it lost over 90,000 books!), discover the temples in the city and enjoy the gorgeous beaches.
Nuwara Eliya
This pretty town is often called 'Little England' due to its links with Britain and the tea trade. There are parts that truly do resemble the English countryside, from the beautifully kept parks to the red postboxes dotted around town!
You can easily reach Nuwara Eliya from Ella by train and it is an incredible trip.
Once you're there, take a trip to Gregory Lake, where you can eat candyfloss, hire a pedalo and cycle around the water. Ask a tuk-tuk driver to take you to see the Lover's Leap waterfall, and spend some time in Victoria Park too.
Don't miss visiting The Grand Hotel for a dinner (or four, we couldn't stop going back!) Try both the Indian and Thai restaurants, as well as their Celebration High Tea, which you can enjoy in their gorgeous garden.
Read More: How To Visit Lovers Leap Waterfall In Nuwara Eliya
Trincomalee
If you're looking for a beachside town without the tourists of Mirissa, then Trincomalee is a great option. It's much quieter, but there's still lots to do.
It's a great place for whale watching from March until November, although for the highest chance of a sighting then go in the middle of this time from around May until October.
There are some amazing important temples in this area, and museums.
If you're sick of the land, then get into the water! Spend some time snorkelling in Pigeon National Park and spot some turtles or even reef sharks!
You could even go whale watching in Trincomalee! I bet you didn't know that!
Sigiriya
Come here if you want another epic hike! This town is famous for Sigiriya Rock (also known as Lion Rock), the ancient fortress built on a rock almost 200m high! You can climb it all day, but you will get great sunrise views here.
You can walk within the landscaped gardens and visit the Rock Palace at the top.
However, a lot of people prefer (or choose as well) Pidurangala Rock instead. It's only 1 metre smaller, but climbing this one means that you get insane views of Sigiriya! It's also much cheaper for entrance.
Hikkaduwa
This is a little-known beach town on the west coast of Sri Lanka. It's got a chilled-out vibe, and it's a lovely place to stay for a few days.
The main attraction here is Turtle Beach. You can get in the shallow water and see giant turtles just enjoying life! There is no fee as it's not an official tourist attraction, which is better for the animals in our opinion.
You can feed them seaweed, and you can also hire snorkels from people on the beach so that you can swim next to these beautiful creatures. Obviously, it's really important not to crowd or touch them as they are wild animals in their natural habitat, but it's just an incredible thing to see!
If you're coming here straight from Colombo, here's how to take the train.
Udawalawe
You might have seen elephants on your Yala safari, but if not then you should go to Udawalawe National park and take a safari there. I only recommend a 3-hour tour because there are so many elephants that you're almost guaranteed to see them!
We saw around 40 on our tour compared to about 5 in Yala – that's the kind of scale I'm talking about!
The Elephant Transit Home is also in Udawalawe. We were unsure about the ethics of this place as we had read some sad stories about it, so we decided to go and check it out, and talk to the staff if we had any concerns.
They do some really good conservation work, saving the orphaned elephants from roaming around the National Park on their own, but unfortunately, we saw some mistreatment of the babies with our own eyes. We watched a man hit a baby elephant in the face with a stick, just because it wanted to go back for some more milk.
I think that this place has a long way to go to be able to call themselves cruelty-free, but hopefully, in the future, they'll be much more animal friendly and ethical.
---
Things To Know About Sri Lanka Before You Go
Currency
The local currency is the Sri Lankan Rupee (LKR or Rs). As of April 2022, the rate is 1 USD = 321 LKR or 1 GBP = 418 LKR.
Change your money once you get to the country (it's illegal to bring more than 5000Rs!) and look out for ATMs or licensed exchange bureaus. Usually, the rate you'll get will be similar to the banks so you are unlikely to get ripped off here.
Remember to change your money back before you leave because you also can't take more than 5000Rs out of the country. A little souvenir is fine but there is literally no point in trying to keep more!
Time Zone
Sri Lankan Standard Time is 5 hours 30 minutes ahead of GMT. There's no daylight savings time, and the zone brings the country in line with India's time.
Language
There are two official languages in Sri Lanka – Sinhala and Tamil. However, during our ten days in Sri Lanka, everyone we met spoke a high level of English. We were never stuck because of a language barrier.
Religion
There are actually four main religions in Sri Lanka, but Theravada Buddhism is the most common, with over 70% of the population following it.
Safety
As tourists, we felt very safe exploring Sri Lanka. We didn't find that people hassled us on the street to buy things, the roads were very well maintained and the food always seemed well cooked. Obviously, keep your wits about you, but I'd tell people to do that in most places. I would recommend Sri Lanka as a destination for those of you who would be overwhelmed by somewhere super busy like India!
There is always the risk of something bad happening wherever you go, and the 2019 Easter attacks in Sri Lanka were an example of that.
However, security has been stepped up in the country and it's no longer in the State of Emergency. You should always avoid large crowds and gatherings – especially protests and demonstrations – and keep an eye out on the news too.
When Is The Best Time For A 10 Days Sri Lanka Itinerary?
You can visit the island all year round, but remember that there are changing seasons and they all affect the various cities differently!
There's usually rain in the southwest and west of the country from April to September.
From October to March, the north and eastern parts experience their monsoon season.
The temperatures tend to stick around 26 – 30 degrees pretty much all year round, however, if you decide to hike up a mountain or two then the heat will disappear!
The higher you go, the colder it will get, especially at night time. Just don't forget your pyjamas!
---
What To Pack For A 10 Days Sri Lanka Itinerary
You might find it difficult to pack light for your Sri Lanka trip as there are varying weather types across the island.
If you're following this itinerary then you'll want to bring beachwear, hiking gear AND safari clothes, let alone all of the usual everyday items you need.
Read More: Don't Miss The Gorgeous Beruwala Beach!
On the beaches, be prepared for hot sunny days and incredible sunsets!
Carrying around a big backpack can be tiring, so you'll need something extra comfortable like this Osprey Renn. It has an adjustable shoulder harness so it's suitable whatever your height and the back panel is ventilated which helps on those hot sweaty days! The bag has plenty of compartments for all of your belongings – there's a space for your sleeping bag, water reservoir sleeve and rain cover too! Click here to buy yours.
If you're not really planning on doing any major hiking then we recommend that you check out these AKK walking shoes. There are extremely lightweight, breathable and have memory foam insoles to make them super comfy. Don't make the mistake of spending loads of money on insane walking boots if you don't need to! Check them out here!
If you're planning on doing some serious hiking then we recommend you take a look at these Columbia walking boots. They come in loads of different colours and we think that they are really stylish. The most important thing however is that there are comfortable, waterproof and resilient which these are! There is nothing worse than sore feet preventing you from making the most out of your trip so don't put it down to chance. Check them out in more detail here.
If you don't have a camera then I HIGHLY recommend the Panasonic Lumix ZS70K. It is an affordable point-and-shoot camera that can be picked up and used by anyone of any ability. The camera captures gorgeous images and surprisingly excellent video whilst fitting in your pocket. The main difference between this and your phone's camera is that it also has an incredible optical zoom so you won't miss any of the shots you need to take. Check it out here.
If you're stuck on what kind of towel to take with you then take a look at this microfibre poncho. We absolutely love ours and it is insanely helpful when you need to change on the beach. They dry fast and pack down super small so you'll be able to fit one in your day pack easily enough. Check out the price here.
If you're worried about powering your devices on your trip then the simple solution is to take this EPIKA worldwide travel adapter. We have used it all over the world and it has worked flawlessly. Being able to charge up to 5 devices by USB (4 USB-A's + 1 USB-C) plus a full power outlet socket is incredibly useful and works as an all-in-one solution. Check it out on Amazon here.
If you're worried about the security of your bag then make sure you grab this set of combi padlocks from SURE LOCK. Many attractions have lockers where you have to pay to use a padlock so they will come in very handy, not just for securing your bag. Grab yours here.
We all know that tampons and pads are bad for the environment (not to mention uncomfortable and expensive!) so get yourself familiar with a reliable menstrual cup, like this one from Sirona. These can be reused for up to 15 years – think of the money and plastic waste you'll save! Made from medical-grade silicone, Sirona's cup is designed for comfort, sustainability and protection. Click here to choose the right size for you.
If you need protection from the sun then grab a hat before you travel. This Adidas original is affordable, protective and looks the part. Check out the price here.
Whether you're visiting religious temples or windy beaches, this long cover-up by Moss Rose is perfect for wrapping around your shoulders. It's lightweight and has so many uses, plus it looks great too! One size fits all and there are so many different patterns to choose from. Click here to get yours.
---
For a comprehensive breakdown of this list go to our budget savvy packing list guide.
Read More: If You've Got Time, Visit Udawalawe National Park Too!
Frequently Asked Questions
---
Spend 10 days in Sri Lanka and we guarantee that you'll enjoy every minute!
Do you have any questions about this 10 day Sri Lanka itinerary? Email us or let us know in the comments below and we'll get back to you as soon as we can!
---
Click on the image below to repin this post!